Cristian Frias: "God gives me strength!"
14.06.06 - He was born in the Dominican Republic, turned professional in Curacao and now wants to conquer Europe. The talk is about unbeaten lightwelterweight Cristian Frias. The 29-year-old fighter, now handled by German manager Olaf Schroeder, is called 'La Cobra' and has compiled a record of 20-0-2 with 16 knockouts. In this interview, Frias talks about his plans and dreams as well as his family and a very un-warrior like hobby: Sewing his own ringwear!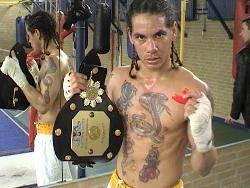 "Cristian has an aura about him that tells me I'm not waisting my time. I really think it's just a matter of getting rid of some ringrust and then he can mix with the best in Europe," says Schroeder. Read on what the fighter himself has to say!

You just had your first fight for your new management Fight Production, which was also a comeback of sorts after 18 months out of the ring, winning a 6-round decision in Belgium against surviver Jozef Kubovsky. How did it feel to box in Europe for the first time and how do you rate your performance?

Oh, yeah, it was always my dream to fight in Europe and I thank God that I found Olaf (Schroeder) as my new manager. I'm very, very happy. About my performance, yes, I wanted to do better than I actually did…

Have you had a look at the European boxers in your division, lightwelterweight? How would you ulitmately rate yourself against them?

I saw most of them on video and I believe I can safely say that when I'm back to my best, they simply cannot beat me.

You never lost a fight in the Caribbean and you are now undefeated in 22 professional outings. Please compare boxing in the Caribbean with boxing in Europe! Which difference surprised you the most so far?

Now the biggest difference is that most top European fighters are in great condition and shape. However, I think that because they concentrate so much on conditioning, their technical skills are often not fully developed.

What was the hardest part of being a pro boxer on a far-away island like Curacao

That simply on Curacao there are not a lot of boxing programms and not many shows. I am very famous on the island and the people really love me very much – but that's of no help if you want to fight often and against good opponents.

Which was your toughest fight so far?

All this time that I'm boxing I cannot say which one was the most difficult, but if I have to choose I would pick the fight with Alric Johnson (2002) because he had a lot of experience (33 pro fights at the time).

At what age and why did you start boxing? What is your best boxing memory?

I started back home in Bonao (Dominican Republic) when I was nine years old, because as far as I can remember I always loved boxing. My fondest memory is when I returned to my home city in 2003 and won the Netherland Antilles lightweight title.

How come that a Dominican boxer turns professional on the Dutch island of Curacao?

When I went to Curacao for the first time, I met Angelique, now my lovely wife, and we just wanted to stick together and start a family. We now have three children, a 7-year-old girl and two boys aged 4 and 2. I also met Luis van Heningen on that first trip to Curacao, who promoted professional shows on the island. He told me that he can see a lot of talent in me and he always said that he knows that someday I can be a world champion. So I made the decision to stay on Curacao and live with Angelique. Luis helped me with everything, but he did not have a lot of connections in the boxing world to make me anything more than a star on Curacao…

Now being a father, what does boxing mean to you? Have the responsibilities of having a family changed your outlook on the sport?

Boxing is my profession, my job, and that's why I train very hard so that I can always win. My biggest motivation now is my family, I want to give them a good future. So my outlook on boxing hasn't changed by having a family. God and my family actually give me more strength to fight hard to make my dream of becoming a world champion true.

Do you have any favourite fighters, all-time or contemporary?

Without hesitation, my favourite fighters are Oscar De La Hoya and Felix 'Tito' Trinidad.

Your ringname is 'La Cobra', and you actually wear a lot of Cobra tattoos on your body. Where does that name come from?

I was a little boy when I started boxing in the Dominican Republic, but I already hit hard and that led people to call me 'La Cobra'. That's all there is to it and I like the name very much.

You wore your self-created ringwear in Belgium, is that a hobby of yours?

Oh, yes, I absolutely love to design my own ringwear! Always before a fight I either create another new one or I change the one that I used before. At the moment, I have four different sets of ring dresses.

Anything you want to say to your new fans? We hear you are very well-known in the area you live now in The Netherlands!

I'm very glad to be here and want to thank all those people that are already my fans and who love me. I am in the Netherlands about half a year, but when I train at the boxing club in Leeuwarden there are always a lot of people that watch me training and especially sparring. It's true, they have fans coming to the training every day since I'm there, but my daughter already makes a lot of promotion for me at her school (laughs), plus there are some people living around here that know me from Curacao. The most important thing I want to say to all of them is, please keep on supporting me and I love you!

Article posted on 15.06.2006
previous article: Is Jermain Taylor Made for Wright?