Olden Era is Not the Golden Era (Part 1)
11.06.06 - By Chris Steel: As an active member of the boxing community I often come across fantasy match-ups with people comparing past and present wondering what if for example Hagler Vs Hopkins or Sonny Liston Vs Tyson. It has always bugged me that fighters from past generations are put on such a high pedestal, this is due to several differentiating factors..

Boxing has evolved to be what it is today. It is no longer looked upon as a brutal sport, it is an art. Fighters train harder than ever before and due to increased purses and sponsorship deals they do not have to fight week in and week out which not only increases their longevity but the quality of their performances.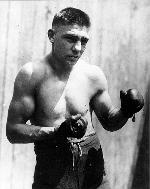 One of the overrated fighters which has come to my attention is Harry Greb, I am not trying to deny that he was a pioneer of the sport but against today's fighters I'm afraid he loses more times than not. Forget what you have heard of the man you have never seen him fight if not once or twice. I beg you to view these videos of him in action, then in your head put him in the ring against recent great's like Marvin Hagler, Sugar Ray Leonard, Bernard Hopkins, Roy Jones Junior, James Toney and Thomas Hearns. Just some of the names that I would pick over the "formidable" Harry Greb.

Here is a link to various Harry Greb videos, all you need to make an observation of his talent:
www.harrygreb.com/sparringvideopage.html

* Note – You will need to download the freeware "QuickTime" to view these videos, it's worth it though.

His punching technique is awful, he is wild and all over the place which would result in a knockout at the hands of a modern fighter such as Hopkins, Hagler, Jones or any other remotely well schooled fighter. Not only do I think that these fighters would beat him but any modern amateur fighter worth a dime would beat him. I think those videos of him training and punching is hilarious.

Not only does Harry Greb seem to come out on top in every fantasy match-up but he consistently ranks in the top 5 pound for pound fighters of all time which is something that absolutely astounds me. For me pound for pound always meant how good a fighter was in a head for head sense.

I know that a lot of people are going to counter my argument by brining up his career record, but if a man this bad at boxing can hold such a good record then the state of boxing in that era must have been atrocious.

I would like to make it clear to people that in the early 1900's when Greb was fighting, people often didn't get a fair result, the NEWSPAPER decided the outcome of the fight, the next morning. So that being said I suppose all you need to be is a fan favourite and the newspapers are going to award you the win. After all aren't newspapers concerned about making sales?

To the gullible boxing fan Harry Greb is a nice asset to your pound for pound boxing list. Even though barely any footage of him exists, a handful of fights on tape and a padded newspaper driven record. Please people consider this article, do some more research into Harry Greb and for heavens sake before you pick him in any more fantasy match-ups look at his technique and boxing skill.

Article posted on 11.06.2006
previous article: Cotto Schools Malignaggi!
next article: Bernard Hopkins Puts An End To a Legendary Career With an Incredible Victory