The Rubber Match: Cancelled but the fights must go on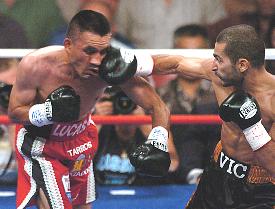 05.06.60 - By Vanessa McConnell - Photos by: CJ Cansler: What was supposed to be the fight of the year may turn out to be the upset of the year for SHOWTIME, Top Rank and Gary Shaw Productions LLC. Some how these men have master plans of bouncing back so lets wait and see what's next. By now the world knows that the "Rubber Match" in the WBC Lightweight Championship division was cancelled. Jose "El Terrible" Castillo has been monitored for some time now and everyone in his camp has been watching his weight closely. But no matter how hard he tried, Castillo could not lose the weight, even after a second try at 5pm later the day of the main weigh in June 2, 2006.

Castillo weighed in 4 ½ lbs over the 135-weight limit and was only asked to lose 2 pounds to make the weight requirements for that division. What scale was he using in training camp and what did he eat the night before or the day of the weigh in? Or is it time for him to move on to the next division? Now it really doesn't matter because Castillo is facing up to $250,000 in fines and the possibility of his license being revoked for a year. After fighting in the 135-weight division for five years, it may be time for Castillo to move on..

This match would have meant more than deciding who is the stronger fighter in the ring; it also would have given Diego "Chico" Coralles a chance to fight Cotto. Now we have to wait and see if the fight will be rescheduled or cancelled for these two once friends indefinitely. Hundreds if not thousands of fans didn't even bother showing up to the prelims and almost 20% of the media canceled. It was a huge loss on their behalf because the prelims were worth the wait.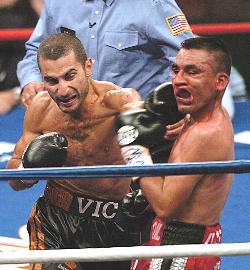 The IBF Flyweight Championship bout between Vic "The Raging Bull" Darchinyan (26-0, 21 KOs) and Luis Maldonado (33-1-1, 25 KOs) became the SHOWTIME CHAMPION BOXING's show-off bout for the night. The twelve round bout went 8 good rounds before Vic ran up on Luis swinging at full speed, forcing Luis against the ropes in a fume flurry of punched until the referee showed pity on him and stopped the fight in 1:38 seconds of the eight round.

Vic was no doubt the crowd's favorite, they chanted his last name throughout the entire fight and stomped and shouted him on in sync. Once the ref gave the instructions to the fighter in Spanish and English, both fighters came out swinging like it was a one round fight or their last time in the ring. The ref jumped around the ring as if he was ready to throw a punch too, so you can say these two really kept him on his toes.

Luis was running from Vic most of the fight, but he caught a countless number of body shots and combinations. During the last 10 seconds of each round Luis found the energy he needed to make an impression, but he was no match to Vic. Vic threw so many punches that would have been lethal had they landed, Luis did the best he could to duck, dodge and run. Vic was concentrating so hard on landing one of those concrete blows he fell in the 3rd round when he missed a swing.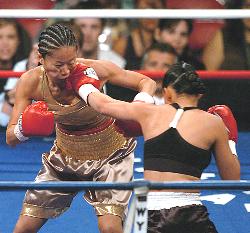 The arena was near empty after the bout, but those who stayed got even more of a show. What should have also been one of the feature fights of the card was the four round Mini Fly Weight division between Valerie Rix (4-0, 1 KO) and Cristina Kwan (0-1, 0 KO) who lost her pro debut. Both fighters came out of their corner with speed; determination and concentration only one fighter had No Defense. Cristina came out with an attitude to kill and was knocked on her bottom by a blow that sent her "off to see the wizard" in 48 seconds of the first round.

Cristina came out so hard, side bets were being taken on the sideline and she was the chosen winner before the fight started. She had the jabs and the moves down but when she was caught with a straight right, she went down. She got up and tried to regain her composure and to face her opponent, but the look on her face was like "where am I?" As she was stumbling to her feet, she looked to her corner for help, just before the ref stopped the fight. It was a swift and impressive victory for Valerie, as she remains undefeated at 4-0, 1KO.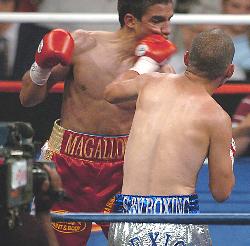 In the six round Lightweight fight between Jeray Cunningham (5-2, 5KOs) lost to James Kirkland (14-0, 12 KOs) when the referee saved him at 2:16 in the first round and Jeray was weakened and against the rope too soon. In the Super Welterweight bout between Oscar Gonzales (9-5-1, 3KOs) and Vanes Martirosyan (9-0, 21 KOs), Vanes pulverized Oscar in 2:14 of the first round. Vanes was the crowd favorite and they were impressed with the knock out that landed Oscar on his back in between Vanes legs.

By this time there were people walking around selling shots of Patron and Vodka while fans started taking their seats. In the Super Welterweight fight between Jesus Valverde (21-12, 16 KOs) and Yuri Foreman (21-0, 9KO) ended in a draw as both fighters gave it all and the best they had. When it went to the judge's scorecard, it was a majority draw. In the Lightweight fight between Dean White (14-4-1, 6 KOs) and Nick Casal (15-0, 12 KOs) also ended in a draw decision. In the Bantamweight fight between Jose Magallon (4-1, 2 KOs) and Abraham Esquivel (4-1, 2 KOs), it ended in a unanimous decision in Magallon favor.

SHOWTIME has been an industry leader for 20 or so years now and they always seem to bounce back from disappointments. Although this is the first time in Vegas history a fight has been cancelled because a fighter could not make weight, it only adds to the many most memorable events of SHOWTIME history. SHOWTIME recently launched a campaign celebrating its 20th year anniversary and is giving fans an opportunity to be a part of all the action.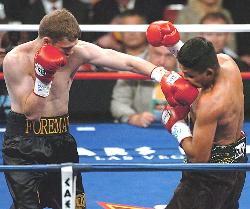 SHOWTIME wants to know who is the greatest to have fought on the network and what are the most memorable SHOWTIME CHAMPIONSHIP BOXING event and accomplishments? In April of this year, Showtime announcers Steve Albert and Al Bernstein announced the first category and six nominees as they kicked off the national campaign during the broadcast. Each month they will announce a new category and six nominees while showing video highlights and winners. Fans will have a chance to vote online at www.SHO.com, and have a chance to vote all month long online.

Categories are Best KO Artists, Best Rivals, Best Comeback, Most Memorable Event, Best Upset, Best Fighter and Best Fight. SHOWTIME stops at no level to provide the best information and boxing entertainment for viewers live and telecast. "For the past 20 years, SHOWTIME boxing has been the home of champions, legends and unforgettagle moments," said Showtime Sports & Events Programming General Manager Ken Hershman. "We would like to celebrate this monumental anniversary by allowing our fans to decide the greatest fighter and moments in our illustrious history."

For more information on SHOWTIME CHAMPIONSHIP BOXING and "ShoBox: The New Generation" telecasts, including complete fighter bios and records, related stories and more, please go to the SHOWTIME website at http://www.sho.com/boxing

Article posted on 05.06.2006
previous article: Ayala vs Marks Headline Mohegan Show
next article: The Real Fight Club: Top TV Exec Goes For Real Fight Reality