Khan And Murray In A Hurry
21.02.05 - Boxing ace Amir Khan is hoping to follow the lead of close pal Andy Murray and shoot up the ratings when he fights at the Braehead Arena in Glasgow on March 25. Khan first faces Jackson Williams this Saturday at the ExCeL London and is then lined up to return to Scotland and has once again invited Murray - who became the youngest Brit to win an ATP tour event this week - to be his ringside guest when he has his seventh professional.

And he says Murray's victory over Lleyton Hewitt in the San Jose tournament at the weekend, and his subsequent rise to 47 in the world, has been an inspiration. "I was training for my next fight this weekend so I couldn't stay up and watch Andy's match in the final." said Khan.

"But I read all about it in the papers and it is fantastic to see a fellow young sportsman doing so well. It would be great if Andy is ringside in Glasgow to see me follow his lead and improve my world ranking."

Khan and Murray, a big boxing fan, have trained together in the past, and struck up a firm friendship.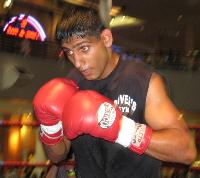 "We're both young and under a lot of pressure from the media to deliver, so I think we have a good understanding." added Khan.

"Now he has had his first tournament win, it makes me want to go out there and fight for my first title."

Khan will feature as special attraction on the undercard of Scott Harrison's WBO World Featherweight title defence against Joan Guzman.

The 19-year-old appeared there in November and beat Steve Gethin in three rounds.

"I got an amazing reception up there and I can't wait to go back," he said. "The Scottish fans are really passionate, and it's such a buzz knowing they are behind me."

"I've got my special tartan boxing shorts ready, and I'm going to put on a great show. It's an honour to be fighting on the under-card of such a good main event, and I'm sure Harrison-Guzman will be fight of the year."

photos © Amir Khan Official Fan Site


Article posted on 21.02.2006
previous article: Trainers for Vargas & Mosley Talk About The Fight
If you detect any issues with the legality of this site, problems are always unintentional and will be corrected with notification.
The views and opinions of all writers expressed on Boxing247.com do not necessarily state or reflect those of the Management.
Copyright © 2001- 2015 Boxing247.com - Privacy Policy l Contact