Margarito KOs Gomez, Viloria retains WBC light flyweight crown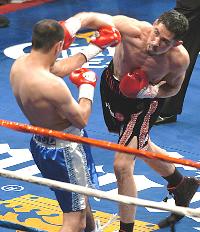 Vanessa McConnell, Photos by CJ Cansler -- large photo gallery -- Last weekend the Aladdin was crowded with "Real Warriors" and boxing fans of all ages. Top Rank presented a great host of fighters live on PPV last weekend at the Aladdin Resort & Casino, future home of Planet Hollywood Resort & Casino. The synchronized sounds of cheers, chants, screams and whistles could be heard through out the Desert Passage as boxing fans watched 8 fights with pound for pound action.

"This is a very important fight for Antonio Margarito," Promoter Bob Arum said. "It's an entertaining fight card with three world title fights and Julio Cesar Chavez Jr. is in a gout, compelling rematch."

It was a twelve round battle between WBO Welterweight Champions Manuel "Shot Gun" Gomez (28-11-2, 20 KOs) from Nuevo Laredo, Texas and Antonio Margarito (33-4, 25 KOs) from Tijuana, Mexico that lasted less than half of a round. Another one of those fights was the crowd never got a chance to sit down. The punches were so quick and powerful; Gomez was on the ropes in one minute and hit the mat in 1:14 of the first round. Richard Steele, the referee for the fight, called the fights after reaching six as Gomez was dropped by a flurry of right power punches from Margarito..

Arum announced that he has set aside July 29 for the champ Margarito to fight the winner of the upcoming Mayweather and Judah fight at the Thomas & Mack. Margarito impressed the judges and fans with his 74-second swift win over Gomez. Critics are hoping Margarito gets a shot at Mayweather, but we'll have to wait until April to see who he will defend or defeat next.

Another impressive bout that evening was with Jr. Flyweights Jose Antonio Aguirre (33-5-1, 20 KOs) from Tabasco, Mexico against the champion Brian Viloria (19-0, 12 KOs) from Waipahu, HI in the WBC Mini Flyweight Championships. Viloria and Aguirre put up one hell of a fight. Both punchers were fast and consistent but Viloria was the more strategic boxer.

Even though he was pinned on the ropes with a ton of head and body shots landing on him, it took at least seven blows to wake him up and that's when he returned a combination of blows to get him out the corner and gain advantage over Aguirre. Viloria won by unanimous decision.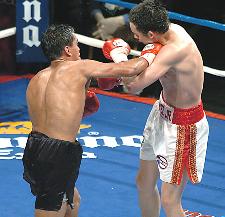 Super Lightweights Julio Cesar Chavez Jr. (24-0-1, 18 KOs) from Culiacan Sinaloa and Carlos Molina (8-2-1, 4 KOs) from Michoacan, Mexico fought in a six round fight. Chavez won the fight by unanimous decision but Molina gave him the fight of his life. It was a close fight, but Chavez inherited his dad's killer left hook to the liver and that's what eventually broke Molina down and gave Chavez the edge over him. Chavez redeemed himself after the last fight in December in Mexico that ended in a draw.

As Chavez walked the ring before the decision came through the crowd booed at his every attempt to get praise. It was obvious that Molina was their favorite because they cheered him on as if he was the champ as he walked the ring and waved to the crowd after the decision. He is an expeditious fighter and no matter what the judges decision was the crowd deemed him the winner of the fight.

Issac Bustos (24-8-3, 13 KO's) from Mexico City, Mexico was fighting Ivan Calderon (25-0, 5 KOs) from Guaynabo, Puerto Rico. In the "Strawweight" WBO Minimum Weight Championships Calderon defeated Bustos as the WBO Minimun Wight Champions went head to head for twelve full rounds.

Jesus Soto Karras (13-3-2, 10 KO's) from Los Mochis, Mexico beat Fernando Mena (17-8-2, 12 KOs) from Durango, Mexico in an eight round fight by unanimous decision. The fight at times got really ugly, especially when Soto head butted Mena in the 7th round. Vincente Garcia (10-5, 6 KOs) from Alburqueque, NM was defeated by Ramon Montano (9-2-1) from Las Vegas, NV when the six round Welterweight bouts went four rounds, then to the judge's scorecard.

Juan Montes De Oca (6-9-2, 3 KOs) from Las Vegas, NV was beaten by Vanes Martirosyan (7-0, 3 KOs) from Glendale, CA in a fight scheduled for six rounds. The Super Welterweight champ, Martirosyan, knocked Montes out in 1:21 of the third round. Almazbek "Kid Diamond" Raiymkulc (21-1-1, 12 KOs) from Las Vegas, NV won the eight round lightweight bouts against Jose Quintana (12-11-2, 7 KOs) when Quintana was disqualified in 1:43 of the third round.

The crowd was at its peak and ready to see a lengthy fight, and the total fight card for the night gave them more than a roster of great fighters. All the fights to hit the platform were nail biting and full of fast punches. The crowd screamed things like "Puerto Rico" and "Mexico" all night long. They kept the fighters on their toes all night as they went back and forth with their chants and cheers.


Article posted on 21.02.2006
previous article: Holt Out, Marrone Steps In
next article: Calzaghe - Lacy: Joe Calzaghe Announces Boxing Masterclass