UFC 57: Liddell defeats Couture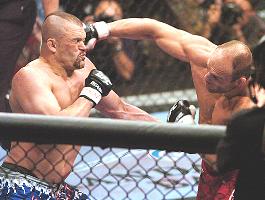 02.06.06 - By Vanessa McConnell, photos by CJ Cansler -- huge photo gallery -- The UFC Ultimate Fighting Championships don't get any better than it did with UFC 57 where Randy Cotoure and Chuck Liddell faced off in the Octagon cage for the third time. This sold out event was held at the Mandalay Bay and packed in 11,200 fans in the arena and over 1,300 fans in their closed caption room, all to watch the Live Pay Per View event.

There was a lot of trash talking before the bout by both Liddell and Cotoure. Cotoure said things like, "I hope Chuck catches me and try to knock me out," and Liddell was confident in his threats to, "put him on his back." It was a juicy but quick bout. So quick that the crowd didn't have time to take a seat.

There was a ton of celebrities and ultimate fighters in the arena rooting for their favorite fighter and friends. Charles Barkley came with his game face on, we couldn't tell if he was drunk or just naturally mumbles when he talks because we couldn't understand one word out of his mouth when they asked him his take on the fight. When they showed a clip of Paris Hilton the entire arena screamed out boo's, I was shocking to see their reaction to her face on the screen..

It was obvious that Liddell was the crowd favorite, that was until the fight actually started and they chanted "Randy" until he was knocked out. If there were any boos for Liddell they were overpowered by the cheers. You could usually tell who's going to win the fight by who throws the first punch and who hits the mat first, but this one was hard to tell when it started.

Liddell landed the first punch and appeared to be the stronger, faster and best fighter but he kept loosing his balance, making himself an easy target for Cotoure to knock him off his feet. When the time clock hit 3:42 the crowd started to boo because they were dancing around each other for a while. When the clock got down to 2:36 the crowd got the fight started with their screams and cheers, and both fighters seem to come to life then.

Cotoure did everything he could to get Liddell down to the mat and Liddell was not letting him penetrate. He tried to take advantage of Liddell losing his balance, but Liddell jumped right up and kept on task. Randy hit Chuck a few good times with jabs to the neck and face, but Liddell returned the blows even faster. When Randy began to bleed, Liddell seem to lose control and became the more intense fighter.

Liddell had a killer right punch that Cotoure could not shake; the bell saved Cotoure. The crowd had the arena in chaos with boos and cheers for both fighters and celebrities that appeared over the projectors. It was funny to see that Tito Ortiz was booed, considering he was the man of the night at the last UFC fight.

Early in the second round Cotoure stuck Liddell with a few killer punches that didn't seem to faze Liddell. Liddell was like a man on a mission and there were no distractions. Before we knew anything the fight was over. Cotoure caught Liddell with a left punch in the neck and Liddell immediately returned it with a right jab that sent Cotoure out of space. He stumbled and fell as Liddell followed him with 3 quick punches to the face while he was down on the mat; the referee had no choice but to stop the fight.

The crowd and announcer went wild. "It was another brutal knockout by the Undisputed UFC Light Heavyweight Champion of the world, Chuck Liddell," said the announcer as Liddell ran around the ring and did a dance and scream. When Liddell was asked about the bout in the cage the first thing out of his mouth was, "come party with me at the Empire Ballroom for Club Utopia." He was very excited. I don't think he had the words to say how happy he was, he was just overjoyed with his fight and performance.

Cotoure was humble as pie. He first gave praise and honor to God when asked to speak on his loss. "Chuck is a great champion," said Cotoure and made it clear that this was it for him. "This is the last time you will see these gloves on me. I want to thank the fans for their support. I just feel blessed to be able to compete," Cotoure continued. He walked out of the cage still a winner because he was most respectful to the sport and the winner.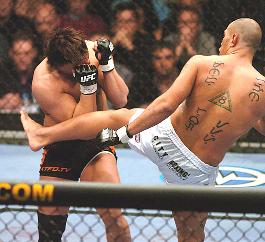 The featured Heavyweight Bout between Justin Eilers (9-4-1) who weighed in at 232 fighting out of Davenport, IA and Brandon Vera (5-0) who weighed in at 226 fighting out of San Diego, CA had us terrified. You come to the UFC to see three to five rounds of fighting at its wildest, not dancing and quick matches. This fight was over no sooner than the fighters stepped into the cage. We were afraid that the main event might end the same way.

Vera was so light on his foot he was up against the cage in no time. It was a lot of hugging early on in the fight. The ref broke it up after a minute into the round. The crowd went crazy with boos and the fighters got excited. Vera had a hot foot, he kicked Eilers in the chest and in the body a few times, I think Eilers lost his breath. He landed a lethal kick to Eilers head and he stumbled. Vera immediately followed with a knee to the face that put Eilers to sleep. He jumped down and punched him while he was out cold on the mat to make sure he was out.

As Vera did his sumo dance around the ring the medics were still trying to revive Eilers. Vera was ecstatic. He acknowledged after the fight that Eilers was "swinging like a bat out of hell" and all he could think of was "please stop hitting me." After he screamed "it's all in a day's work, now give me my money," he returned to say "it's not just to get money or a fight, my goal is to be a champ one day." He was so excited he invited everyone to his wedding on live television the next day.

There were four preliminary fights that got the crowd warmed up for the main bout. In the Light Heavyweight Bout Mike Whitehead (9-5) who weighed in at 206 fighting out of Salt Lake City, UT was fighting Keith Jardine (10-2-1) who weighed in at 206 fighting out of Albuquerque, NM. Jardine had hustle in the ring. He won by unanimous decision in the three round bouts as Whitehead gave a hell of a fight.

Jardine and Whitehead went pound for pound each round and gave each other the fight of a lifetime. At the end of each round each fighter found their inner strengths and gave it all they had. Whitehead landed a few kicks to the head and chest that could have put Jardine in the hospital but Jardine would not stop punching him. Whether it was on the cage, the mat or standing, Jardine was landing some mean blows.

Jardine was surprised at the outcome; I guess he couldn't see he was the stronger fighter because we were on the outside looking in. He said, "I didn't think the fight was going to go to the judges. I'm happy I got the victory, he was a lot tougher than I thought."

In the Heavyweight Bout preliminaries, Jeff Monson (21-5) who weighed in at 239 fighting out of St. Paul, MN was going up against Brandon Hinkle (14-6) who weighed in at 227 fighting out of Jefferson, OH. Monson won this fight in 4:35 of the first round by a knock out from an arm choke. "I knew I would get a submission. I didn't think I was going to get the submission I did. I held on to the submission and felt Hinkle loosing his stream," said the modest and happy Monson. Before leaving the cage he yelled, "Jujitsu."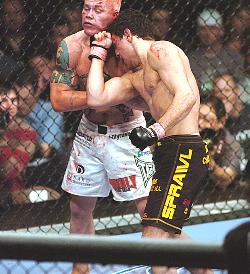 In the preliminary bout for Heavyweights, Gilvert Aldana (5-0-0/5 KO's) who weighed in at 257 fighting out of Chandler, AZ was fighting Paul Buentello (19-9-0) who weighed in at 254 fighting out of San Jose, CA. Buentello won the fight after a knock out in the second round, but his missed kicks nearly cost him the fight. Aldana landed a lot of good uppercuts and jabs, the last thing Buentello needed was to lose his balance from a missed kick.

In the Light Heavyweight Bout Elvis Sinosic (6-8-2) who weighed in at 205 fighting out of Sydney, Australia was going up against Alessio Sakara (13-3-0-1) who also weighed in at 205 fighting out of Rio de Janeiro, Brazil. Sakara won this fight by a unanimous decision when the fight went the full three rounds.

"I didn't think the fight would go the distance, Elvis has a long reach and he kept on clinching. I knew I was hurting him with my punches, but he was very good and grabbing me and holding," said Sakara after the fight. He was modest saying, "I won't call any opponent out, but I fear no one." I think that's an awesome quote and should be applied to everyday life and situations.

The main events of the night were even more impressive bouts. In the Welterweight competition between Joe Riggs (26-7) who weighed in at 169.5 fighting out of Phoenix, AZ and Nick Diaz (11-4-0) who weighed in at 170 fighting out of Stockton, CA, Riggs won the fight by unanimous decision after three long rounds of dodging and pounding. Riggs escapted every attempt by Diaz to take him down, and even though Diaz went the distance Riggs whopped his ass.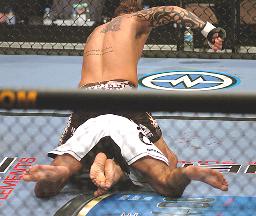 In the Light Heavyweight bout, Mike Van Arsdale (10-2) who weighed in at 205 fighting out of San Jose, CA was fighting Renato Sobral (26-5-0) who also weighed in at 205 fighting out of Rio de Janeiro, Brazil. Sobral laid Arsdale out by a tap out in 2:21 of the first round by a rear naked chokehold.

Finally in the Heavyweight fight bout on the main card, Marcio Cruz (1-0) who weighed in at 233 fighting out of Rio de Janeiro, Brazil knocked out Frank Mir (8-1-0) who weighed in at 257 fighting out of Las Vegas in 4:10 of the first round. Cruz drew blood on Mir early on in the fight and it only took minutes to finish him off. It was brutal, the crowd was yelling "stop the fight."

Mir was very disappointed but promised his fans to make a comeback. He agrees he had too much time off and that he should have been more honest with himself. He's ready to pick himself up and keep going. He said, "It's a part of being a man." Mir thanked his fans and left the cage with cheers.

Cruz was overjoyed by his win. He said, "Beating the former heavyweight champ means I'm awesome. The cut had nothing to do with my victory; I would have beat him no matter what. The division has recognized that I'm one of the best fighters in the world."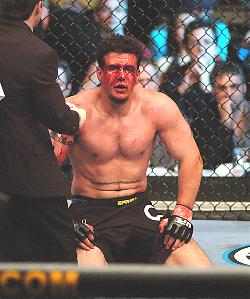 The UFC is getting better and better every year that champions enter the cage and grow to their peaks. They can retire in respect, fight in fury and party together all in one night. What's not to love about the Ultimate Fighting Championship? From Club Pure in Caesars Palace promoted by the famous John Lewis, the Empire Ballroom with Club Utopia, to the House of Blues in the Mandalay Bay there were parties all over town celebrating the UFC 57's winners and losers. One could only image what UFC 58 at the Mandalay Bay is going to be like.

Everything about UFC is hot and exciting. Even their ring girls have been getting mass publicity and are in demand for magazines and photo shoots. Rachelle Leah was recently featured in 944 Magazine recently and other layouts and Amber Miller constantly get request to be photographed with fans and celebrities.

World Middleweight Champions Franklin and Loiseau will take it to the cage and BJ Penn and George St. Pierre will go face to face on March. 4. The UFC 57 was sold out with tickets going from $100 to $700, you can be believe the UFC 58 is going to sell out also. Will you be there or will you have to read about it?

Article posted on 06.02.2006
previous article: A Few Nuggets of Speculation
next article: Darchinyan - Gabi IBF Flyweight World Title Fight March 3 On ShoBox