Manny Pacquiao defeats Erik Morales in the "Battle" at the Thomas & Mack Event Center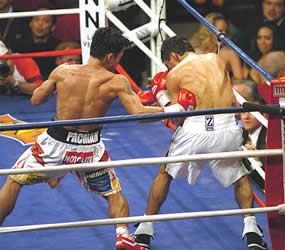 24.01.06 - By Vanessa McConnell, photos © CJ Cansler: Jan. 21, 2006 was one of the most exciting nights in boxing history. Top Rank in association with Wynn Las Vegas promoted the one of the biggest fights of the year featuring three-time world champion Erik 'El Terrible' Morales (48-3, 34 KOs) from Tijuana, Mexico and two-time world titlest Manny 'Pacman' Pacquiao (40-3-2, 31 KOs) from the Kibawe, Philippines in "The Battle". The fight was broadcast live on HBO Pay Per View and millions of boxing fans caught a glimpse of the Morales fall from the top.

Last year Morales won a "riveting bout" against Pacquiao. The Jan. 21 fight was a rematch for the championship. Morales was sure that Pacquiao was not match for him, saying after the first fight, "I don't think he's going to learn how to do it any better than from the first time. His problem is not going forward because he is good coming forward. But his problem is going backward and that is what I will do, back up Pacquiao all night long." I'm sure Morales was more than shocked and embarrassed when he lost the second fight..

Next to Julio Cesar Chavez, Morales is the second fighter from Mexico to win world titles in three weight divisions. This division is fortunate to have the two most powerful forces in the WBC International super featherweight division face off for the second time for pound for pound action. Pacquiao is a very fast hitter and known for being an aggressive left –handed slugger. Morales have always recognized that when he speaks of Pacquiao. A right hook with a force of speed behind it beat Morales.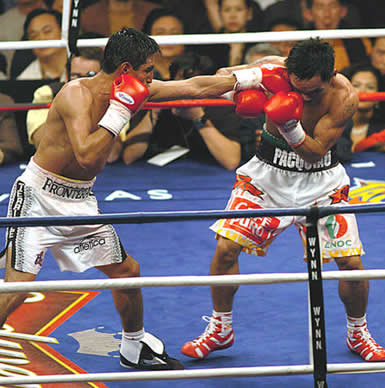 Pacquiao is the first fighter to ever knock Morales out. The bruttle battle ended in the tenth round from a mad rush of punches by Pacquiao. Morales was rushed to the hospital after the fight from injuries suffered during the fight. Most of all Morales training camp wanted to make sure that Morales did not receive a concussion or serious injuries during the battle.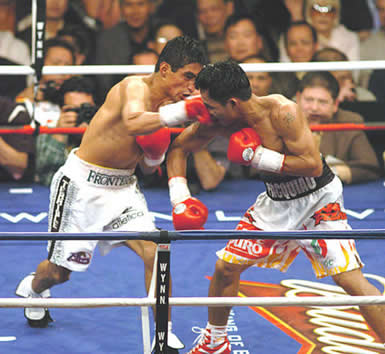 Many people wonder if the 29-year-old Morales will give up fighting to prevent any more losses. Others wonder will he want a rematch, considering his ego was hurt more than the bruises. When Bob Arum, Morales' promoter, was asked if Morales would throw in the towel on boxing he said, "We have to see whether he really wants to continue. I have no idea what he will do."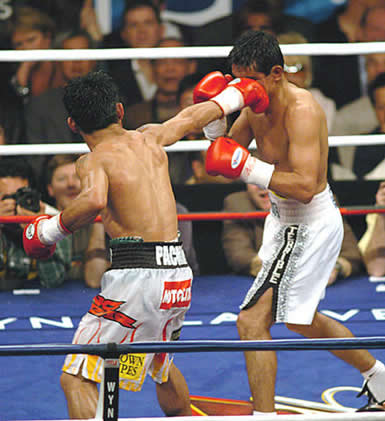 "I spoke with him briefly when he came back from the hospital. He seemed a little depressed but was fine otherwise. He has plenty of money. I just don't know what he's going to do." The only issue with Morales fighting Pacquiao for a third time is his weight. He might not be able to make the 130-pound weight limit.

Boos filled the Thomas & Mack Event Center as Morales went down. The fans obviously hated the fall of the No. 1 contender for Marco Antonio Barrera's WBC super featherweight title. That title now belongs to Manny Pacquiao. Michael Rosenthal of the Union Tribune stated, "Pacquiao's handlers aren't thinking titles, anyway. Money is the motivation." A lot of people are complaining and are making excuses why Morales did not win. Why is it so hard to see a Philipino boxer be the champ? The strongest man won.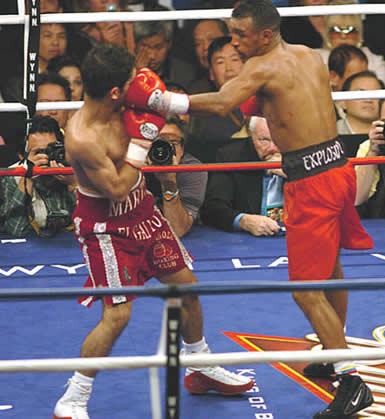 Other bouts on the scorecard for Jan. 21 were the WBA Super Flyweight Championship featuring Martin Castiollo (29-7, 16 KOs) from Hacienda Heights, Ca v Alexander Munoz (28-1, 26 KOs) from Bolivar Venezuela. The middleweight divisions include Marcos Primera and Jose Luis Zertuche (17-2-2, 13 KOs) from Guanajuato, Mexico and a special attraction fight with Juan Manuel Lopez (8-0, 8 KOs) from Caguas, Puerto Rico.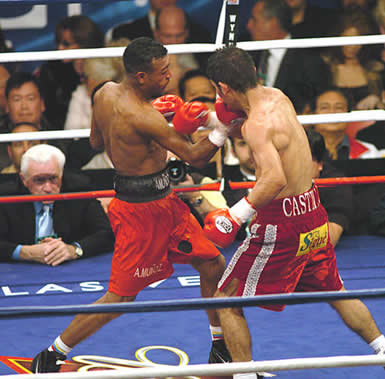 Article posted on 24.01.2006
previous article: Lenny Lynes up the Wright stuff
next article: Sechew 'Iron Horse' Powell vs Robert 'Push Up' Frazier on Feb 3