Sultan Ibragimov-Lance Whitaker - Tyson Smooches The Russian
16.12.05 - By Wray Edwards at Ringside. Photos © Wray Edwards. - Photo Gallery - There was a bit of something for everyone at the Warrior's Boxing show at the Hard Rock last night. Five of the seven bouts were big guy events. Boxing celebs were literally coming out of the woodwork with Mike Tyson at the center of a swirling vortex of admirers to the point that security had to post a guard to stem the flow a bit. The real stars, of course, were the scheduled boxers for the evening's matches. This writer told another photog, "Wait 'til you see how fast this guy's hands are."

The last time we saw Sultan in action was September 16 in Atlanta versus Friday Ahunanya. Though the record shows Ibragimov about nine pounds heavier for his bout with Lance Whitaker, he seemed to have improved his footwork. He came out smokin' in the first round, ala Brewster V Golota, but Lance absorbed the generous impacts more successfully than did Andrew. At the end of the evening Nick Charles asked if the author had ever seen such spooky events as those which came during the next fight. The answer was an emphatic no. Troy Ondrizek and Izyaslav Koza have both given sufficient blow-by-blow so let's look at some of what also happened to spice things up..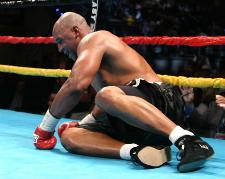 The cut which convinced Lance to quit was from a powerful punch unlike the accidental head butt which ended Sultan's bout with Friday. The event was broadcast in Russia where people were getting up at five in the morning to watch their ever more popular boxing star perform. IMO Sultan is improving.

Besides sitting down on almost every serious punch, his mobility is better every time. He does not seem intimidated by size or any other attribute of his opponents. Though winded at times, Sultan had enough evasive mobility to be able to pace him until he was ready to go again, which, in fact he did with renewed vigor, often as a result of Whitaker's ill-advised taunting of the Russian. The guy is a fierce competitor and it would be interesting to see him fight someone his own size rather than these hulksters. Chris Byrd, Lamon Brewster or even John Ruiz might be interesting. Why John? Because Sultan seems to be able to avoid clutchers and get on with the action, the usual Ruiz hugfest might be neutralized.


Mike Tyson seemed beside himself with admiration and affinity for Sultan. As soon as the fight was over, he injected himself into Ibragimov's corner and stuck to him like a remora (those sucker fish you see on sharks all the time) until he left the ring. In fact Sultan ended up as the meat in a Tyson-Charles sandwich during the post fight TV interview.

Though the Ibragimov-Whitaker bout was listed as the final and main event, their fight was switched ahead of the Peter Hawkins. The crowd was there to cheer on Duddy and Ibragimov and most of them left after Sultan and Lance did their thing, so Sam Peter and Robert Hawkins played to a pretty sparse house. Not only that, but their bout was plagued by bizarre incidents throughout.

Early in their fight there was to be heard a woman screaming near Peter's corner. Her husband had had some sort of medical emergency and she was flipping out while some of the arena's EMS staff tried to help. As the fifth round commenced more chaos ensued in the crowd. Now the woman had swooned as a result of tension over here husband's issues, and more EMS resources were assigned to that problem. This left the fighters without proper stand-by medical personnel to continue under State rules.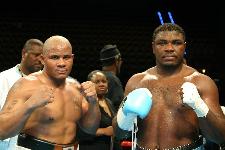 The fight was stopped, the boxers sat on their stools and more of the crowd left theirs to beat the rush. Finally, the fight was resumed with what appeared to be a one minute round. Ringsiders, including the befuddled judges scratched their collective heads in dismay. The next round (we called it "Round 5.33) commenced as more weirdness emerged. These incidents revolved around wardrobe malfunctions. Somehow, Peter's trunks had ripped open from navel to tailbone forcing everyone, especially ringsiders to have to watch the various straps, pads and other crotch assemblies associated with the protector as they flopped around. This was, ironically, a visual nightmare. This may have contributed to some of the lemming behavior of the crowd.

As if that wasn't bad enough, Hawkins (not to be outdone in the boxing trunk portion of the fight) began to experience what mom used to call "droopy drawers". His trunks began to get lower and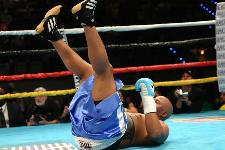 lower in the back until everyone began to murmur why doesn't the ref stop this thing and pull them back up. Thankfully through foresight or good luck Hawkins had donned a black nylon undergarment which spared the dwindling masses additional viewings of boxer's nether regions. Finally, referee James Warring stopped the action long enough to hike 'em up a bit.

The Peter-Hawkins "fight" was really more like sparring and was by that especially vulnerable to the distractions mentioned above. The best part of the fighting action came when Hawkins nearly did a reverse summer salt with his feet high in the air as he went down. Peter got the UD, but the fight was anticlimactic to most of the evening's bouts. If the editors include a gallery with this article much will be revealed.

As for the other fights, there was a nice little four rounder between superlights Jesus Pabon and Mike Salyers which ended in favor of Pabon as Salyers lifted him in victory.

Then heavies Curtis Taylor and Michael Marrone fought and finished in about two minutes when Marrone put Taylor down to the satisfaction of Referee Jorge Alonso who had seen enough.

Then Dennis McKinney and Dale Brown fought to a UD for the Cowboy in a bout shortened from eight to six.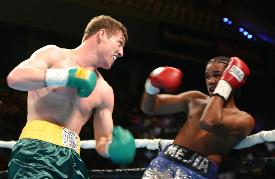 Then big John Chapman and Edward Gutierrez fought an unremarkable bout which was awarded to John though the crowd and Edward thought Gutierrez won. The match was pretty much a pot-boiler with Shannon Briggs yelling throughout to his fave Chapman.

Then, switched to be sort of a co-main event, Irishman John Duddy pretty much smoked Wilner Mejias until Wilner was unable to answer the bell due to an injured hand. Duddy is a real scrapper and much fun to watch. He got hugs and kisses from a significant other who emerged from the crowd to passionately osculate the victorious Duddy.


ESB would like to thank Warrior Boxing (especially Cima Georgevich) The Hard Rock Arena staff and the round card girls for a most enjoyable evening. The evening was pleasantly spiced by visits from Angelo Dundee, Mike Tyson, Shannon Briggs, Glen Johnson and a host of others. Lastly, the author would like to thank Nick Charles for being so kind and friendly when I stupidly called him "Farhood". See you at the fights.


previous article: Why Alexis Arguello Was The Greatest 130 Pounder Ever