Winky Wright–Sam Soliman: A Phabulous Phonebooth Phight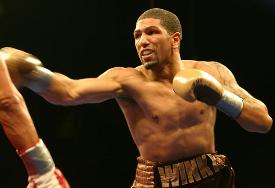 11.12.05 - By Wray Edwards at ringside, photos © W.Edwards - Wright-Soliman photo gallery - The man from down under, would not go down under the will and power of Winky Wright. Sam Soliman, 32, from Melbourne, Australia brought his herky-jerky, off-balance boxing style to the Mohegan Sun Arena for a WBC Middleweight elimination contest to see who would challenge the current champion. Though rated at number five by some, Soliman fought above that mark to make Ronald Wright earn his props. More than one person told this writer that the fight might possibly be a real yawner if Winky stayed at the end of his jab to pick his opponent apart as he had done to Tito. Wow, were they ever wrong! As Wright stepped out of his corner to join the fray, things were about to change.

We had no idea that the friendly Aussie who greeted the crowd with a raised glove as he entered the ring, would cause Wright to pretty much fight his fight, including some right paw-left paw switching off..

The swarming, stumbling, flailing Soliman started right off lunging in on Winky who responded with a willing and steady stance, and answered in kind to the blooming action. Only a few times did Wright have the distance to throw just a hand-full of his patented jabs.

As each round passed, the action was a steady encouragement for great cheers and applause from the assembled masses. The two fighters slugged away at each other with maximum effort. Often, Winky seemed to catch Soliman with pretty good shots, some of which appeared to send Sam reeling, but it was sometimes hard to tell how much of the gandy-dance was from the shot or from Soliman's proclivity to look that way anyhow. There were several bangs by Ronald which were truly effective, but the hearty Soliman appeared to have a remarkable ability to recover quickly and counter-attack.

When Sam did bore in on Winky, he made pretty good contact which caused Wright's eyebrow areas to swell. Wright responded with a ready guard position which robbed Soliman's punches of their intended purpose most of the time.


There had been talk that Winky might be fighting some sort of respiratory condition. He did look a bit off his game, and kept struggling to clear his nose before each round. The truth of the matter was revealed at the press conference after the fight. As both fighters soldiered on, it was evident that Soliman was somewhat in over his head with Wright. This became vividly clear in the tenth round as Ronald caught Sam near Wright's corner and almost beat Soliman to the canvass.

Even at this juncture Sam managed to somehow weather the onslaught of leather from Winky's gloves. It seemed that Wright did not, or could not completely follow up on these opportunities. Both fighters acknowledged good strikes from the other with sportsman-like nods in grudging appreciation of the other's efforts. The final bell rang with both fighters still on their feet, and the weary warriors returned to their corners to await the judge's decision.

By margins of 115/113, 115/112 and a pretty generous 117/110 the bout was awarded to Winky Wright and he was lifted up in victory by his teammates. Australia, however, can be truly proud of their intrepid fighter. This writer would welcome any future opportunity to witness his heart and "skill".

"And the crowd went wild." They also gave Sam Soliman a huge roar of approval as he went to each side to salute the fans. It was a fitting tribute to Soliman who gave it all he had and earned everyone's respect. This included the Chairman of the Mohegan Tribal Council, Bruce "Two Dogs" Bozum, who sat ringside with ESB, and had a great time watching the fight. He, the Council and the Tribal Gaming Authority are to be congratulated on their beautiful resort and professional event staff. BTW, the three round card ladies were astoundingly effective at their craft…enough said.


The news conference was lively with Soliman hinting at a rematch and promoting the idea that the bout was closer than the scorecards indicated. Mr. Shaw went further at the conference than was evident during the after-fight ring interviews regarding the importance of Wright signing to meet Jermain Taylor for the championship. He used forceful terms regarding their upcoming efforts to get the WBC to set a February, 06 mandatory. Shaw: "We want Taylor!"

On the subject of Wright's health, Mr. Shaw revealed that when Wright seemed ill on Sunday, they decided to take Ronald to the hospital for x-rays and consultation with a pulmonary specialist. Wright continued to weather the infection during the week, and resolved to make the boxing match effort as a matter of professional honor and respect for Soliman's opportunity to get a shot. By that, Wright remains a true warrior and deserves the respect of all.

There were several interesting bouts on the undercard and the whole experience was a complete success. ESB would like to thank Mr. Severio Mancini for his kind offices in providing us with ring access credentials. Gary Shaw Fred Sturnberg ran their usual tight ship which sailed through the week with great results. Jeff Lacy was at the fight and was gracious as well. Man it's cold up here! See you at the fights.


previous article: Wright Wins Ugly Decision Over Soliman
next article: Gary "Kid" Stark Jr. On Dec 15 Broadway Boxing Show