Winky to Jermain: "It's Time To Serve Your Mandatory Sentence!"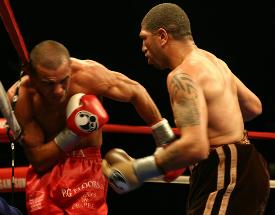 UNCASVILLE, CT (December 11, 2005) Photo © Wray Edwards - Fighting off the lingering effects of a severe week-long chest and head cold and a spirited battle by the IBF's top-rated middleweight contender, two time world champion and WBC/WBA No. 1 middleweight contender WINKY WRIGHT won a decisive unanimous decision over Sam Soliman Saturday night at the Mohegan Sun Arena. Wright, 50-3 (25 KOs), from St. Petersburg, FL, collected a milestone 50th victory while snapping Soliman's three-year, 19-bout winning streak on scores of 117-110, 115-112 and 115-113 in the WBC-sanctioned title elimination bout. It was the 11th consecutive victory for Wright going back to the disputed majority decision loss to Fernando Vargas in 1999. Promoted by Winky Promotions, in association with Gary Shaw Productions, the fight was televised live on HBO.

Wright, who was also rated No. 3 by the IBF going into the fight, now the legitimate undisputed No. 1 middleweight contender and mandatory challenger, immediately sent out a message to middleweight champion Jermain Taylor..

"I want Jermain next. I want him as soon as possible," said Wright. "It's time Jermain. It's time you served your mandatory sentence. The top-two pay-per-view stars of 2005 are also the two best fighters in the middleweight division -- me and Jermain. The fight is a natural. This is the fight the fans want most. Act like a champion and fight me. Don't let your promoter's lack of confidence in your abilities influence your reign as champion."

Soliman, 31-8 (12 KOs), from Australia, proved he was a legitimate No. 1 contender, throwing an astounding 1260 punches, though only 14% actually landed, compared to Wright, who connected on 46% of the 652 punches he threw.

"I felt it was a close fight until the end," said Soliman. "I don't agree with the margin of victory some of the judges scored it or with the decision. I felt it could have gone either way. On thing we have in common, we fight anyone, anywhere, anytime. He's from the old school in that way.

"Sam gave me a great fight," continued Wright. He takes a helluva shot. I hit him with some great body shots and just as he was about to go down, he would recover quickly. It was amazing. I didn't think the fight was close. A lot of his shots were wide and I blocked most of them. The cold made it difficult to breathe through my nose and I was clearing my nose after every round.

Article posted on 11.12.2005
previous article: Winky Wright Wins the Fight!