Lacy - Pemberton Undercard Report & Photos
07.10.05 - Wray Edwards @ ringside - The under-card of the Lacy-Pemberton show was terrific. There was only one fight in which the refs had to break clinches. The rest were warrior bangers all the way, not the least of which was the contest between IBF Bantamweight Champ Rafael Marquez (34-3, 30 KOs) from Mexico and the IBO Champ Silence Mobuza (10-0, 15KO's) from South Africa. This fight was touted by some as having more potential than Jeff and Scott's affair.

By at least one measure they were right. Rafael and Silence kept their ball in the air for most of four rounds, as opposed to the abbreviated Lacy-Pemberton bout. Mabuza, who was recruited from S.A. by Gary Shaw, was just over-matched by Marquez' size, strength and quick accuracy.

Though game, Silence just couldn't capture any momentum to speak of, and at one point ended up on one knee from a body shot and later on his back in round one. This writer thought it might be over for him in round two, but he fought back and stalled his fate for a bit.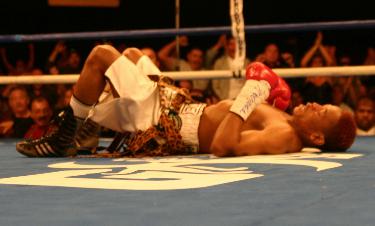 At 2:08 of Round Four Ref Norm and the Doc had seen enough cuts and bleeding that Rafael was awarded a TKO victory. Silence was chopped up pretty good. During the press conference Mabuza's camp indicated that they thought that the second cut was caused by an unintentional head-butt, and that the brevity of the fight, not having gone a full four, should have been declared a no contest. No such luck, and Silence lost his IBO belt which, by the way, the usually accurate Jimmy Lennon failed to note in the victory announcement.

Mabuza said he would like to have a re-match.

In other action heavyweight Shane "Mountain Warrior" Cameron 13-0, 8KOs) from New Zealand went the 10 round distance with James "Hurricane" Walton (20-7-2, 10KOs).




As Cameron was declared the winner, the judges did what he had not been able to do during the fight. They declared him the winner which caused Walton to fall face first to the canvass in disbelief. He had been walking around the ring asking God to help him. The answer he sought was not forthcoming.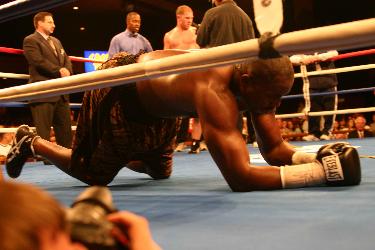 In an eight round Bantamweight bout Nonito Donaire (12-1, 8KOs) from the Philippines took on Ilido Manuel Julio (35-6-1, 31KOs) from Columbia. Julio was down twice in the seventh.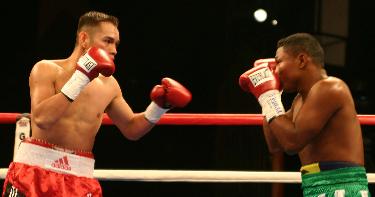 Nonito won the contest with accuracy and concentration.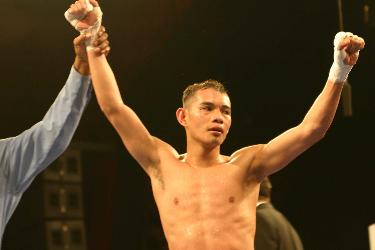 Tim Witherspoon's nephew Chaz Witherspoon (8-0, 6KOs) from Philadelphia had what seemed to be his first real test as he continues to build his heavyweight career. The trick is to pick credible opponents who will give you a good workout, without getting one who has the ability to rip you apart before you mature. Chaz bit off a pretty big challenge in the person of Demetrice King (9-10, 7KOs) from Flint, Michigan.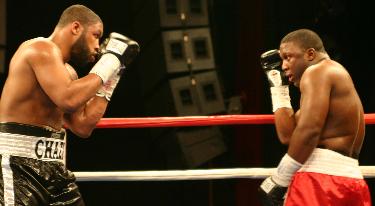 They went the full six rounds with King giving Chazz quite enough action thank you. Speaking briefly with Shelly Finkle after the fight, he told ESB that "Chazz should have stayed outside more to avoid the rough-stuff while using his superior reach to build points." Instead Witherspoon traded and got the most leather of his young career. It was close, but the judges saw it Witherspoon's way. He's a big strong guy. Tahoe's 6000 foot altitude and King's effort taught him some valuable lessons about the fight game.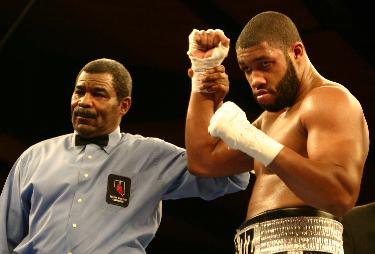 Chazz worked really hard for this one.

In another contest Flyweight Glenn Donaire (14-2, 8KOs) from the Philippines fought Benito Abraham (9-7-3, 6KOs) from Mexico.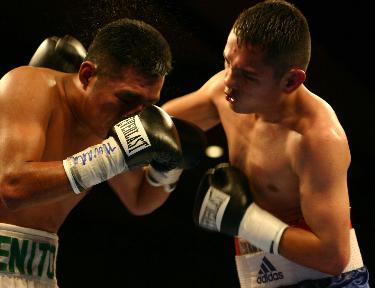 Referee Kenny Bayless had seen enough by 1:10 of the sixth and final round as he stepped in to save the fading Abraham.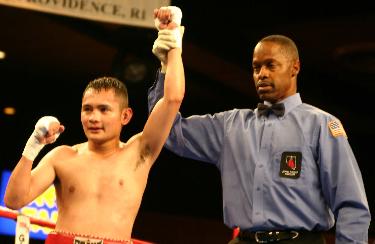 As mentioned before, this undercard was really quite good. Interestingly, the venue filled rather nicely, even for the prelims, so nearly all the fighters got to perform before an avid crowd. A great time was had by all. See you at the fights. Article posted on 07.11.2005
previous article: Ron Lipton - Local referee is still fighting