JEFF LACY RIPS SCOTT PEMBERTON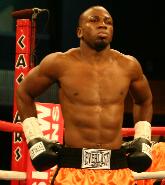 06.11.05 - By Wray Edwards @ringside, Pictures © Wray Edwards: A few months ago Jeff Lacy told ESB, during an interview, that "There's too much talk in boxing. You just watch what I do in the ring, and you'll know what you need to know." Thusly admonished, this writer kept it short and sweet thereafter. That, in fact, describes tonight's fight between Jeff and Scott Pemberton. It was short and sweet. Lacy's raw power was beyond mere words.

During the press conference after the fight ESB asked Jeff if he fed off of getting tagged. During lunch before the fights, the scribes and photogs were discussing Jeff's fighting style. Some opined that Lacy really doesn't get going until the other guy manages to give him a pretty good whack, and that sets him off. Jeff allowed as how he does feed off of the other guy's tempo and effort as inspiration to rise to the occasion. Common sense would dictate that it is very unwise to hit Jeff, but if you must just try to limit your strikes to what ever you think you can take, plus ten per cent..

As they began to mix it up it was immediately evident that Pemberton was completely over-matched.



Even with his gloves and arms in guard position, Jeff's power strokes just sent Pemberton's arms flailing out of position. Lacy's style and power are generating more and more comparisons to Iron Mike. At each successive venue, more and more people make comments about the similarities. Yes he is bunchy and powerful like Mike. Yes he is brutally strong in the phone booth. The list goes on, but there are two rather important differences.

Lacy's career is peaking at a less youthful point than Tyson experienced. Jeff has come to his championship years having more available maturity with which to manage the wealth, notoriety and the business of boxing. Though he is often derided, Gary Shaw is due great credit for his professional management of Lacy's current career. This leaves Jeff free to do what he does best…the art and power of boxing. Those who have been on the business end of Jeff's brush-strokes quickly find that he is not painting a pretty picture for them.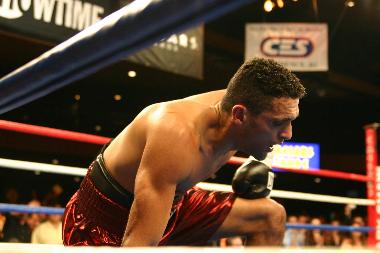 As Pemberton tried to get his legs back the first time he was down, from a Lacy right, he looked over at Jeff who stood neutral. In Scotty's eyes there was a questioning look which many others have had. Robin Reid had the identical expression as he surveyed Lacy's hovering potential from his vantage points on the canvass in Tampa. It must take epic courage to decide to stand up and face the possibility of ending up right back on the floor from yet another withering blast of Lacy leather.

With courage and resignation Scott did get up, and moved toward his inevitable fate. They roughed around the ring for a bit and then Lacy drove Scott off-balance with a signature left, and followed with a right to the head which leveled Pemberton into a flailing heap on his left side.



In quick succession the doctor vaulted into the ring, as Drakulich signaled an end to the fight with little or no pretense of counting to ten. It hardly seemed necessary as Scott flopped around like a beached catfish. Jubilation erupted in Lacy's corner as his seconds lifted him in victory. Scott was back on his feet and getting toweled off as his worried wife looked on. Meanwhile, team Lacy posed for the media.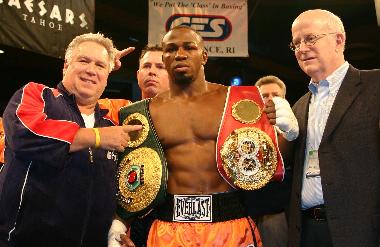 During the TV interview in the ring Lacy called out that: "I want Antonio Tarver. If Joe Calzaghe does not step up…I want Tarver!" No wonder Mr. Shaw was pliable when ESB asked him at the weigh-in if Tarver might be on the agenda after Pemberton. There was much more heated speculation by Mr. Shaw and Jeff at the news conference on that subject. Jeff said he would be glad to cross the pond to take on Joe as it looks like if they ever do fight JC wants to do it surrounded by his homies.

Mr. Shaw lamented current writers' reticence to include Jeff in top P4P lists. He said that will change soon enough. Scott indicated his disappointment, but thanked Gary and Jeff for the opportunity to take a championship shot. ESB asked Scott about the courage it took to face Lacy. He said (paraphrase) win fights, power does, and Jeff's got plenty of that.

Gary said that Jeff Lacy is the most exciting fighter in the world. That's hard to argue with owing to his record and most recent performances. Of course Floyd, Ricardo, Castillo and others might have something to say about that.

Lamon Brewster was in the room and took a few quips from Gary. The press conference was unusually jovial and free-flowing. To his credit Gary Shaw put in plugs for his social concerns regarding domestic violence and PSA (Prostate Specific Antigen) testing to detect cancer in men. Lacy is one of the most amiable sports heroes on the scene today. He is a credit to boxing and a necessity for its near future.

Caesars Tahoe, soon to be no more, did a fine job of hosting the fights. Shannon Johnson (special events), Chris from Showtime, and many others worked long and hard to bring the really excellent fight card to the beautifully, and safely built boxing ring. Every fight was entertaining and well refereed. This writer will hop to it in the morning and crack out a report on the Marquez-Mabuza bout. They really went at it. See you at the fights. Article posted on 06.11.2005
previous article: Dr Klitschko To Seek Another Opinion On Injured Knee
next article: Jones vs. Tarver: The winner of rematches is the superior fighter…