Suico vs. Jauregui, Ben Tackie vs. Nito Bravo Recap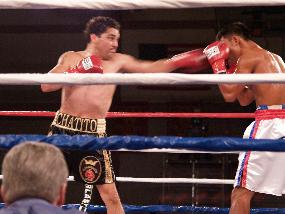 26.09.05 - By Christine Maynard: The venue was Southern California University's first boxing event. Well matched opponents resulted in fights that one attendee, Jack Tiernan, Shane Mosley's agent, said "You might wait all year to see on HBO."

Javier Jauregui, 135 pound former IBF Champion, 49-12-2 with 34 KO's whipped Randy Suico at what was to be Suico's coming out party. Suico, 23-1, with 20 KO's, the favorite, from the Philippines, was flanked by Joe Koizumi, manager, matchmaker, and president of Ring Japan. Suico's quick hands and excellent technical skills were not enough to impact Javier "Chatito" Jauregui, whose signature heavy handed, well directed blows took their toll. In the eighth round of intense fighting, the seasoned, confident Jauregui appeared to be just warming up.

Two years ago, this champion from Guadalajara, Mexico KO'd Leavander Johnson, taking the vacant IBF Lightweight Title. He was defeated by Jesus Chavez in '96. On this evening, against Suico, he was awarded his fiftieth victory in a MD, 99-91, 99-91 and 95-95..

In the first round, Javier landed clean, hard punches, including lots of body shots, to Suico. He was on the receiving end of many mostly fast jabs, from Suico.

In the second round, Suico had Javier on the ropes; his gloves flew toward Javier's face, but Javier, a master of slipping, avoided most of the shots, extricating himself easily. Javier was incredibly facile at ducking, slipping and eluding punches. He can back up from a punch with his upper body, like he's belly dancing, creating even more momentum for the next volley, as he snaps forward, to strike. Suico kept touching, jabbing, not letting up. Javier's forceful punches had no apparent deleterious effect. Many combos, and no holds barred boxing and punching ensued.

In the third, Suico once again cornered Javier on the ropes and landed potentially damaging shots. Suico was decidedly on the attack, wanting this win badly. Javier blocked well; his experience showed. He is a seasoned, confident fighter. Suico blocked a searing left hook, and the two boxers continue to exchange blows.


Suico landed a low blow in the beginning of the fifth. He continued to jab consistently, hoping to wear Javier down. After once again being cornering on the ropes, Javier appeared to tire of the "play." His eyes blazed. He was unscathed by the many shots which had connected, and appeared fresh for battle.

In the sixth, Javier's entire mass was behind his left hooks; his feet came off the ground following the momentum of his fists. Javier swung a wild right, and was then caught with the same from Suico. He blasted back. Suico matched his intensity and advanced with straight shots that connected.

Javier, in the beginning of the seventh, was effective with five blows in a row, then ended up on the ropes at the receiving end of five shots from Suico. The fight kept the crowd on the edge of their seats; they began chanting for Chatito. After a slight lull in action, the pace once again picked up and the audience witnessed some of the best fighting of the evening- great punching from Suico and amazing uppercuts and combinations from Javier.

Riveting action continued, with Javier dancing around the ring, creating combos that connected, repeatedly,-five lefts punctuated by one right. Some holding occurs, but neither boxer appeared particularly tired; they were both in superior condition.

Round eight found Javier performing fast footwork, loping around the ring, light on his feet, daring. Suico missed some critical opportunities. In round nine, Suico opened up, giving it his all. He fired combos, body shots, then 3 hard blows to Javier's head. Javier's retaliation was to pay back, in kind. He was all over the ring, defining the distance and positioning, dictating direction. Suico tapped him, trying to find an opening to land the punch of the night. Javier repeatedly slipped, then laughed, defiantly.

In round ten, Javier continued to elude any damaging shots. He motioned with his hands for Suico to bring it on, knowing he was in control, dismissive of Suico. At that point, Suico brought everything he had to the fight. He caught Javier on the ropes, hitting him ten times before the final bell sounded.

The victory went to Javier. The Mexican National contingency was wildly appreciative of their fighter. To them, he is little Chato, called Chatito, in memory of his older brother, Chato, a boxer who died in his twenties. Javier commented that technique and heart make him a great fighter. When asked who his toughest opponent had been, he stated, "Julio Diaz, in San Diego, for a championship."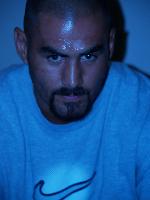 Norberto "Nito" Bravo, 20-10-2 w/ 12 KO's fought hard against the well trained and well conditioned Ben Tackie, 26-5 w/ 16 KO's. Nito's two-and-a-half year winning streak has been interrupted by two consecutive losses (one to Demetrius Hopkins,) and his trainer, Mike Agredano, emphasized that he was more than ready to win tonight's match.

Ben Tackie has had three shots at a world championship. His trainer is John Jackson, two time title holder as a Junior Middleweight and Middleweight, who is self-described as a defense specialist. Shane Mosley helped coached Ben to the win from the front row, commenting "Work the body first. Stay relaxed. Keep your mind relaxed. Ain't nothin' but a thang."

They each got some good shots in during the first two rounds. Jackson repeatedly told Tackie to slip to the right. Nito held his own, with quick, well targeted shots.

In the beginning of round three, Ben missed some shots, and the ones he landed did not appear to impact Nito, who has a good chin. Nito threw many punches as they fought it out. "You're the veteran, nice and relaxed," Shane instructed Ben. "Jab to the body, step in with a hook, set him up." By the end of the round, Ben had the better end of the exchange.

A head butt caused bleeding from Nito's hairline in the fourth. They were swinging, giving the audience just what they wanted, and the fans showed their appreciation verbally. A hard left by Nito was answered by a right, which left Ben open for a walloping right to the chin.

Nito worked the body in the fifth, but it was not enough. Ben appeared more experienced, and set up his attacks. "He's spent his load, jump on him," emanated from the front row, and it did appear that Nito was tiring out.

The sixth round provided continued great action by both fighters, yet it was in the seventh when Nito really rallied. He connected with body shots, missed a few, then turned his attention to Tackey's head, with lots of combination punching. Nito showed lots of heart and continued throwing impressive combinations.

In the eighth, after a slight lull in action, Ben went to Nito's head, and slammed him hard. Two superb lefts from Nito connected, in response. He then began squaring up to Ben, making himself vulnerable to straight shots.

Nito fought his hardest in the ninth. Ben missed at first, then negotiated Nito onto the ropes and worked his body. Ben's focus on Nito's body paid off. Nito wasn't keeping his hands up as well, and the bleeding from his forehead appeared to interfere with his effectiveness.

In the final round it was punch for punch; Nito fought with everything he had, despite the fact that his eye was swelling shut. They tied up and fought hard until the bell. The victory went to Tackie, 95/95, 98/92 and 95/94.

After this fight, a line of "hopefuls" lined up to ask advice from Shane Mosley. He was very generous to his fans; patient, encouraging and kind. College boys asked how long they would have to train to be champions. They walked away, chests extended, as if they already were (champions.)


The first fight of the night featured Alexis Comacho, 6-0 w/ 5 KO's and Francisco Maldonado, 10-20-2 w/ 2 KO's. Alexis' trainer is Fernando Castrejon, who also trains Jesus Chavez, Marco Antonio Rubio, Raul Martinez and Armando Guerrero. Comacho resides in Monterrey, and hails from a family of circus performers- trapeze artists and jugglers. He grew up traveling with them, excelling in gymnastics. For two years he was on the Mexican Olympics team, until a hand injury sidelined him.

Francisco Maldonado from Guadalajara, a junior middleweight, began boxing at 16. His current trainer is Joe Lopez, but his first trainer was Jose Becera, an exceptional fighter considered by many, at one time, to be the best 118 pounder on the planet, with a record of 48-3-1 ,24 KO's, by age 22. He had beaten Jose Medel twice, and KO'ed Kid Irapuato as well as Manuel Armenteros, all world class bantams. "He taught me many things, like how to slip punches very well." Francisco stated.

The ring at SCU was small, a puncher's ring. Alexis rushed to meet his opponent and delivered a searing left, continuing with great jabs and combos which knocked Francisco back. Francisco's first serious attempts were combos that missed. Realigning himself, Francisco connected with head shots, catching Alexis in the face, giving him a mouse below his right eye. Francisco continued with calculated jabs.

Alexis was agile, angular and swift. He moved gracefully and accurately, extended back leg and outstretched arm forming a 45 degree angle as he lunged, with great reach, and momentum.

In the second, Francisco caught Alexis in the jaw with a right, followed by four body shots. Alexis hit back, but Francisco effected an excellent defense against his opponent's searing upper cut. Alexis was falling for Francisco's tactics of engaging him in "tying up." When Alexis boxed and got out, he was clearly the superior fighter.

Round three opened with numerous shots to Alexis' body. His liver area was a deep red, like a scald mark. Alexis returned the body shots, and cornered Francisco on the ropes. His uppercut connected. Resounding body shots seemed to echo. The referee, exasperated, once again said "Stop when I say stop," separating the two. Francisco negotiated Alexis back onto the ropes and landed punches to his head.

In the fourth, Francisco begins to throw a lot of loopey punches, but his rights continued to connect. Francisco's enticement to mix it up kept Alexis vulnerable after each response. "Hit and get out, Alexis" someone shouted. Francisco, a better inside fighter, stalked him and leaned his weight on him, keeping him on the ropes.

In the fifth, Alexis adjusted his tack, stayed off of the ropes, boxing his opponent. And, in the sixth, Alexis knocked Francisco off of his feet. The corner threw the towel without hesitation, and the victory went to Alexis Comacho.

Towels left corners' hands easily on this fight night. Some teams and fighters remarked, post-fight, that the referee was too quick making the decision to end fights. Everyone was edgy, and preventing injury was tantamount. The tragedy of the loss of Leavander Johnson, and the awareness of injuries that are irrevocable, blanketed the night. Ten seconds of silence were observed in honor of our fallen hero, Leavander Johnson.

Article posted on 27.09.2005
previous article: Wladimir Klitschko's Post Fight Comments