Johnson suffers brain hemorrhage in battle with Chavez for the IBF Lightweight Championship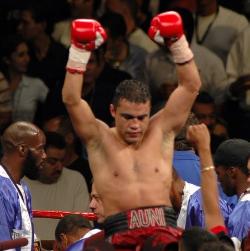 18.09.05 - By Christine Maynard:, photos by BY JORGE A NAJERA - I asked Jesus Chavez, on his final day of sparring at Lord's gym in Austin, for words I could include in my commentary, post-fight. General comments, who he wanted to thank. That sort of thing. He wouldn't do it. I pushed; the request was simple, I reasoned, a pat answer, whatever he always said, after winning. His eyes darkened, and he became deadly serious. "I can't. There's something different about this fight" he said.

Prescience or a savvy analysis, his intimation was Sybil-like. Leavander Johnson was pummeled in the eleventh round. The fight was halted and he was left with a brain bleed. The situation was life threatening, but the good news is, that the day after surgery, the intracranial pressure numbers are beginning to come down. His family is with him. He is in an induced coma.

At the post-fight conference Jesus was filled with consternation, and he expressed sorrow and deep concern for Leavander, saying "My thoughts and prayers as well as those of all on my team go out to Leavander Johnson and his family." He was anything but jubilant, even though he had won his second world championship..

Harold Lederman was inconsolably saddened by the tragedy, which he saw as completely unnecessary. "It was all I could do to not jump out of my chair and stop the fight myself" he said. "It never should have gone beyond the tenth round. The referee could have stopped it, the corner or the commission. He was thoroughly beaten. He had no chance to win the fight. You hate to see a guy get hurt like that." He continued, "Yet, we had the best. Tony Weeks is an extremely competent referee, and Margaret (Goodman) is the most competent MD in boxing."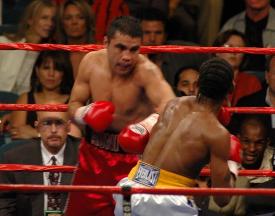 Jesus, a crowd favorite, entered the ring accompanied by Mexican music and flags everywhere (Mexican Independence Day was the 16th of September.) Leavander Johnson's music sounds were gangsta-rap, and he was booed. His home boys, in jeans and white T-shirts, held up the coveted red and gold IBF Lightweight Belt which he had recently captured in Italy. His team's jackets read "The Time is Now."

Jesus started out very slowly, cautiously. Lou DiBella, Leavander's promoter, shouted from the third row "Get that stick out" and Leavander responded with repeated jabs that shot out, straight and hard. Jesus responds with some combos, testing distance, testing Leavander. In round two, the crowd got raucous and wild as real fighting ensued with good punches exchanged. Leavander made hissing sounds with each hard punch. Jesus herded Leavander into the ropes and tied him up for nearly 30 seconds, as the crowd questioned why Leavander wasn't getting out of there. He took plenty of brutal body shots, and a left hook to the temple.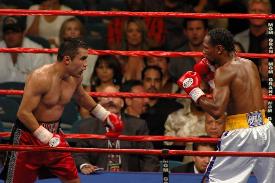 In the third round, Leavander managed to get some good body shots in on Chavez. They both landed blows to the head, and the crowd roared with enthusiasm for the excellent fighting. The sixth and seventh rounds found Leavander on the ropes, again. And, in the eighth, two resounding right hooks to Leavander's head brought the fight closer to its final chapter. Yet, Leavander continued, exhibiting real endurance, and utilizing a strong jab he continues to poke at Jesus.

They both came out banging in the tenth. Jesus ran toward his opponent and laid a blow on his upper back. Leavander appeared to be losing strength. Jesus' combo, 3 lefts, 2 rights were breaking him down.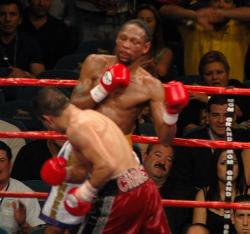 From my vantage point, Leavander looked alright going into the eleventh round. He'd taken lots of punishment, but nothing compared to the intensity of the barrage Jesus let loose to win the fight. I don't think anyone could have stopped Jesus Chavez. He'd had Leavander on the ropes long enough to lay twenty or thirty punches on him three times in the fight already. This time, however, the ferocity of the attack was unparalleled. 8 blows, then 12 blows, all connecting, a finishing storm of magnificent combinations. Jesus flew, lunged, 180 degrees from one direction and then the other, into Leavander. The surge of strength and power was fueled by indefatigueable warrior spirit. He was indestructible energy, that burning diamond purity which sometimes we are lucky enough to witness in the ring. And, which Leavander Johnson was unlucky enough to be on the receiving end of.

Jesus Chavez is a champion, again. In his closing remarks, he stated that he was surprised by the punching power of Leavander Johnson. Referring to himself and his fight game, he stated "I may be a late bloomer," intimating that there is even more for fans to look forward to.

Article posted on 19.09.2005
previous article: Cestus Management Signs Donovan George
next article: Euro Roundup: Dzemski Wins, Akinwande Sparring with Valuev, more