Lakva Sim v Ebo Elder: What Happened?
18.09.05 - By Wray Edwards: For some reason the author goofed around before leaving for Atlanta just long enough to miss the weigh-in. Scolding self half-way there didn't help. Guilt and self-recrimination continued. Not until the personal fantasy of the weigh-in party was dropped, did peace return and a new and better Plan (B) prophecy began to emerge. Wouldn't it be great if, arriving late, the ESB Rep. might just luck into an exclusive opportunity which would be far better than the superficial chaos and posturing around the scales? Wouldn't it be even more amazing if at one point in the fight, ESB would be there to save Ebo from possible serious injury right during the fight? The hits just keep coming folks.

The goofing around, the drive up mixed with fruitless efforts to get a flight…driving 80 and getting passed (par for the course in "Peachtown"), fighting traffic, checking in at the Marriott, taking a futile peek into the mostly empty (last few stragglers leaving) weigh-in room on the way to the elevator, the ride up, finding the room…messing with that blasted mag-strip key-card until the little green light lets you in…changing clothes, grabbing the camera and heading out in search of Plan B. What happened next was classic.

Push the button for the lift…DING…the doors open and there in the car stand Ebo Elder's managers Virgil Israel and Jeff Zager.

After all the time, miles and random events leading up to the pushing of the elevator button, the finger touched plastic in the exact five-second interval necessary to launch Plan B. The task at hand was to meet, learn about and understand the "new" Ebo Elder and those who are now shaping his Boxing career. This report will contain few round references, time signatures or blow-by-blow narrations. Unlike most past events, this assignment somehow became, especially regarding the Elder-Sim bout, a chore. The usual tingling expectations of sporting excitement, may the best man win and tempered hopes for one's mild or strong favorite, were missing. Something was wrong. Not quite sure yet what it was.

There were grand consolations for this unexpected short-fall. But first, there was the cautious effort to nibble at the fringes of Ebo's entourage in hopes of getting an exclusive with him when he returned from his after weigh-in walk with his wife Amy. Know this: there are very heavy boundaries around various groups at a boxing event. There are the commission officials, referees and judges in one group, the local PR firm, the media, the fans, the arena staff, and finally, the fighter(s) and their managers, trainers, promoters, cut men and groupies. The media and fans are treated in a similar fashion. They must be, for good reasons, controlled, while at the same time milked for their publicity potentials and admission fees respectively.

Photogs and writers are carefully assembled at news conferences (sound bites), weigh-ins (photo ops) and at the arena with credentials and area assignments. For media persons to insinuate themselves into another clique or fraternity, even briefly, is dicey at best. The line between an interested, useful reporter and a nuisance, is very fine and is tread as lightly and diplomatically as possible. Not that any of the persons in these groups are inherently hostile or rejecting, but there is always the possibility that the scribe will get in the way, disturb the sweet scientist or be overly friendly with the odd, august commissioner or judge (and some of the are pretty odd). One has to know one's place and keep it, with occasional exceptions, in order to get the story.

Accordingly, past acquaintance and formal arrangements with some of Ebo's official party made possible an exclusive meeting with Ebo in a private media room. Ebo says "Wow, now I can put a face with the voice." He graciously agreed to pose for a few, and accept good wishes for his success at the next day's event. It was short and sweet, as it should be the night before a fight, then we bid farewell until the next day. That night it was a two-inch thick filet mignon béarnaise with the gracious Carmen hosting the meal, and the next morning eggs benedict including a brief chat with the Nigerian HW Friday Ahunanya regarding his plans for a heavy date with Sultan.

The comfortable lobby was swarming with fighters, promoters, cut men and trainers sitting in many chairs and on couches. Ebo's trainer Xavier Biggs sat with us for an hour or so to discuss Elder's progress in camp and the ins-and-out of his sparring partners. Though somewhat distant in time, Ebo's sparring partners in Las Vegas, training for the ill-fated Diaz pairing, figured into the equation with Sim. His great work with Marco Perez, Steve Forbes and especially Emanuel Augustus (whom he is reported to have dominated so completely that Augustus sucker-punched him and they really got into it to Emanuel's regret) contributed well to his general readiness. Some have the opinion that the Diaz camp was getting jittery over the reported potentials that Ebo was amassing for the encounter.

Just a day-or-so before Juan pulled out of the contest, Ebo's father, Greg, was let go as his manager/trainer and returned to Georgia. The particulars of that may or may not emerge. Suffice it to say that Ebo's dad was not at the arena last night. He did, in fact, call this reporter for a chat as he had just heard the text of the most recent ESB article about Ebo, and finally decided to return our calls after three or four attempts since April. He was gracious and informative (most of it off the record as you might well imagine). The call ended with his prediction that Ebo would lose…and who better to have insight into that possibility than his former trainer and concerned father?

Note: A follow-up articles will detail some of the other fights on the card and a really great interview with "Andy". Don't miss that one.

Everyone on press row thought that Elder-Sim was the main event. They did, however, come out and fought before Friday and Sultan. Sim entered the ring first and pretty much stayed quietly in his corner. When local hero Ebo stepped in, cheers went up as he side-stepped around the ring pausing to do a friendly up-and-down glove touch with Lakva. By the way, the lighting of the ring was a photographers dream; Thank you Gwinnett Center Arena. The ring itself was about twenty feet to Ebo's liking, but was very soft and bouncy with wrestling sound-effect clap-boards at the edges. Remember Elder wanted a firm canvass so he could take advantage of foot-work, movement and outside boxing skills.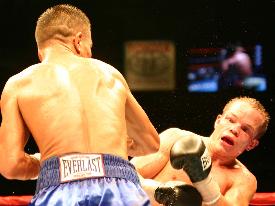 He did try to move and circle as Lakva mostly came straight ahead with dogged counters and inside designs. This writer believes that the padded and bouncy surface had a significant effect on causing increased fatigue to the circling Ebo. He covered at least twice as much territory, as Lakva stayed in the center, and moved straight out for his attacks. Both fighters mixed their punches with body shots, combos and clinches. Several ring-siders remarked about the power of Ebo's body punches and Lakva's ability to walk through them. Ebo's combos were also much better that his Burton effort.

Ebo started to pull straight back from more and more encounters as he tired of trying roll right and left on the mushy, blood-spattered surface. This led to his getting tagged on his butt quite a few times. The first couple were balance/punch KD's, but after that it was pure Sim power shots putting Ebo down. Ebo was fighting a professional and workman-like contest with no apparent attitude. Sim was decidedly hostile and petulant about the ref's activities. Several times he got all bent out of shape over this or that.

Lakva appeared generally tougher than Ebo. That guy can take a punch and Ebo had him backing down in confusion eight or ten times in the fight. Lakva returned the favors. The difference?...Sim obviously recovered from his beatings more quickly than Ebo and even more so in the later rounds. Sim has tougher skin. Ebo had a small left eye cut, a few
welts and a swelling right eyelid. Ebo was knocked pell-mell into the ropes more than once. On one occasion he was knocked clean through the ropes right over this writer and his press partner to the left.

The FightNews photog put up his right hand, and the ESB guy put up his left as we both held Ebo, practically prone, with the backs of his knees hooked over the second strand while an attacking Lakva beat down on Elder over, under, around and through the ropes, until the ref finally managed to pull him off, get him to a neutral corner, and return to help us get Ebo back in the ring. Failing our presence, Elder would have crashed backward onto the press table and, possibly, even to the concrete floor. A sus ordines vato. Truth be told, yours truly almost whispered in his ear "Stay here my friend…perhaps another day."

But like everyone else (including a too lenient ref), we all let Ebo's great heart overrule better judgment and levitate his failing body back into the fray. As Lakva pummeled Ebo through the ropes and I felt the shocks transmitted to my hand, I was transfixed by concern for my friend and my completely inappropriate temptation to beg him to stop. This was Ebo's world and I had no right, so I bit my tongue and as I looked into the eyes of the FightNews guy it was obvious we were brothers of the ring's apron who had both decided, with much trepidation, to do OUR jobs and let Ebo do his. It was a moment I shall never forget.

The fight continued into the twelfth as it did with Burton, but with a completely different outcome. The hell of it was that as Lakva's superior skills and fortitude began to presage the end for Ebo last night, the most recent example on our memories was of his valiant, final effort against Courtney in which he was far more torn up and bleeding than last night. Perhaps he too was enthralled with the possibility of another Cinderella, Hail Mary beat-down of his foe. It was not to be. When he was floored time-after-time and the ref let him continue, when he was so disoriented that he followed Lakva to his corner, and had to be led back to his stool by the ref., when everyone in the room except Ebo knew it was over, his Tiger's eye would not relent.

Mercifully, a white towel appeared over the post in his corner and Ebo ended on his feet. "Thank God" someone a few rows back spoke out. The announcer spoke the results over the PA system, which was unintelligible ringside, and it was history. Ebo recovered by the time his gloves were off and he leaned on the ropes to acknowledge some of his fans. Wife Amy stood by concerned and relieved. Ebo went over to tender congrats to Lakva who, from our vantage point, appeared to pretty much ignore Elder's sportsmanship. By that, Sim dropped a notch in this writer's opinion. No prayers this time.

ESB would like to thank the Marriott Gwinnett, Pride and Glory, Kim, Guilty Promotions, Mr. Hunter, Mr. Zager, Mr. Israel and last, but not least, Mr. Sampson Lewkowicz to whom we offer sincere apologies for misspelling his name in the previous article. ESB will shortly cover Jones-Tarver 2 and Corrales-Castillo 2. See you at the fights.

photos by Wray Edwards

Article posted on 19.09.2005
previous article: Euro Roundup: Dzemski Wins, Akinwande Sparring with Valuev, more
next article: Zavek to battle Boyarskikh live on the internet