Lacy vs. Reid: A Quick Word With Jeff Lacy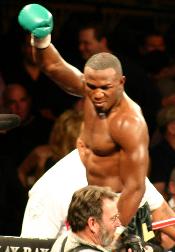 28.07.05 - Interview & photos by Wray Edwards: A week from this Saturday (August 8th) Winky Wright's neighbor in St. Petersburg, Florida, twenty-eight year-old Jeff (Left Hook) Lacy, will meet Englishman Robin Reid at the St. Pete Times Forum in Tampa, Florida. Undefeated Lacy will box thirty-four year-old Reid who has a record of 38-4-1 (27) and hails from Runcom, England. This is only Reid's second trip to the U.S. He was here for his last match in 1993.

Lacy has been a busy boy lately besting Syd Vanderpool early last October, then about sixty days later he took on Omar Sheika at Mandalay Bay. Omar went the distance with Jeff in a close-fought contest and Lacy gave him props at the news conference after the fight. Just ninety days later Mr. Shaw had Jeff back at it versus 26-1-0 Rubin Williams who succumbed to Jeff's power in round seven. Lacy, who is very personable and positive-minded, impressed the media with his sense of purpose and ability to back up his talk.

Eastside Boxing caught up with Jeff to ask him about his fight with Reid. Robin will match his IBO Super Middleweight pink slip against Jeff's SM-IBF title.

ESB: Hello Jeff. When you fought Shieka and Vanderpool everybody considered them a step up for you, and that those fights might be a chance for you to learn some new approaches..

JEFF: "Well you always want to go out to learn when you are up against a veteran or someone who has more experience than you have as a professional. It was like…I've been boxing for eighteen years now and it was like I knew what to expect. I knew I had to go to another level and I've been there with other fighters."

ESB: What do you mean "…been there with other fighters"?

JEFF: "In training for those fights we made sure that our sparring partners were an increased challenge. It was all about me takin' the cap off and showing everybody what I'm really capable of doin'."

ESB: "Well you sure did that. How was your camp?

Jeff: "It was great. I'm in good shape and still improving.

ESB: Who did you spar with?

Jeff: "We had several guys…some taller…some smaller to train for speed as well as power."

ESB: What do you think is Reid's best weapon?

Jeff: "I have no idea, I'm not listening to what his best weapon is, I'm just goin' in there, you know what I'm sayin'… to make him fight my game plan. I'm not lookin' for him to go out and do what he wants to do, I'm lookin' to keep him on my game plan."

ESB: What about Beyer, Kessler, and Calzaghe in your future?

Jeff: "I'm just trying to focus on Reid right now, but I can tell you that my goal is to unify the division if that answers your question. Whoever is holding the titles in the future, I'm lookin' to fight.

(It did)

ESB: How about Winkey do you two hang out at all?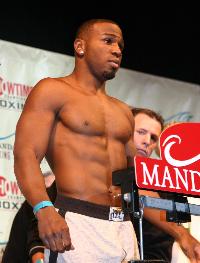 Jeff: "Yeah, we're friends."

ESB: How 'bout hanging out with him in the ring one day?

Jeff: "There's no reason for me and Winky to get in the ring…we're both trained by the same guy. The only way that would happen would be if there were no other boxers for us to fight. I don't see that happening 'cause there are a lot of boxers for both of us out there."

ESB: After boxing for eighteen years you must be getting a good perspective on your career. How long do you think you will stay at it?

Jeff: "Until I reach my goal to challenge all the champions at middleweight then after that go up to Light Heavyweight and take care of business there…then I'll be done."

ESB: Anything you want to tell your fans?

Jeff: "Like I said, I'm out there to conquer my goals and a big part of my inspiration comes from their support. They are just great."

ESB: Thank you for taking time with Eastside Boxing and good luck in´the fight. I'll see you there.

Jeff: Alright and thank you…goodbye.


So far, Jeff has made steady improvement of late. His compact physique, solid style and versatility have enabled him to move right through many fights. Reid is not the challenge that Beyer or Calzaghe might be, but Jeff shows no sign of slacking off in his quest to unify. The fly in the ointment for unification is probably that the division is an all European party at present.

Jeff's quest is to bring all the SM belts back to the U.S. The fact that Reid elected to come over here does not necessarily mean that the other three will do so. Jeff may have to go over there and get the titles if the deals can be cut. Time will tell. ESB will be ringside for the Lacy-Reid encounter. There are similar problems at light heavy. One thing for sure…his fights aren't boring.

photos (c) Wray Edwards

Article posted on 28.07.2005
previous article: David Walker: you're no Biggie, Small
next article: Showtime Conference Call Quotes: Lacy, Birmingham And Hughes