Samuel Peter: "Who is Man Enough to Fight Me?"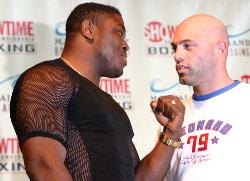 22.07.05 - Photo by Wray Edwards/ESB: An Open Letter from Samuel Peter to Sinan Samil Sam and Wladimir Klitschko: In my last television appearance, I asked the heavyweight division and the rest of the world, "Who is Next?" Now I have a better question for both of the fighters who have been ordered by the WBC and IBF to fight elimination bouts with me: Who is man enough to fight me? Wladimir and Sinan, both of you have opportunities to meet me in the ring and try and prove you are the new mandatory challengers in two of boxing's main sanctioning organizations, the WBC and IBF.

It is my understanding that my promoter, Duva Boxing, has made significant offers to both of you to fight me in the very near future. I ask you to look the offers over carefully and please don't try to hide behind your promoters or managers. Boxing fans around the world deserve to know who the next heavyweight king will be. Let's settle this in the ring like honorable gentlemen..

We are fighters and warriors and are supposed to fight the best to prove we are the best. Which of you is man enough to try and do it against me?

Sincerely on behalf of me, my promoter, and my manager,


Samuel "The Nigerian Nightmare" Peter

Article posted on 23.07.2005
previous article: Oscar Diaz vs. Emanuel Augustus: Old West Shootout on August 26!
next article: Former Amateur Star Aaron Williams Scores 1st round KO