Jackie Kallen: Still A Contender
28.06.05 - By Fiona Manning: She's been called The First Lady Of Boxing. Those who know her confirm she's Kitten With A Whip. But if you ask Jackie Kallen, just call her Still In The Game. She's still A Contender.

Kallen, fresh off a victorious spin as "den mother" on NBC's The Contender is hunting fresh fields. There's a new TV sitcom in the works and others in the planning stages.

Despite the fact NBC has declined to produce a second season of the boxing reality series The Contender, it completed a well-rated run.

Its competitor, the hastily produced The Next Great Boxing Champion, hosted by Oscar de la Hoya was yanked from the Fox schedule after only a handful of episodes and consigned to obscurity in the small hours on a cable relative station..

On a busy weekday, Kallen is back in action, running, yes, running into the sweathouse otherwise known as The Wild Card Gym in Hollywood. More hide is being tanned on the heavy bags than at your average abattoir.

The reason for Kallen's excitement is the new, new, new welter she is signing to her suddenly growing stable of future contenders.

Just call her The Gal Who Knows A Prospect When She Sees One.

Kallen is thrilled just to watch her new boxer, 21-year-old Eddie Tice who's flown to LA on his first plane ride ever from Muskegon, Michigan. She is managing Tice with Kathy Garcia from Salinas, whom Kallen describes as "Another sharp cookie when it comes to moving a prospect."

Tice, a handsome, well-defined young man is polite, energetic and enthusiastic. He hits the bags, eyeing the population of Freddie Roach's gym with the same eagerness Kallen is watching Tice attack the bag for a 60-second round.

Leaning forward, eyes focused on Tice, Kallen has enlisted the aid of trainers and all-round boxing gentlemen Don Familton and Max Garcia (Kathy's husband) to get Tice ready for his shot at the big time.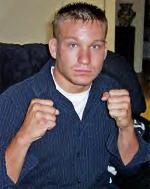 "He's such a nice kid. He's everything I love in a fighter. He's good looking, he's polite and he's a southpaw," says Kallen who asked to Tice to come to LA so she could see him under training pressure from professionals who can give him the training she can provide.

Already, she, Familton and Garcia like what they see. Plans are for Tice to return to Michigan this week and pack his bags for a return trip to California on July 5.

If everything goes to plan, Tice will move to Salinas in northern California to stay with the Garcias. There he will focus on training, conditioning and nutrition.

He will then come to LA to spar and get ready for fights with Familton.

While his parents are anxious about their son moving to California, having big league backing is a dream come true for the whole Tice family.

"The thing about this guy is that he is a good athlete," Familton says. "He's in good condition and he has all the skills you want in a boxer, which includes a good character. He needs to be brought along slowly but I like what I see. He's strong and he's got fast hand and foot speed."

Garcia concurs. "He's a strong runner, which I look at first. He's already well ahead of the game. He understands the importance of nutrition, which a lot of fighters don't."

For his part, Tice can hardly believe the overnight changes in his life. He's gone from being an unknown gym rat to training with the best of the best in Hollywood.

But first, he had to survive that plane ride.

"My heart was pounding and I had butterflies in my stomach when we took off. Even the landing was rough, but let me tell you nothing was going to stop me," says Tice, who is pounding it out with some enticing stars of the sport.

Israel Vasquez, British cruiser Ola and others prowl the carpeted floor while former Australian heavyweight contender Justin Fortune and Pepper Roach keep things in check.

Fighters love the Wild Card for its 30-second rest break instead of the traditional 60 seconds. It keeps the tension and heart rate pumping. It's wall-to-wall bodies and Kallen loves it.

"I am as excited today as I was when I first started," she says. "Since the Contender, people have been coming out of the woodwork. It's been unbelievable. I turn on my computer and find all these emails saying I AM GOING TO BE YOUR NEXT HEAVYWEIGHT CHAMPION!!!"

She has been bombarded by fighters seeking help but is always looking for The One.

"I got these emails from this one guy who told me he was going to be my next heavyweight champion. He was 390 pounds and told me he'd won 25 fights – when I probed a little more, it turned out he was 39 years old, 5'9 and his fights were all street fights."

One of the woodworkers was not Tice who doesn't own a computer and doesn't even have a cell phone. The 3-0 prospect was touted to Kallen via his friend Lance Willea, who peppered her with e-mails about his talented friend.

Detroit-born Kallen was intrigued enough by Willea's e-mails that she decided to take a look at Tice.

"He's so innocent," she says. "It's amazing. It's almost like Pretty Woman."

Is Tice nervous about his second plane ride ever?

"No," he says, a trifle unconvincingly. "I am doing what I have always wanted to do. I just don't want to let Jackie down."

Kallen has also signed another hot prospect she has high hopes for, newcomer, featherweight Matt Remillard, 19 from Connecticut. He's also fresh in the game with a 3-0 record.

But still and all there's the sheer love of the game.

And as Kallen tells Tice between breaks, "You won't let me down. Losing is not an option. Never forget that."

Coming from her mouth, he won't.

If you believe YOU are the next champion of the world or know someone who is, drop Jackie a line at Jackiekallen@aol.com.

Article posted on 28.06.2005
previous article: Plymouth Rocks on NER radio
next article: Froch-Barney/Witter-Kotelnik: Fight fans get extra treat in Nottingham