Back From Puerto Rico, Casamayor-Raiymkulov
09.06.05 - Interview & photos by Wray Edwards: Eastside Boxing caught up with Joel in New York as he prepares to fill the co-main event slot with Cotto-Abdulaev at MSG. Joel was kind enough to take some time to speak with us prior to the fight. The joint was jumping.

"Wow, you look good. Like a serious fighter." Many boxers would be proud to hear those words, especially from the Great Roberto Durán. He spoke them as he entered the hotel room of Joel Casamayor. There is always a rush of greetings and excitement when "Manos de Piedra" enters a room. Durán is the trainer of record for Joel at this point in his career. This Saturday night, southpaw Joel will meet undefeated, Kyrgyzstani born fighter Almazbek Raiymkulov (Kid Diamond).

The right-handed Raiymkulov, who lives in Las Vegas, will fight at 135 from his Junior Welter rating for this contest. His last opponent was undefeated Koba Gogoladze whom he TKO'd in the sixth of ten. Joel's most recent bouts were two very close SD loses to Diego Corrales and Jose Luis Castillo with a win over Daniel Seda as the meat in the sandwich. Even Joel's loss to Freitas back in 2002 was a two pointer. So he's right there; More about that later..

ESB: How was your camp Joel?

Joel: "Great, beautiful! We worked very hard for this one."

ESB: Why did you go to Puerto Rico to train?

Joel: "Mostly the weather, but also I had many experiences of my amateur career there, and it feels like my roots. Also the weather was perfect and beautiful this time of year for a boxer to sweat."

ESB: With whom did you spar?

Joel: "Golo Trinidad and Jose Nieve. Jose Nieve was good for dealing with speed because he's quite fast. Golo was good for dealing with muscle as he is very strong."

ESB: Is Golo related to Tito?

Joel: "Yes, he is his first cousin."

ESB: DJ told me you trained under Jose Vonilla. How was he for you?

Joel: "Beautiful. He knows how to bring out my natural abilities to the maximum effect. I believe the improvements will show from now on.

ESB: Did you hear that Julio Diaz called you out last night after he knocked out Perez in the first round?

Joel: "Yes, but we are too much above him now to pay much attention. Right now we are serious about this fight at the Garden."

ESB: In your fight with Castillo you seemed to fade toward the end. Do You think you are in better shape now?

Joel: "Much better. Vonilla was very strict.besides, we have a plan now if another boxer starts with the kidney punches. That was a real problem with Castillo."

ESB: Do you think you are ready to fight the kind of bloody contest like Corrales had with Castillo?

Joel: "I am prepared to fight harder from now on."

ESB: Who do you really want to confront"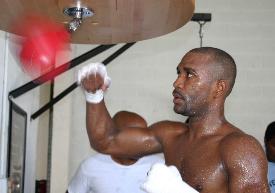 Joel: "Corrales, of course. He owes me that third match to settle once- and-for-all who is best between us. Our last match was too close for anyone to be completely satisfied that we have settled the issue."

ESB: Thank you Joel and Vaya con Dios.

Joel: "Y tu."

We sat ringside for Corrales and Castillo. The fight with Diego at Mashantucket was very close. It still obtains that Joel's corner tried to cut it too close. They seem to have made a fundamental mistake by trying to outguess the judges. The crowd was pretty evenly divided in their reaction to the fight and the decision. If it had gone the other way the boos would probably have been just as loud. Both boxers fought from a classical stance and it was definitely a points battle.

Castillo was another story. The fight with Joel at Mandalay Bay was a clash of styles. Castillo has a more brutal, brawling, macho approach. The rolling rhythm and elegant foot-work of Casamayor was contrasted with the move ahead, plowing assault style of Luis. Joel did not elect to play Castillo's game. Brawlers virtually never switch to boxing. They rather impose their style which breaks up and confuses the classical approach. Ditto Hatton trudging through Tszyu.

What Casamayor failed to do against Castillo was amply demonstrated by Chico Corrales. When Diego was confronted with Castillo's very aggressive close-quarters mayhem, he said "OK if that's the way you want it, let's party." He did this even to the extent of switching stances just to rub it in at one point. Joel has not shown a willingness to really go to a final blood-and-guts conclusion in his most recent fights. If a boxer's classical approach can't win, he just seems to have elected to try for distance and complete the rounds.

This will be Casamayor's first fight at Madison Square Garden. Maybe this venue will inspire him to step up and finish his career some flair 'cause he's 33, and that's getting up there for a lightweight. With Durán in his corner and the world watching, it would be nice to see him win this one. Joel will have to really power up and get deadly serious if he is to succeed in forcing a rubber match with Chico.

With Juan Diaz, Julio Diaz, Frietas, Elder, Corrales , Lazcano and others out there, he's going to have to take on some stiffer competition than Fightnews' number sixteen rated boxer in Kid Diamond. May both fighters have their best possible bout.

photos © Wray Edwards

Article posted on 09.06.2005
previous article: Cinderella Man
next article: Kevin McBride: Is He Another Great White Joke?