Interview with Zsolt Erdei
27.04.05 - By Balazs Katai, www.profiboksz.hu: Zsolt Erdei (22-0, 13KO) began his professional carrier as an amateur world champion, 2x european champion and olympic bronze medallist in 2000. Four years later he became WBO lightheavy weight world champion after he had beaten Julio Gonzalez easily. Since then the 30 year old hungarian fighter has defended his title three times.. He beat the tough Hugo Hernan Garay twice in very hard fights and easily outscored the hard hitting Alejando Lakatus. Erdei is maybe the most succesful fighter from the Eastern European region. Zsolt might defend his WBO belt against former world champion Mehdi Sahnoune on 18th July.

What do you think of your carreer? Are you satisfield, your judgement?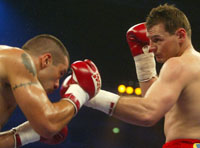 IĒm not a well-known fighter in the worldÖ yet. The most important thing for me is to be the best and I do everything for it. Iím satisfield with my acknowledgement in Hungary, but itís strange that i got some critics after my last fight. However abroad everybody recognized I beat Garay in the rematch.

I heard that your next title defence will be on 18th of July?

I haven't got any official notice yet. But its sure that I have to fight at the begining of this summer and Universum Box Promotion is already organizing the place and the date of the fight.

Do you know Mehdi Sahnoune who might be your next opponent?

I donít know him. If the fight will take place I will watch him and his boxing style on the videos. I know that Silvio Branco, who beat him, is a really good fighter. Though I also could defeat him.

How do you prepare for the fight?

I have already started training and Iím waiting for the news about my next title defence. At first Iíll go to a camp in Zinnowitz then Iím going to train in Hamburg.

It is said if you beat Sahnoune you will fight for the WBO and WBA title against Fabrice Tiozzo. What do you think about him?

Iím very very interested in a fight like this. I would fight Tiozzo anytime with pleasure.

According to Ring Magazine you are the third best fighter in the light heavy division..

Iím very proud of it, but I would like to be the first later therefore I need a world class opponent

What is your tip in connection with Johnson vs Tarver rematch?

I think Tarver will be the winner and the third final fight will come.

Is there anybody who you would like to fight?

I have no dream opponent. I will fight everybody who wants my title.

Karoly Balzsay (6-0, 5KO) is the biggest prospect of Hungary. He was an excellent amateur fighter and now he seems to be a good one as a professional fighter. He is your stablemate, what do you think about him?

He was an excellent amateur fighter, but he would be better as professional. I think he is a red hot prospect. Balzsayís mentallity and style is very suitable for the professional boxing. He could be more succsesful here. He fight very spectacular therefore tha fans will like him. It will be worth watching Karoly Balzsay!

Article posted on 27.04.2005
previous article: Ruiz vs. Toney is Israel Garciaís "Turning Point"!
If you detect any issues with the legality of this site, problems are always unintentional and will be corrected with notification.
The views and opinions of all writers expressed on Boxing247.com do not necessarily state or reflect those of the Management.
Copyright © 2001- 2015 Boxing247.com - Privacy Policy l Contact