Samuel Peter: Out with the Old, In with the Nightmare!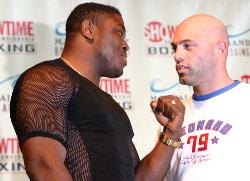 27.04.05 - Photo: Wray Edwards - Representatives for heavyweight terror Samuel "The Nigerian Nightmare" Peter want to ask boxing's sanctioning bodies, and television networks why they insist on recycling the same old names for high-profile fights instead of giving some worthy new contenders a chance to breathe some life back into the division.

With well-traveled veterans like Jameel McCline, DaVarryl Williamson, Derrick Jefferson, Wladimir Klitschko, Lance Whitaker and Monte Barrett being afforded opportunities to fight title eliminators, while all-too familiar names like Hasim Rahman and Andrew Golota get their second and third world-title tries and with former promising contenders like Dominick Guinn confirming their limited abilities lately, Team Peter say they're amazed to see the most dangerous young puncher in the world getting bypassed..

"The heavyweight division has been in a terrible state for quite a while," said Peter's promoter, Dino Duva of Duva Boxing. "Why do the sanctioning bodies insist on regurgitating the same old names on the boxing public time and time again? It's so obvious that Samuel is the only true heir to the heavyweight title. Samuel is THE MAN, so I think it's time for him to get his chance."

"Who did James Toney beat to even be called a heavyweight contender?" added fiery manager Ivalyo Gotzev. Former middleweight Toney, who is scheduled to face unpopular champion John Ruiz for the WBA strap on April 30, defeated aging ex-champion Evander Holyfield and first-time heavyweight Rydell Booker to receive his shot.

"The fact is that Sam would wipe the floor with Toney," said Duva. "Why are the sanctioning bodies digging up dinosaurs to fight when they've got the most exciting new heavyweight to come along in many years and he's ready, willing and able to take over as soon as they give him the chance. Why was a fighter like Eliseo Castillo even allowed in the ring with Wladimir Klitschko on HBO?"

Duva says that Peter would love to face the other young heavyweight who has emerged recently, Calvin Brock, who got off the floor to defeat McCline. "Calvin Brock has shown that he is another fresh face who should be in the mix. He's clearly a notch behind Sam, but instead of all these heavyweight re-runs, why don't the networks and sanctioning bodies start arranging a
showdown for the division's future? Peter vs. Brock should be the next big heavyweight mega fight."

Team Peter say they're ready to go if any of the aging contenders should happen to get re-injured and fall out. "Sam's in the gym every day. Call us and we'd be happy to start helping a bunch of these old fighters get out of the game," said Duva. "Let us start a new day for heavyweight boxing. After Sam's fight against Gilbert Martinez (Friday at the Plaza Casino in Las Vegas and televised live on ESPN2), if everything goes well, we will challenge ANY heavyweight in the world. We have decided to speed up the process of having him take over the heavyweight division and the sanctioning bodies, the TV executives and most of all the fans should do anything they can to make it happen.".

Article posted on 27.04.2005
previous article: Earl vs Bennett: Only One Can be Champion!
next article: Ruiz vs. Toney is Israel Garcia's "Turning Point"!