Klitschko vs Castillo: An Exclusive Interview With Eliseo Castillo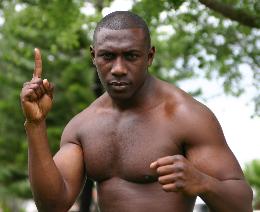 16.04.05 - By Wray Edwards: The first time yours truly met Eliseo Castillo it was on a mountain top of the Pacific Coast Range. Working on electrical equipment for a training camp, I sensed someone watching. Looking up I found, standing over me, a large and imposing man with inquisitive eyes and a faint smile. "Can I help you?" he asked. Under strict rules of the camp, boxers are not allowed to do manual labor except in the ring, so the answer was "No, thank you."

It was unknown to me at that time, what a truly amazing story would come from this guy's memory the next time we spoke at length. With two brothers and two friends on a raft, 17 year-old Eliseo cast himself adrift at sea seeking freedom and a better life away from his native Cuba. For five days in shark-infested waters they drifted, ending up in Panama.

Cuban refugees who are caught on the water are returned (for the most part) to Cuba. Those who can put their feet in the sands of the U.S. mainland are given asylum. Panama's political relations with the U.S. at that time, left the quintet on the raft to be returned to Cuba, but with one difference.. They were taken to the U.S. military facility at Guantanamo. From there, after a year or so, Eliseo was granted permission to come to the United States and, once here, given a green card.

Eliseo bagan to box when he was twelve years old, and fought 80 or 90 amateur bouts. At age twenty Castillo launched his pro career. Just six days short of his thirtieth birthday, on the twenty-third of April, Eliseo 17-0-1 (14) will again be in uncharted waters and facing a human shark this time. The two hundred and twenty pound boxer will confront Wladimir Klitschko 43-3-0 (39) in Dortmund Germany. The following is an interview with Eliseo, for Eastside Boxing, in the living room of his training home in Miami, Florida:

ESB: Good to see you again Eliseo. How was your camp?

Castillo: Excellent! I had great sparring and good conditioning.

ESB: With whom have you been sparring?

Castillo: I have been sparring with Lance Whitaker, Jameel McCline and Michael Grant. These guys are pretty big so they give me some work with size. Grant and McCline are top ten guys, so it was a pretty good workout with them.

ESB: We heard back in November that you were negotiating with Wlad's camp, but it was not confirmed until recently. What was the hold-up?

Castillo: Yeah, it took about two or three months to make the deal and qualify me.

ESB: What do you think of Wlad's style?

Castillo: Well he got a real accurate style. He's a tall guy who fights with his head in the air you know. He don't have much dimension, he fight stiff and fights straight, he has a hard right hand, but he force his punches.

ESB: Have you ever been to Europe?

Castillo: No, I've never been out of the states since I came here.

NOTE: Castillo had to go to the Cuban Embassy to get proper documents for his trip to Europe.

ESB: What boxers past or present do you admire?

Castillo: Ali, of course. He had good mobility, an excellent jab, accuracy, and a mean streak when he needed it and he was amazing.

ESB: You haven't fought since Mooorer in July. Do you think you might have some rust?

Castillo: No, my work with McCline and Whitaker has kept me fresh.

ESB: What did you think of Moorer?

Castillo: He was a good boxer for me to fight. His style is different as he comes inside and it helped me to work on counters and avoiding clinches. He also helped me in the gym at one time giving me pointers which helped a lot. He's a great guy.

At this point Norman Wilson, one of Eliseo's trainers, entered the room and we took the opportunity to ask him about Castillo's financial management.

ESB: What are you guys doing to provide for Eliseo's future after his boxing career?

Norman: That's a great question. Yes, as a matter of fact we talk about that each and every day; and not just that, he has an accountant right now who keeps a close eye on his taxes, as he's going along, as well as what kind of plan is best for him.


ESB: So you're interested in investing and saving for the future (to Castillo)?

Castillo: Yeah ócause I don't know much about that sort of thing and I don't want to end up like some of those other guys. I want my money to work for me even while I'm boxing.

ESB: What do you think about a national commission for the sport?

Castillo: I wish they could have something like that, but I don't think it's going to happen. I wish they could do it like that, but to me, I don't see it that way. Nobody care about boxers you know. People just using boxers, and when they finished, you know they just drop them. Then they just get another one. It's been like that since the beginning of the world you know. When the boxer's tired and can't fight no more they just forget about him. That's why I wanna be sure the
money I make I gotta save it for myself.

ESB: After you finish with Wlad who would you like to fight next? - How about Ruiz?

Castillo: I would like to fight Ruiz, yeah.

ESB: If you should fight him, you will have to watch out for all that hugging. He's very affectionate you know.

Castillo: Yeah, he a nasty guy.

ESB: How long have you been in the U.S. on a green card?

Castillo: I've been here for nine years. Right now Iôm working on my citizenship.

ESB: Is your mother here also?

Castillo: No, she's still in Cuba.

ESB: How did you get into boxing.

Castillo: Well, I saw my brother Elicir fight and I thought I might be good at it also. That was when I was twelve or so.

ESB: You have come a long way Eliseo, adrift on the sea, held at Guantanamo for background checks, coming to America and now a trip to Europe to fight a world-famous guy. Quite a life story and it's getting better all the time. Thank you very much for your time with us. We hope to see you when you get back.

Castillo: Of course, we like Eastside Boxing very much.

It was a great pleasure to visit with Eliseo and his people. We were treated to some Miami home-cooking and an afternoon of kidding and good-natured fun. His self-assurance seems a natural part of his personality and not bravado. He is remarkably calm about his meeting with Klitschko.

Should a boxer of his relative world-stage experience and fewer fights than Wlad has KOôs prevail, it will bring great changes to him. He seems more capable than his ranking and next week we shall see. His weak point is his right hand which has been injured in the past. Other than that we send him to the continent where two American based fighters will face each other in the ring.

The Klitschkos, of course, have previously been with Universum in Europe, and so they have a bit of a home-town advantage even though they have got a divorce from Herr Kohl in court. Eastside boxing wishes both boxers a good, hardy effort and may the best man win.

Photos by: Wray Edwards

Article posted on 15.04.2005
previous article: Scott Harrison – The Man who would be Ken or Jim or Benny