Pacquiao vs Bradley: Hypocrisy and the End of the World!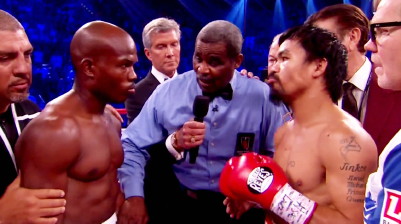 By P.H. Burbridge - So much is lost or ignored amidst the general discourse once a "controversy" fills the air.
 
If Saturday night in Las Vegas has proven one thing it's that hypocrisy is alive and well in professional boxing.  Fight fans seem to be up in arms that Manny Pacquiao wasn't awarded the decision for what many believe a winning performance against undefeated American, Timothy Bradley.  Some fans are "outraged" while other so called "boxing experts" openly call for the creation of a national regulatory body to intervene to avoid future "travesties of justice".  
 
Those pontificating about a regulatory body supervised by the government are dreaming.  That kind of talk has been going on almost as long as the "abolish boxing" chat has.   When you hear folk's pull the "we need a government controlled boxing commission" card it's similar to the cry for stiffer gun laws after a high profile murder takes place.  No one tries to understand the root cause of why one person killed another and they go straight to "it's the system!."   The WBO is "reviewing" the judge's scores but probably won't find enough to recommend any type of a reversal by the NSAC.  But, I'm sure they'll create a NEW FIRST and install Manny OVER their current champion in their rankings.  It's absurd but it wouldn't surprise me.  I could go on about their financial motives to do the ridiculous but you're a pretty savvy group of fight fans and already know the deal there. 
 
They count and rely on our apathy and we never disappoint.
 
But, oddly there are a couple of curiously absent topics from the "outrage"….
 
The first and obvious one is that Manny's was on the other side of the controversy last November versus Juan Manuel Marquez.  After reading numerous articles since the fight took place I would say less than 5 % even bother to mention Marquez's name and when they do it's certainly not to draw the obvious and direct correlation between those results and Saturday nights.  Sadly, we all know the truth which is that one set of rules exist for the "A" players and another for "B" players.  If there was equal justice for every fighter then those crying about "another black eye for the sport", etc… would have also been crying back on November 12th 2011.  But, they weren't!  Yes, there were people at the time who stated the obvious but aside from a select handful there was really no official protest of any kind by the promoter or the sanctioning body even though the majority of fair minded fans and observers believed that JMM won handily.  You most certainly didn't hear the kind of nonsensical comments like "Manny should give the title to Marquez" that we're hearing directed at Bradley.  Manny gave off the appearance of a man who had resigned himself to his defeat before the verdict was read for the Marquez fight yet when he was given an opportunity to show JMM some respect in his post fight interview he emphatically said "it was obvious I won the fight"….Well, nobody serious believed that then which was reinforced by those in attendance who showered him with a chorus of boos and no one believes that now. 
 
Did he believe he lost or did he honestly believe he won?  Maybe he wasn't sure?  So, what makes him any different than Bradley in that sense? 
 
Hypocrisy in professional boxing is institutional in nature and so deeply ingrained in the sport that it's just accepted. 
 
Why is one fighter favored over another equally committed fighter?  Dumb question….
 
The money maker can be awarded questionable decisions for the overall good of the sport because so much (money) across the board is tied to his success.  Revenue justifies all kinds of questionable and immoral decisions from the judges to the State Athletic commissions to the sanctioning bodies to the television network / commentators to the promoters (especially!) and on to the fighters themselves.  Even the fans and boxing scribes routinely and intentionally fail to mention the obvious…..Everybody plays "the game" and we know it. 
 
It's not new…
 
No, its not outright corruption like the old days of fixed fights mayb a more subtle and complex form of corruption that nonetheless all the players understand and have a role in?
 
We all want the Mayweather fight so we'll pretty much allow just about anything to get it including the public screwing of a great fighter (JMM) from his just due.
 
It's for the "greater good" right..?  It's a jaded viewpoint but probably a lot closer to the truth than many of us would care to admit.
 
But, on to the actual fight and the reality check(s)….
 
Once you start peeling this artichoke and get passed the obvious subject matter a number of interesting sub plots emerge at the heart of Saturday nights results which tell a more significant story than the "controversy" or the "outrage".
 
Reality check #1, I don't think the decision was as terrible as some people are making it out to be especially after watching the replay without the benefit of HBO crafting the story line for all us fat, dumb, inebriated boxing fans.  If it was robbery then we've seen worse.  Watching the fight live it was clear that Manny was landing the harder shots but watching the replay minus the HBO script (open love letter) you realize just how much Manny was missing Bradley who amazingly was often times right in his firing range.  At times it was clear that Bradley was briefly dictating the pace and controlling the action.  Some of his little short combos were discounted amidst all the HBO love vignettes but in my opinion the first 3 rounds were won by Bradley.   Manny did too much following and missing in my opinion which was pretty stunning and brings up Reality check #2, the punch stat and the methodology used to collect this data which based on my own non scientific analysis was scoring punches landed for Manny that simply did not land. 
 
In a future article we'll do a more comprehensive analysis of punch stats but for our purposes here today let it be known that I don't believe Manny landed at the rate credited.  He couldn't have…. A hundred and ninety POWER shots and Bradley barely had a scratch AND this with a bad ankle hindering his movement?  Open your eyes and your minds.  How many times have you heard HBO commentator, Jim Lampley gushing that "Manny lands a left" when clearly no shot landed?  Bradley is slipping punches and Lampley is saying exactly opposite.   I've said this before but, TURN THE VOLUME DOWN on HBO and use your own eyes!  I know Pacquiao has fast hands and its probably no easy task to accurately tally those numbers but are the compubox folk's any closer to the action than Jim Lampley? 
 
God can only hope they're more accurate!
 
Reality check #3, one thing is hard to dismiss.  Starting with his weight all the way through to demanding the bout not to start until after an NBA playoff game ended it's becoming abundantly clear that Pacquiao has lost much of his desire for the sport.  We can no longer ignore that his focus simply is not there and his outside activities are finally beginning to speak of a fighter spreading himself far too thin.  I know the counter argument is "Manny always does that and still wins".  Well, he can still win when he's fighting flawed tailor made opponents but you saw that Bradley, who himself was thought to be somewhat tailor made was able to make him miss badly and even more impressive through his sheer determination competed evenly in spots with a fighter considered the elite of the elites.  There are many credible boxing folk's who thought Bradley won the fight. 
 
Maybe you disagree with their final conclusion(s) but each judge officially scored it 7 rounds to 5 for their winner which is significantly closer to reality than Harold Lederman's 11 rounds to 1….!! 
 
I don't even have words for how far off Lederman is but its not surprising considering the legacy of HBO's transparent and calculated attempts to tell YOU what you just saw!
 
When there's such a large gap in talent you expect the superior fighter to raise his game and put things out of reach but Saturday night Manny couldn't do that and it showed in his fighting in spurts.  He either totally underestimated Timothy Bradley which resulted in his not being as intense in training or he's simply not the same fighter.  People have pointed to his last 3 performances as good indicators that he's on the inevitable downward slide.  You can make this #4.  When you break down this bout and review the styles of Manny's recent opponents you realize that Bradley was supposed to be a perfect guy to look good against.  He's a small fighter who has the reputation of being solid but not great and he's there to be hit plus he has little power.   Forget about the undefeated record for Bradley, this fight should have been a showcase of Manny's continuing prowess but it ended as more proof of his physical erosion.   His lust for combat seems to be waning as evidenced in his inability to sustain an attack.  Whenever he landed a hard shot that appeared to stun Bradley he simply could not follow up.   Bradley was able to diffuse the attack with some pretty impressive movement from his waist which is a tactic that you'd believe a prime Pacquiao would have no trouble in dealing with.  The sign of an old fighter is when they start relying solely on their power to turn the tide.
 
Watching Manny Saturday night reminded me of another great fighter who showed similar signs at a similar time in his career and it became the prelude to the end of his prime.  That fighter was Julio Cesar Chavez and it happened when he first fought Frankie Randall.  Chavez too was coming off a disappointing fight against Pernell Whitaker and Frankie Randall was supposed to be tailor made because it was believed he would mix it up with Julio and offer an opportunity to deliver a knock out.  Julio's motivation and concern level going into that fight was low just as Manny's was for Timothy Bradley. 
 
We all know the result of that match and although the action of that bout in no way mirrored what went down Saturday night there are striking similarities between Chavez and Pacquiao at this stage in terms of their inability to rise to and perform at their usual level.
 
The methodical and expected beat downs never came.
 
They followed, they loaded up and they missed targets right in front of them!
 
I'm convinced in his prime, Manny Pacquiao would have KO'd Timothy Bradley but, I don't believe he can do it now. 
 
If you're paying attention all the initial signs are there that Manny Pacquiao's physical prime has now passed him by.

And that's the real story of Saturday night not some false outrage.
 
 
(Please feel free to contact P.H. Burbridge via email at PHBboxing@gmail.com with any comments or feedback.)   
 

Article posted on 14.06.2012
previous article: Manny Pacquiao is beginning to show clear signs of age
next article: Chris Arreola-Mike Mollo On June.23rd Card - Could Be A Fun Fight!