Tim Bradley Shocks The World!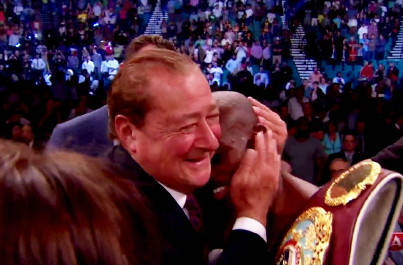 By James Slater - Wow! Where to start with what happened in Las Vegas last night? First of all, congratulations must go to Tim Bradley, a tough, determined hardworking fighter who said all along he'd shock the world by defeating superstar and P-4-P king Manny Pacquiao. And, despite what many people feel about the split decision that went in favour of "Desert Storm," Bradley did what he promised he'd do.

With the win, Bradley has changed his life forever and he has well and truly entered the big time in boxing. The shock Bradley caused, and the shock the decision of the judges caused, cannot be taken in fully right now. It will take time for this one to sink in. Pac-Man losing a close decision in his second home of Las Vegas? No way would anyone have predicted that. But it happened, and now we look to the future.

The return is already pencilled in for November 10th, courtesy of that rematch clause Pacquiao was smart enough, at things turned out, to have in the contract.. Both fighters said the return will happen and who wouldn't want to see it? But who will win?

Looking at last night's fight, Pacquiao looked to be almost back to his best; throwing a ton of hard shots, never looking tired and never once being hurt. On my card, Pac-Man swept the first six rounds, with Bradley coming into things in the second half of the fight (winning the 8th, 10th, 11th and 12th and having a share of the 7th on my card), and on a number of occasions it looked like Pacquiao might stop Bradley. But the WBO welterweight title challenger was as game and as durable as they come and Bradley sucked it up and boxed well in the later rounds.

Most fans feel as though Bradley's late success was not enough for him to have won the fight, and loud booing broke out inside the MGM Grand after M.C Michael Buffer read out the score-cards. Listening, waiting for the decision, I sure felt Pacquiao would have his hand raised. Was last night's verdict a terrible robbery; a disgrace that everyone involved in should be ashamed of, as Bob Arum said? It seems many fans feel it was.

Pacquaio has been fortunate to have won a decision or two himself in the past (see his second and third fights with archrival Juan Manuel Marquez), but last night the good luck went the other guy's way. Showing class, Pac-Man didn't scream the house down with complaints over the decision, merely stating that he believes he won the fight. An entire country agrees with Pacquiao, as well as a good deal of the rest of the world's population. At the same time, however, it's hard not to feel happy for new champ Bradley.

Also a class act, Bradley has to know he was fortunate to have had those two judges on his side, yet the gutsy effort he gave in the ring was all his own doing.

Article posted on 10.06.2012
previous article: The end of an era?
next article: Say Goodbye To Mayweather Vs. Pacquiao? Floyd Senior Says No