Chris John Resumes Sparring; Looks Awesome!
11.04.05 - By Harry Summers Jr.: When current WBA Featherweight champion Chris John, 34-0-1 (19), suffered a cut over his right eye almost two weeks ago in training, it appeared as though sparring would be absent from the final weeks the Indonesian's training camp ahead of his April 22 defense against ex-champ Derrick "Smoke" Gainer, 39-6-1 (24).. But yesterday, the 25-year-old was surprisingly back in the ring, thanks to a full face, hockey mask-like head guard, which his team had sent express from overseas to Belok Village, Bali Island, Indonesia, where they have been training.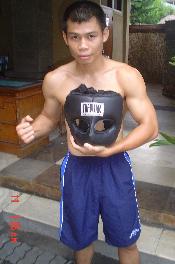 In his first sparring session in 10 days, John looked awesome, dominating the ring and knocking down well-equipped Filipino Dexter Delada with a thumping right hand to the sternum. Also in the session, John landing a number of beautifully timed overhand rights, something trainer Craig Christian claims they have been working on in preparation for the slick-moving Gainer.

Despite his status in the featherweight division, Chris John still is a work in progress and come April 22, his team is confident he will be unveiling a slew of new tricks. Article posted on 10.04.2005
previous article: Barrera blasts out Fana in 2nd round knockout!