O'Kane's the Betfair Prizefighter King; Corley stops McCloskey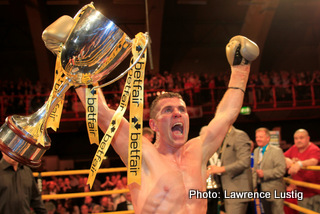 Eamonn O'Kane roared to victory in the all-Irish Betfair Prizefighter Middleweights at the King's Hall in Belfast, but saw fellow Dungiven fighter Paul McCloskey stopped by 'Chop Chop' DeMarcus Corley.

O'Kane defeated JJ McDonagh in the final and was a deserved winner, not least for his part in the fantastic opening quarter-final of the night. The Commonwealth Games gold medallist kicked off the night with a thunderous three round tussle with Anthony Fitzgerald, with the pair roaring out of the blocks and trading lusty blows for the full nine minutes, before O'Kane was given the split decision.

His reward was a semi final with Ryan Greene, who had seen off the challenge of Ciaran Healy in the second quarter final. A clash of heads and a nasty gash affected Greene in the opening round, but even without that he might not have survived the crunching right that floored the Lurgan man after two minutes, giving O'Kane a first round stoppage and crucial recovery time for the final..

The climax was scrappier than his opening two fights, with McDonagh's height and reach getting him to the final. O'Kane's work rate negated the Irish super middleweight's key tactic, and when he was docked a point for a low blow in the final round, that put the seal on the win for the 30 year old with the judges marking the bout 30-27, 30-26 and 29-27 in his favour.

O'Kane moves to 7-0 and will take a step up in his career when he fights on the big Matchroom Sport bill in Belfast in September. With a glittering amateur career behind him, 'King Kane' was the hot favourite with the bookies, but afterwards the new champ admitted that it was a dangerous decision to take a spot in the 24th edition of Matchroom Sport's eight man, one night tournament, but one he felt he had to take.

"It was a risk to enter but it has paid off 100 per cent," said O'Kane. "I've always loved the format and it is almost a free shot to boost your career and leapfrog your rivals. I don't think any of the boys who lost here tonight have been damaged by their defeats as it was a great show – but my name is out there big time now, and I aim to capitalise.

"I might be a bit short of title contention yet – I haven't been beyond eight rounds and was only 4-0 before winning here. But I am ready to step up as I'm 30 years old and I don't want to hang around. I get great training and great sparring and I feel ready, and this win has probably moved me two or three leaps in one night.

"The opening fight was fantastic. I knew Anthony would come and fight and that we would put on a show and that's what happened. The head clash with Ryan was an unfortunate accident but the punch to stop him would have hurt a lot of people. There was a lot on the line in the final which was probably why it was a bit cagey, but I think I did enough to justify the decision and I'll take a fortnight off with my family and be itching to get back in the gym."

The all-Irish Betfair Prizefighter Middleweight winner then sat back and hoped for a night of double delight for Dungiven as Paul McCloskey took on 'Chop Chop' DeMarcus Corley, but the American played the role of party pooper to perfection, rocking the former undefeated European light welterweight champion and World title challenger with a crunching right hook that forced referee Ian John Lewis to end the contest in the tenth round.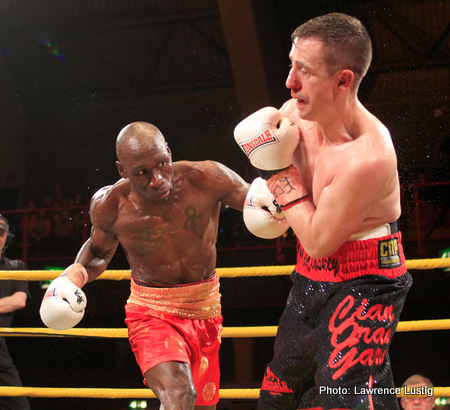 "I will have to sit down and figure out what went wrong," said McCloskey. "But you have to give DeMarcus a bit of credit. He is a quality operator. His record might tell a different story but he is a quality fighter. This was last chance saloon for this fellow so he came and gave it a good go.

"He caught me with a great shot. I thought I could have carried on but every fighter thinks he can fight on, so I am gutted. It is a massive, massive setback for me."

Corley will now hunt a World title shot for himself but offered words of comfort for Dudey.

"I thought the stoppage may have been premature because he likes to play possum, trick you into thinking he's hurt then bite right back," said Corley. "But I'll definitely take it and I boxed right to plan. I rocked him a lot and that was tough because he's hard to it and a really strong guy – he can bounce back but tonight was my night, I was confident I could do it and I'm confident I can fight for a World title again."

The evening began with a fine performance from former British featherweight champion Martin Lindsay as he stopped tough east Londoner Mickey Coveney in the fourth round of the scheduled six.

Lindsay moved through the gears nicely in the opening two round, marking up Coveney with his effective jab and smooth right. Coveney tried to rally in the third but Lindsay both repelled his advances and fired back in style in the fourth round, ending the fight with 1.13 gone in the fourth when a stinging right forced the referee to intervene.

The 29 year old was delighted with the win, which he hopes puts him on track to land a shot at the British title once more, and it laid to rest the ghost of his sole defeat which came at the King's Hall in December 2010 when John Simpson took the title from him.

"It was weird being here again but I'm glad to have got the Simpson loss out of my system," said Lindsay. "I've had two fights in six weeks and got nine good rounds under my belt but I didn't feel any ring rust before as I've been training solidly for months. I've never fought twice so soon before and I feel great – I want to move up the card now to the top where I belong and get that British title back.

"Mickey's a tough competitor and he wants to bully you onto the ropes so I'm pleased that I didn't give him a look in. And the finish felt great – the second I threw it I knew it was a good one and it was a good stoppage from the referee as a couple of more punches would have seen him go."

All-Irish Betfair Prizefighter Middleweights results:

Quarter finals

Eamonn O'Kane beat Anthony Fitzgerald – split decision 29-28, 28-29, 30-27

Ryan Greene beat Ciaran Healy – unanimous decision 29-28, 29-28, 30-27

JJ McDonagh beat Darren Cruise – unanimous decision 30-26, 30-26, 29-27

Joe Rea beat Simon O'Donnell – unanimous decision 29-28, 29-28, 29-28

Semi finals

Eamonn O'Kane beat Ryan Greene – first round stoppage 2 minutes 22 seconds

JJ McDonagh beat Joe Rea – unanimous decision 30-27, 30-27, 29-28

Final

Eamonn O'Kane beat JJ McDonagh – unanimous decision 30-27, 30-26, 29-27
Article posted on 06.05.2012
previous article: News: Viloria vs Romero III; Medina vs Davis
next article: News: Lucian Bute; Gabor Veto; Roberto Jose Acevedo