McCloskey and the all-Irish Betfair Prizefighters weigh-in for Belfast blockbuster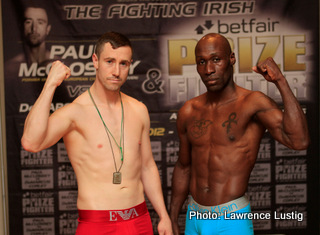 Dudey believes big win leads to a World title shot – Collins and McGuigan deliver their verdict

Paul McCloskey says he must win impressively against 'Chop Chop' DeMarcus Corley tomorrow night to land another World title shot.

Dudey faces the former World champion as the main event on a huge night of boxing at Belfast's King's Hall, with the former unbeaten European welterweight king facing Chop Chop after the all-Irish Betfair Prizefighter Middleweights battle it out for the trophy and £32,000 winner's cheque.

Corley won his world title in 2001 with a first round stoppage of Felix Flores and made two successful defences against Ener Julio and Randall Bailey before dropping a split decision to Zab Judah in July 2003..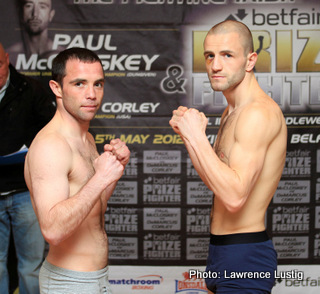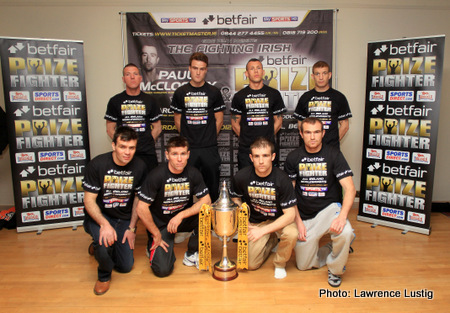 The 37 year old took Floyd Mayweather Jr the distance in 2004 and faced Miguel Cotto the following year for his old title. Corley travelled to England to face Junior Witter for the WBC belt in 2006 and went the distance with Marcos Maidana for the WBA belt in 2010.

Corley proved he still has plenty to offer as he claimed the NABF light welterweight title against previously unbeaten New Yorker Gabriel Bracero in the Big Apple in January, and McCloskey knows he is in for a tough test on home soil.

"He's coming off the back of a good victory so I have to be at my best," said McCloskey, who tipped the scales at the weigh-in at the King's Hall at 10st 1lb. "But I think he knows he has to track me down and do some damage. It's going to be a massive night and I'm drawing the curtain on it, and I plan to do that in style with a crucial win that puts me in a good spot for a second World title shot."

"As I've got older I've become more of a puncher," said Corley, who came in lighter than his opponent at 9st 12lb 1oz. "I've been in with the best and hurt them, and I know Paul doesn't have enough to stop me. I know I'm going to win the fight and I know it's going to be by knockout."

Before McCloskey and Corley do battle, the all-Irish Betfair Prizefighter Middleweights takes centre-stage as the 24th edition of Matchroom Sport's eight man, one night tournament opens the door to title shots for the victor.

Commonwealth Games gold medallist Eamonn O'Kane is the bookies' favourite for the tournament and he kicks off the show against Anthony Fitzgerald. Quarter final two sees Ciaran Healy face Ryan Greene for the right to meet either O'Kane or Fitzgerald in the first semi final. The bottom half of the draw sees Darren Cruise face JJ McDonagh in quarter final three and the victor will face either Simon O'Donnell or Joe Rea, who box in quarter final four.

Irish boxing legends Barry McGuigan and Steve Collins had their say on who will emerge victorious on Sky Sports boxing magazine show Ringside, and both men agreed with the odds makers.

"You have to pick O'Kane because he is fresh out of the amateurs and he knows how to get out of the blocks very quickly in a fight and he's very powerful," said McGuigan. "Joe Rea has been getting some great sparring and is in terrific shape but can he roll back the clock? Simon O'Donnell is a very capable, tall and huge for the weight so he is a danger man."

"It's really unpredictable as there's a great mix in there," said Collins. "But I agree with Barry that Eamonn is the favourite having just come out of the amateurs. Joe Rea has been through a tough time in his career and turned it around so he could be the dark horse.

Collins then commented further on the apparent omission of Irish middleweight champion Gary 'Spike' O'Sullivan from the tournament. The former two-weight World champion believed that Gary had not been approached to enter the event, but since that interview aired on Sky Sports, Collins spoke to show promoter Eddie Hearn and cleared the situation up.

"Eddie called me straight after to tell me Matchroom Sport had invited Gary through his promoter on more than one occasion but unfortunately the message never got through to Spike as he would have taken it," said Collins.

Official weigh-in results:

Paul McCloskey 10st 1lb vs. 'Chop Chop' DeMarcus Corley 9st 12lb 2oz

Martin Lindsay 9st 5lb 2oz vs. Mickey Coveney 9st 4lb 6oz

Prizefighter Line up and weights:

QF1: Eamonn O'Kane 11st 6lb 12oz v Anthony Fitzgerald 11st 7lb 4oz

QF2: Ciaran Healy 11st 7lb 6oz v Ryan Greene 11st 4lb 10oz

QF3: Darren Cruise 11st 6lb 8oz v JJ McDonagh 11st 6lb 12oz

QF4: Simon O'Donnell 11st 6lb 14oz v Joe Rea 11st 7lb 10oz

To win the Betfair Prizefighter Irish Middleweights – Betfair bet: 13-8 Eamonn O'Kane, 3-1 JJ McDonagh, 9-2 Anthony Fitzgerald, 7-1 Simon O'Donnell, 9-1 Joe Rea, 11-1 Ryan Greene, 37-1 Darren Cruise, 41-1 Ciaran Healy

Both Eamonn O'Kane and Ryan Greene showed the Betfair cameras round their gyms as they prepared for fight night. For more great Prizefighter content visit the Betfair YouTube channel. Article posted on 04.05.2012
previous article: Mayweather-Cotto, Alvarez-Mosley Weigh-In Photo Gallery