Agbeko keen to say sorry to fans in Ghana; George Ashie fights for Commonwealth title in Ghana April 14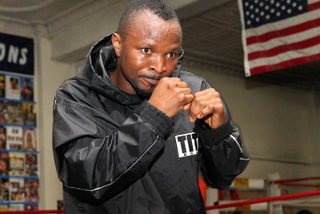 By Prince Dornu-Leiku - Joseph King Kong Agbeko believes he still owes his fans and Ghanaians in general an apology and has therefore marked his return fight in this country to appease and make up to them.

The former IBF Bantamweight champion fights in Ghana for the first time in over 5 years when he faces veteran Filipino Michael Domingo (44-16, 23 KOs) for the vacant (International Boxing Organisation) IBO Bantamweight title on May 26 in Accra.

"Ghana is the place where I was born. There can be no other place like home than Ghana. I've not fought in front of Ghanaians for a long time so it's a great time to fight here again. It makes you feel good, at home. So it's not a bad idea at all," Agbeko exclusively told Ghana based newspaper ALL SPORTS..

Whilst welcoming the opportunity to fight at home since claiming a round 4 TKO victory over Baba Nsor on 23rd March 2007 at the Azumah Nelson Sports Complex in Accra, Agbeko insists he will not be fighting to not only win, but most importantly to pay back his fans for their support over the years even as they never saw him fight in flesh.

"I will always apologise to the fans because their support has been incredible. I want to say sorry to them for breaking their hearts and I promise that next time I enter the ring, I will put the smiles on their faces," Agbeko told ALL SPORTS
King Kong added on his future: "My team is working on a move up to Super Bantamweight division but we need to take time so one or two more fights at Bantamweight then we will see if we are ready."


George Ashie fights for Commonwealth title in Ghana April 14

By Prince Dornu-Leiku

Former Universal Boxing Council (UBC) Junior Lightweight champion George Ashie has the opportunity to become the Commonwealth Lightweight champ when he faces South African Thompson Mokwana for the vacant title in Accra next month.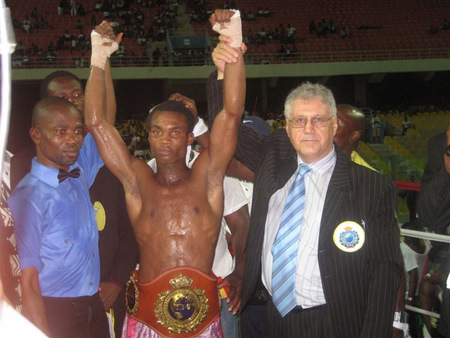 Ghanaian fight fans are promised fun and excitement galore on the night of April 14 at the Lebanon House in the centre of Accra when Classic Vision Sports Management and Promotions stage a fight for the Commonwealth Lightweight belt.

Dubbed 'Journey to the world,' the night is all about hot prospect George Ashie alias Red Tiger who takes on Thompson Mokwana of South Africa in the main bout for the Commonwealth Lightweight title.

According to Dauda Fuseini, Secretary of Classic Vision Promotions, they expect this to the beginning of the rise of former UBC Super Featherweight champ George Ashie 22-3-1 (15 KOs) to world title glory hence the need to introduce his journey to the world.

"We are promising Ghanaians and the general public a lot of excitement and the chance to also see our next world champion George Ashie in action against an opponent from South Africa. This is the chance to announce him to the world. Additionally, there are other good boxers fighting on the bill, it will be fun," Mr. Fuseini told ALL SPORTS.

The 'Journey to the world' bill which has Solomon Otoo Lartey as Matchmaker, also features a Commonwealth Featherweight title final eliminator between Patrick Okine against a yet to be announced opponent as well as the national Bantamweight title clash featuring Isaac Nettey against George Krampah.

Other bouts are Ben Ankrah versus Kofi Manu for the national Welterweight belt, Michael Ansah against Daniel Tetteh with the national Super Featherweight title at stake, a Lightweight contest featuring Richard Amefo against Stanley O. Johnson and Philip Kotey versus Osumanu Adams in a Super Featherweight clash. Article posted on 17.03.2012
previous article: Selcuk Aydin talking about his July 28th fight against Robert Guerrero
next article: Braekhus undergoes surgery, Mathis fight off – Evensen to fight Villa for WBA International Featherweight Title on April 21