Sheffield fight fans out in force as Hatton and Brook weigh-in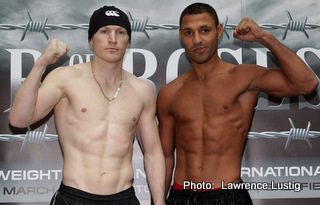 Meadowhall shopping centre stood still today as Kell Brook and Matthew Hatton weighed in for tomorrow night's War of the Roses clash at the Motorpoint Arena Sheffield, live on Sky Sports 1, HD1 and in 3D.

Both men took to the scales live on Sky Sports News, Hatton making the weight first (10st 6lb 9oz) before Brook travelled down the escalators to a rapturous reception from his home town following as he tipped the scales at 10st 6lb 4oz.

"I am overwhelmed by the turn out today," said Brook. "Coming down to a reception like that was just amazing, I have been buzzing for fight night for a while now and that's given me another boost.

"I'd like to thank all the fans that turned out today and I promise them that I will make Sheffield proud tomorrow night.."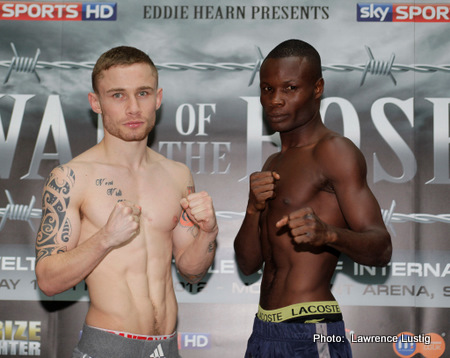 Carl Frampton provides the chief support as he defends his Commonwealth super bantamweight title against Ghanaian bantamweight king Prosper Ankrah, with Greg Proksa defending his European middleweight strap against Kerry Hope and Adnan Amar and Lee Purdy battling for the vacant English welterweight crown.

Team GB star Scotty Cardle makes his highly anticipated professional debut, exciting middleweight prospects John Ryder and Ryan Aston face tough nights with Alistair Warren and Lee Noble respectively, and the night begins with a potential barnstormer between Sheffield's own Wayne Reed takes on Commonwealth Gold medallist Eamonn O'Kane.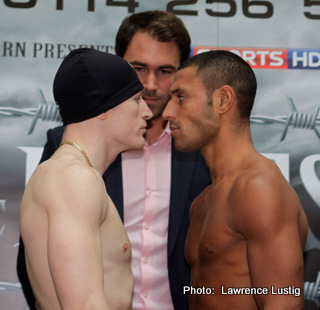 A limited number of tickets are available for the 'War of the Roses' plus a full championship undercard now remain priced £30 and £100 from the Motorpoint Arena Sheffield Box Office on 0114 256 5656 and at www.motorpointarenasheffield.co.uk. £40, £60 and £150 VIP tickets have now sold-out.

Official weights

12 x 3 mins WBA/IBF Inter-Continental Welterweight Championship
Kell Brook 10st 6lb 4oz v Matthew Hatton 10st 6lb 9oz

12 x 3 mins Commonwealth Super Bantamweight Championship
Carl Frampton 8st 10lb v Prosper Ankrah 8st 10lb

12 x 3 mins European Middleweight Championship
Greg Proksa Hope 11st 5lb ¼oz v Kerry Hope 11st 5lb ¼oz

10 x 3 mins Vacant English Welterweight Championship
Lee Purdy 10st 6lb 1oz v Adnan Amar 10st 6lb 12oz

8 x 3 mins Middleweight Contest
John Ryder 11st 9lb 10oz v Alistair Warren 11st 7lb

6 x 3 Middleweight Contest
Eamonn O'Kane 11st 9lb 5oz v Wayne Reed 12st 1lb 5oz

6 x 3 Middleweight Contest
Ryan Aston 11st 6lb 5oz v Lee Noble 11st 5lb 9oz

4 x 3 mins Light Welterweight Contest
Scotty Cardle 9st 12lb 4oz v Sid Razak 10st 2lb


Hatton a huge underdog against Brook

MATTHEW HATTON is a 9/2 underdog with William Hill to administer a first defeat to unbeaten Kell Brook when they meet at the weekend.

Hills make Brook 1/8 favourite to win, and 11/10 to do so by knockout, the same odds on points with the draw a 33/1 chance.

Hatton is 14/1 to ko Brook and 7/1 to beat him by decision.

Brook is 22/1 to win in the first, and 20/1 to win in the last, while Hatton is 100/1 to win in each. 'Hatton is entitled to be the underdog on form, but just like his brother Ricky, no opponent should make the mistake of under-estimating him or they could be in for a surprise' said Hill's spokesman Graham Sharpe. 'We're seeing good support for Brook to win early from his supporters, wit the majority f the cash going on a round three victory.' Article posted on 17.03.2012
previous article: Six Questions with Randy Caballero
next article: Robert Guerrero Wanted To Fight Floyd Mayweather; Now He'll Get His Chance To Win "Money's" WBC Welterweight Belt Instead!