Macklin vs. Martinez: Empire building shoot
New York, NY (3/14/2012) - Things have been a bit hectic the past couple of days for middleweight champion Sergio "Maravilla" Martinez and challenger Matthew "Mack the Knife" Macklin. The two fighters will square off in the much-anticipated DiBella Entertainment-promoted St. Patrick's Day card this Saturday, taking place at The Theater at Madison Square Garden, which is being televised live on HBO World Championship Boxing®..

Yesterday, both Martinez and Macklin participated in a meet-and-greet signing autographs and taking pictures with hundreds of fans who turned out at Legends Bar in New York City. Today, both participated in an open workout at the Modell's Sporting Goods store in Times Square, again in front of a packed house of fans and media.

Tomorrow, Martinez and Macklin, as well as the HBO televised undercard fighters, Edwin "La Bomba" Rodriguez and Donovan "Da Bomb" George, will wrap up the promotional activities, by first participating in a photo opportunity at the Empire State Building's world famous Observatory at 2PM.Following the photo op, the fighters will head to Madison Square Garden to participate in the final press conference before fight night. The press conference will be held in the Madison Square Garden Theater Lobby and will include a traditional St. Patrick's Day meal with a bit of a twist - Corned Beef and Cabbage, and Corona, as Corona is the official sponsor of "THE REAL Middleweight Championship - Get Your Irish Up".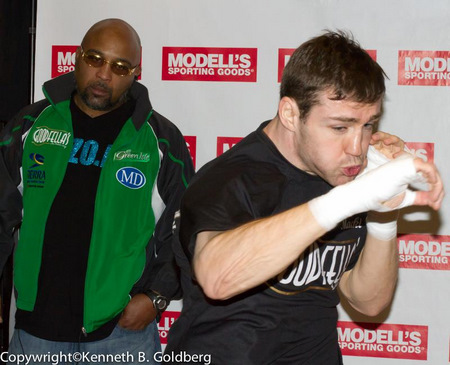 Once the press conference has finished, the fighters will head back to their rooms to relax but the promotional activities will continue as Lou DiBella, president of DiBella Entertainment, along with members of the Corona street team, including the beautiful Corona round card girls, will look to get the St. Patrick's Day festivities started a bit early as they head off on the Corona Bar/Beer Crawl. The Bar Crawl will start at 5:30 PM at Mustang Harry's (located a block away from the Garden at 352 7th Ave.) and anyone is welcome to join. There will be drink specials for those who attend as well as Corona giveaways.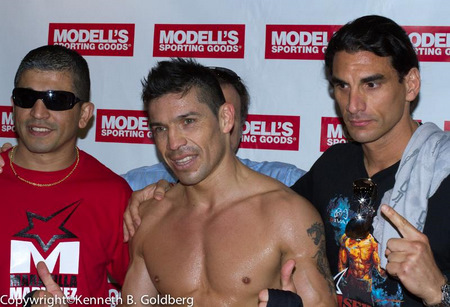 FROM FIGHTERS, CELEBRITIES TO ATTENDEES, MARCH 10 WAS A COMPLETE "NIGHT OF CHAMPIONS"

Orange, CA (March 14) - Saturday night was a night of elegance meets rough and tough at Doubletree Hotel in the city of Orange. Guests in attendance of the Thompson Boxing Promotions "Night of Champions" had the chance to experience a complete night of entertainment with a guilt free conscious knowing that a portion of the proceeds would be donated to Today's Boxing Club and Recreation Center and to the Legends of Boxing Club.

The evening began with guests mingling while sipping on cocktails accompanied by live mariachi music and moved on to a 5-star dinner and rounded off the night with a four-fight boxing card.

There was plenty of star power on hand, including; Former featherweight champion Israel Vazquez, super middleweight contender Kelly Pavlik, featherweight Daniel Ponce De Leon, former world heavyweight title holder Lamon Brewster, unbeaten super bantamweight Efrain Esquivias, welterweights Artemio Reyes, Aaron Martinez and Jose Reynoso, former female world champion Mia St. John, unbeaten super featherweight Abraham Lopez, unbeaten super bantamweight Jonathan Arellano, lightweight Daniel Hernandez, former heavyweight great Henry Tillman, and former world champion Rodolfo Gonzalez

In the opening bout, super featherweight Sergio Nunez stopped Cesar Martinez in the second round of a scheduled four round bout. Both fighters had their moments throughout the evenly-matched fight. Nunez was dropped by a left hook to the stomach by Martinez in the first round. However, Nunez was able to recover from the knockdown by pressing the action in the second, landing hard hooks to the head and body. Moments later, Nunez stunned Martinez with a right hand to the head. Nunez trapped Martinez in a corner, throwing and landing combinations until a right hand dropped Martinez to the canvas. Martinez got up on unsteady legs, looking at his corner. Referee Cantu thought Martinez looked out on his feet, stopping the fight at 2:30. Nunez improved to 5-0-1, 3KOs, while Martinez fell to 3-1, 1KO.

In a battle of unbeaten, but untested welterweights, Victor Garcia won a four round unanimous decision over Luis Merced. Garcia was able to land repeated right hands to the head of the shorter Merced. Garcia was able to work the body of Merced. Merced tried to fight back, but was too wide and wild with his punches. Merced was hampered by a cut above his left eye that he suffered in the second round. Garcia's record climbed to 5-0, 3 KOs and Merced's record fells to 3-1, 3 KOs.

In the co-featured bout junior welterweight Jake Gluriceo won a six round unanimous decision over Jaime Orrantia. Gluriceo pressed the action from start to finish, controlling the entire fight by landing repetitive right hands to the head. Orrantia tried to counter on the inside, landing an occasional right or left. However, Gluriceo had the fight in hand as reflected by all three judges' scorecards 60-54. Gluriceo improved to 15-0-1, 3 KOs and Orrantia dropped to 14-29-5, 5 KOs.

In the main event of the evening, unbeaten flyweights, Miguel Diaz won a hard-fought eight round unanimous decision over Austreberto Juarez. Juarez was able to land with straight right hands to Diaz's head. Diaz was able to land combination on the inside. Diaz would snap Juarez's head back at times by landing counter right hands. Sensing he was down on the scorecards, Juarez rallied in the eighth round by landing right hands to the head of Diaz. As Juarez was looking for that one punch to drop or finish his opponent, Diaz was able to make it to the final bell. Diaz's record improved to 8-0, 3 KOs, while Juarez record fell to 10-1, 2 KOs.

VICTOR GARCIA VS.LUIS MERCED

SERGIO NUNEZ VS. CESAR MARTINEZ

ORRANTIA Vs. GIORICEO

DIAZ VS. JUAREZ

Corley Visions Another Title

By, Juan Marshall of ProAmFightTalk: DeMarcus "CHOP CHOP" Corley has his eye on a new world title. On April 7, 2012 Corley will be in St. Maarten fighting for the vacant IBO and UBC Jr. Welterweight Title against Luis Ernesto Jose. DeMarcus says he has been doing a lot of reading and meditating. The reading he's been doing has him training harder and gives him more of a reason to fight for himself and his family.

Corley is the current NABF Champion and his stock will surely rise even more with three title belts around his waist. Corely says " I have 29 days left and I can't wait. All I been focused on is having that IBO Belt." Corley and his trainer Tyrone Jones leave for St. Maarten on the 2nd of April. They were in the gym today doing some mitt work putting together a few more combinations. Currently DeMarcus is fighting in the 140 lb weight class but says he is headed for the 135 lb weight class. He says this is the next weight class he will be focusing on when he returns from St. Maarten. 2012 seems to be a good year so far for DeMarcus "CHOP CHOP" Corley.
Article posted on 15.03.2012
previous article: Interview with Adnan Amar
next article: On The Ropes Boxing Radio #161 featuring Sergio Martinez, Robert Garcia, & Edwin Rodriguez - Now Available On-Demand!