James Toney vs John Ruiz: "Turning Point" hits the boiling point at MSG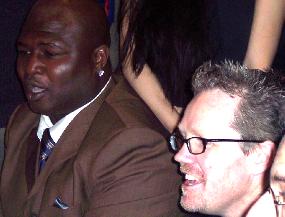 30.03.05 - By Mike Indri, Retired Boxers Foundation: James Toney, the three-time world champion and future hall-of-famer, made his first trip to Madison Square Garden an unforgettable one. Unforgettable, yes - but worth remembering, no!

James Toney met with the media today at Madison Square Garden to kick off the Don King promoted "Turning Point" heavyweight championship showdown between the mandatory challenger Toney (68-4-2, 43 KO's), and the World Boxing Association Champion John Ruiz (41-5-1, with 28 KO's). While making his grand entrance adorned in a highly fashionable fur coat, on this fair weathered spring day, and sporting enough bling to make even Elizabeth Taylor proud, Toney's excerpts were true gems.

"He (Ruiz) can do this the easy way or the hard way," guipped the Detroit native. "Easy way - I knock him out quick. Hard way - I bust him up, bleeding all over, TKO - either way I knock him out!" Toney was no where near finished, "You can tell him I said that too - James Toney is going to knock out John Ruiz, When I land a flush punch - it's over."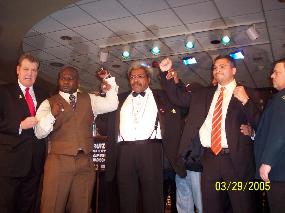 A short while later promoter extrordinaire Don King arrived, followed thereafter by champion John Ruiz, prompting MSG's Eric Gelfand to call a start to a press conference which many in attendence anticipated to be volatile.

While Don King - "boxing's undisputed world heavyweight champion promoter", who proudly enlightens all of his 30+ years as # 1 - never ceases to amaze. Having Toney dressed up in Mexican garb - complete with the poncho and sombrero; as well as a Ringling Bros. Barnum & Bailey circus clown on the dias doing his routine, this wasn't enough...the "grand finale" was yet to come.

Dan Goosen, Toney's promoter and a gentleman, spoke of how his fighter was the baddest heavyweight today. Then one of the nicest and classiest people in all of boxing, Hall-of-Fame trainer Freddie Roach, thanked the crowd and said James would do what he had to do in the ring and would defeat Ruiz by knockout.

James Toney, everyone's "Fighter of the Year in 2003", began by paising Ruiz for agreeing to fight and promised he would take the championship away come April 30th.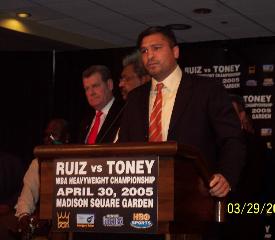 Two-time heavyweight champion John "The Quietman" Ruiz then took to the podium and the Chelsea, Ma. native now living in Las Vegas, was anything but quiet. "This is not a turning point - this is a stepping stone for me to achieve greatness and become undisputed heavyweight champ!" Ruiz added, "I'm the best, I'm the real champion."

The now seated Toney interjected, "I wish we could do this right now. I don't play boxing - I do it for real."

Obviously perturbed, Toney became vulgar and cursed Ruiz and his manager/trainer Norman "Stoney" Stone. The gregarious Stone, not needing much to ignite his own explosive and frenzied manner, quickly responded with his own curse-ladened tirade. Pushes and shoves followed. "Toney's a phoney" was the lone printable quote from the usually affable - yet very protective manager, tranier and father-like Stone.

Credit goes to NYSAC chief Ron Scott Stevens who took command of the ugly and embarrassing situation and ensured all parties involved that this type of action would not be tolerated.

"New York will not tolerate this type of behavior" stated New York's boxing boss, "I expect good sportmanship now, at the weigh-in, and at the fight - or there will be no fight."

Stevens did suspend Stone for his inappropriate behavior during Ruiz's unanimous decision victory over Andrew Golota this past November. Order was quickly restored as cooler heads prevailed, even allowing for the ritual fighter pose-down.


James Toney came to New York and entered boxing's greatest arena - Madison Square Garden - talking about his legacy as compared to the likes of the great Sugar Ray Robinson and Ezzard Charles. Let's hope that James Toney limits his talking to what he can do INSIDE the ring, because for all his boxing talent and his titles and belts, OUTSIDE the squared circle James Toney is no champion!

The John Ruiz vs. James Toney "Turning Point" WBA Heavyweight Championship fight will be televised live on HBO.

Tickets priced at $350.00 - $50.00 are on sale now at the Madison Square Garden box office and all Ticketmaster locations. Call Ticketmaster at (212) 307-7171, (201) 507-8900 or (914) 454-3388.

All photos courtesy of: Mike Indri/RBF

Article posted on 30.03.2005
previous article: Soliman: "Stop the bulls... Bernard"