Wayne Braithwaite: "Mormeck is nothing"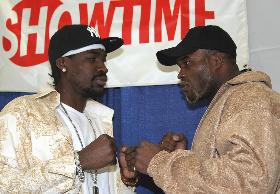 11.03.05 - Photos: Tom Casino / Showtime - The two boxers widely recognized as the most talented in the exciting cruiserweight division will square off when undefeated WBC champion Wayne "Big Truck" Braithwaite faces his WBA counterpart, Jean-Marc Mormeck, in an eagerly anticipated world title unification bout Saturday, April 2, on SHOWTIME. The division's most enthralling match-up in years will be shown on SHOWTIME CHAMPIONSHIP BOXING at 11 p.m. ET/PT (delayed on the west coast). Don King Productions will present the event.

Braithwaite (21-0, 17 KOs), of Georgetown, Guyana, has won 15 out of his past 16 bouts by knockout. The boxer-puncher will make the fourth defense of the title he won with a 10th-round TKO over Vincenzo Cantatore on Oct. 11, 2002. A national hero in his homeland, Braithwaite went 54-3 in the amateurs before making his pro debut at age 21 in February 1997. In his most recent outing, the southpaw won a lopsided 12-round decision over former knockout victim, Louis Azille, on April 17, 2004..

"I want to unify the belts," Braithwaite said. "I am 'the man' in the division, and if I have to go through everybody to prove it, I will. This is a division that needs a spark, and I am it.

"Mormeck is nothing, and I am not worried about him at all. He is a very strong fighter, but he does not know how to move his head. He has only one style. He is not a complete fighter. My best quality is that I can fight both ways. I have skills. I am a boxer-puncher. He has never fought anyone who moves or has hand speed like me.

"I am going to make Mormeck's big head a punching bag. I guarantee that I will still be undefeated after the fight. But, I am not going to box him. I am going to knock him out."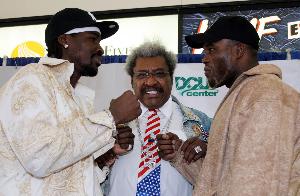 Mormeck (30-2, 21 KOs), of Noisy-le-Grand, France, has won 27 consecutive fights. By defeating defending champion Virgil Hill to capture the WBA title on Feb. 23, 2002, Mormeck joined Anaclet Wamba, Taoufik Belbouli and Fabrice Tiozzo as the only boxers from France to win a cruiserweight world title. In his last start on May 22, 2004, in Carnival City, South Africa, the warrior retained his belt for a third time by registering a 12-round unanimous decision over four-time world champion Hill.

"My goal is to be unified cruiserweight champion," Mormeck said. "I want to fight the best so I can prove I belong with the sport's elite champions. Braithwaite is very good, but I am better. I hope he has enjoyed his title and benefited from it because after our fight on April 2, it is going to be mine.

"I have fought better guys than Braithwaite. I beat a legend (Hill) twice. Braithwaite has never fought anybody like Hill.

"I will put constant pressure on Braithwaite and fight my fight. I will prevent him from moving the way he usually does. I am not going to let him play with his straight left hand. I am not going to let him get into a rhythm. I have worked very hard for this fight. I have trained twice a day."

SHOWTIME CHAMPIONSHIP BOXING's Steve Albert and Al Bernstein will call the action from ringside with Jim Gray serving as roving reporter. The executive producer of the SHOWTIME telecast will be Jay Larkin, with David Dinkins Jr. producing and Bob Dunphy directing.

For information on SHOWTIME CHAMPIONSHIP BOXING and "ShoBox: The New Generation" telecasts, including complete fighter bios and records, related stories and more, please go the SHOWTIME website at http://www.sho.com/boxing

Article posted on 11.03.2005
previous article: Mayweather-Gatti: Will Guts Alone Help Arturo?