Photos: Prizefighter's go toe-to-toe at explosive weigh-in
Tense scenes between Saturday night's line-up – limited tickets available on the door - Saturday night's Prizefighter Light Heavyweights II live on Sky Sports 1, HD1 and 3D from Olympia, London promises to be a volatile affair after tensions ran high at today's weigh-in. The fighters gathered in the venue for the weigh-in on Friday afternoon, and as the Sky Sports cameras rolled, it was clear that the contenders could hardly wait to fight for the trophy and £32,000..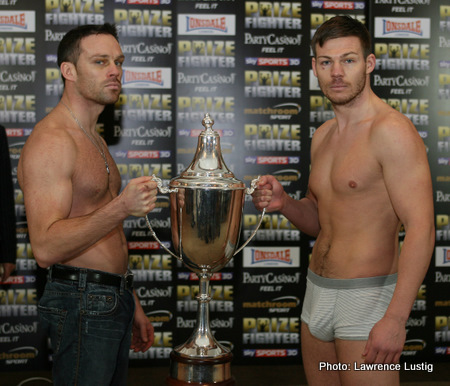 The head-to-heads between Travis Dickinson and Llewellyn Davies and Menay Edwards and Joe Smyth threatened to boil over with the fighters in the second and fourth quarter-finals needing to be separated by officials.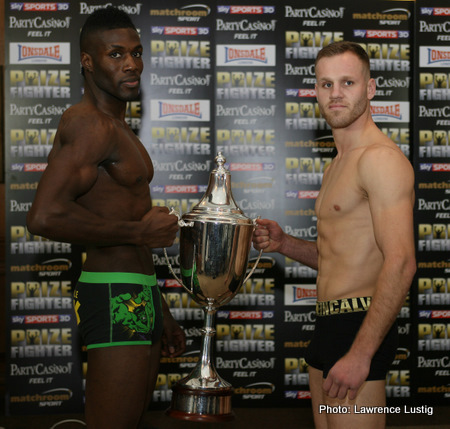 "You could feel the tension in the room – it was electric," said Matchroom Sport managing director Eddie Hearn. "I would expect nothing less though as these guys have worked their socks off to get into top shape for the biggest night of their careers and seven of them are going to leave the venue empty-handed."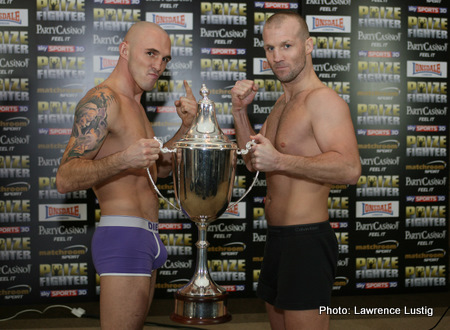 One fighter who stayed out of the way was Liverpool veteran Tony Dodson, who said he was "too wise" for such action. Dodson's trainer Oliver Harrison also looks after Davies and believes his two charges will meet in the final.

"Tony is looking very good," said Harrison. "He's got work to do on the night of course, he has to get out of the traps as he's used to longer fights. If he sits back and wait he will get picked off, but he won't be doing that – and I expect him to get through the quarter-final (against Michael Banbula) and onto the final from there.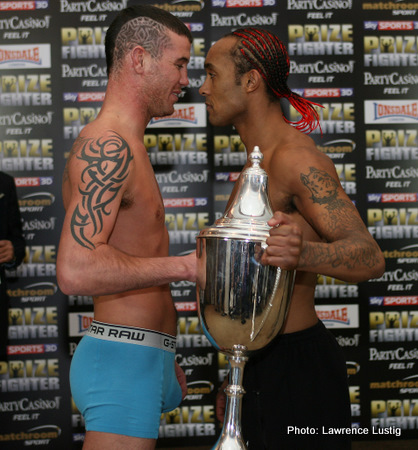 "Llewellyn is in tremendous shape. He's got a tough fight in Dickinson – arguably the hardest draw he could've got – but he has got everything you need to win this and I'm confident he will get to the final. If he does, I'll be in the other corner with Tony, but I want Llewy to get there all the same."

The opening quarter-final of the night pits Romford banger Billy Slate against Margate's Jack Morris – but fight fans who want to see the action but haven't got a ticket will have to get to south London early as only a handful of tickets will available, priced £50 ringside and £30 unreserved.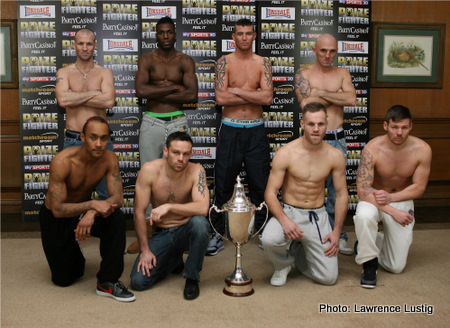 Prizefighter Light Heavyweights II draw (with weights)

Billy Slate (12st 8lb 12oz) v Jack Morris (12st 9lb 11oz)
Llewellyn Davies (12st 8lb 6oz) v Travis Dickinson (12st 8lb 12oz)
Tony Dodson (12st 9lb 5oz) v Michael Banbula (12st 7lb 3oz)
Joe Smyth (12st 8lb 11oz) v Menay Edwards (12st 9lb 1oz)
Article posted on 29.01.2011
previous article: When one punch brought heavyweight fortune
next article: Devon Alexander: "You're going to see why Bradley chose so long to wait and why HBO forced him to fight me come fight night"