Zab Judah-Kaizer Mabuza March 5th - Can "Super Judah" Become Champion Again?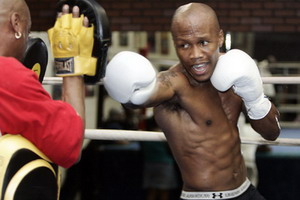 By James Slater - 33-year-old Brooklyn southpaw Zab Judah, fresh off his IBF eliminator of a points win over the unbeaten Lucas Matthysse, will get the chance to become a four-time "world" champion on March 5th. The former light-welterweight and welterweight champ will face tough South African Kaizer Mabuza for the vacant IBF 140-pound belt.

Judah, who always was at his best down at 140 (welters such as Joshua Clottey were simply too big for him), has a very good shot at taking home the belt at The Prudential Centre in New Jersey, but it will be far from easy. 31-year-old Mabuza, 23-6-3(14) may not have a great-looking record, and he may not be a huge puncher, but he is a physically strong fighter who has not lost in a long time..

Bursting onto the world stage with that Feb. 2010 corner retirement win over former ruler Kendall Holt (who found out firsthand how strong the man from Johannesburg is), Mabuza showed what he is made of. Stopped just twice as a pro, once down at lightweight, the other time in his pro debut against the also debut-making Isaac Hlatshwayo (who would go on to win the IBF welterweight title), Mabuza will not go easily against Zab.

Judah, though, will have a big edge in hand speed and his power is formidable at 140, and Mabuza may well be ring rusty. Not having fought since the big win over "Rated R", the slightly younger man will have been out of action for well over a year come fight time. Judah showed added maturity in his last fight, the win over the hard-hitting Matthysse. Holding on in the later rounds when things got tough, Judah, 40-6(27) saw it through for the razor thin points victory. Will Judah have as tough a time in March?

Mabuza, who has fought just once in America, hasn't faced a southpaw in a long time, and maybe Judah's stance will give him some problems. On paper, a Judah points win looks a good bet, but some good judges see Mabuza upsetting the flashy, classy New Yorker. Pre-Matthysse, Zab did have something of reputation as a fighter who could go into meltdown if things became hot for him after a good start. This happened against Clottey, and maybe the physical strength, never-quit attitude of Mabuza will get to Judah in this fight.

Zab will make a huge statement if he is able to stop Mabuza. I see "Super" boxing and moving his way to a fairly wide UD victory. Then, maybe, Zab will engage in some huge fights at 140-pounds.


Article posted on 03.01.2011
previous article: The Not So Super………….Middleweight
next article: Forget Pacquiao-Mosley - That Night, The Supporting Bout Will Steal The Show!