Simpson secures British Title in dramatic Kings Hall clash with Lindsay
Ringside Report from Kings Hall by Brendan Galbraith - Last night in an explosive British Featherweight Title contest at the Kings Hall, Belfast, Scottish challenger John Simpson upset the odds to beat Martin Lindsay and win the Lonsdale belt outright in an absorbing toe-to-toe twelve-rounder.

Simpson bounced back from a close split decision Commonwealth Title loss to talented Liverpool fighter Stephen Smith to put in a superb performance of his trademark relentless pressure fighting that impressed all three judges, Ritchie Davies, Howard Foster and John Keane who agreed on a 116-113 scorecard in favour of the Greenock man.

At a press conference leading up to this fight Lindsay revealed that he had prepared to fight or box Simpson and was confident of victory either way. Likewise, Simpson arrived at the weigh in with the look of a fighter with quiet confidence. There was no needle between both men and their matched credentials revealed that this was going to be a very lively and competitive encounter..

The fight commenced without the customary feeling-out round as both men probed forward with piercing jabs and heavy leads with Lindsay shading the round by landing the cleaner shots.

Midway through the second round, Lindsay had a mark above his right eye that was quickly swelling, raising immediate concern that it could potentially close his eye in the later rounds. This seemed to spur on the Scottish challenger who landed good clean body shots, an eye catching left handed head shot and ended the round pushing Lindsay back. Simpson's round.

In the third, Lindsay started off brightly by taking the initiative and wobbled Simpson with a beautiful quick-handed four-punch combination – but the tough challenger took it well and came back strong. However, Lindsay rarely threw another four, five or six combination for the duration of the fight, mainly loading up with single or double leads. Simpson has never been stopped and is noted as a strong, tough featherweight and as the fight unfolded Lindsay continued to score hard clean head shots but they simply bounced off the Scotsman as he continued to walk forward with his rapid counters. Lindsay may have quelled the counters and inflicted more damage if he had consistently thrown multiple combinations and then moved to the side. As it was, he was playing into the hands of Simpson, who did not have much difficulty finding Lindsay to impose his aggressive style.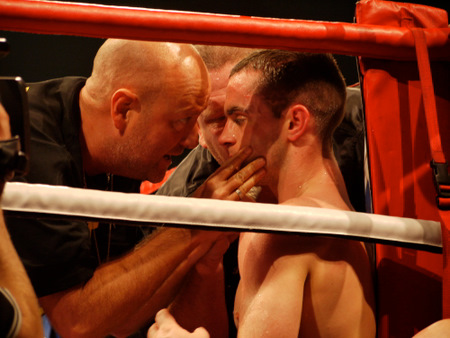 Simpson took the fourth with clean hurtful body shots, both men traded clean left hands, but Lindsay's timing was off and he frequently missed with wild shots.

The fifth round was real toe-toe-toe action. In one exchange Lindsay landed a flush left hook, then moments later followed up by landing a big overhand right to the temple and a left uppercut – but, to his credit, Simpson just walked through them. Simpson retaliated with several good body shots, but this was a clear round for Lindsay. Remarkably, watching back the coverage of the fight on Sky television the commentators were excitingly claiming at this point that Lindsay was "getting bullied in this round"!

In the sixth, Simpson started off brightly and landed good clean headshots including a big right that Lindsay took well. Lindsay came back well and landed good scoring right-left head combinations and body shots. Lindsay shades a close round.

The seventh was Simpson's best round, although Lindsay got through with good head shots, Simpson dominated with great work downstairs. In one spell, Simpson backed Lindsay up in the corner, just above the press area and landed three hard shots to Lindsay's mid-rift. Lindsay was hurt and his legs buckled slightly, giving the impression that he might take a knee – but he stood strong and overcame the onslaught. Clear round to Simpson.

The eighth and ninth rounds were close, but Lindsay tightened up his defence and started to box and move with more success, limiting the body assaults whilst continuing to score good clean headshots. Eight and ninth to Lindsay.

Simpson came back strong in the tenth and his busier work paid off as he landed the cleaner shots. In the eleventh Simpson was busier for most of the round, and despite taking a big left at the end of the round he did enough to edge it.

To round off an absorbing contest, the twelve descended into a toe-to-toe war with both men showing tremendous fighting heart with Lindsay just edging the final round.

Opinion on who won the fight was divided at ringside. On my scorecard I had Lindsay winning a closely fought duel by 7-5. Although it must be cautioned that many of the rounds were close and could have went either way. Five out of the seven rounds that I scored to Lindsay were close and to make sure of retaining his title the Belfast man needed to dominate the rounds. I was sitting directly behind Sky commentators and noticed on their TV monitor at about round ten that they had Simpson ahead by two rounds at that stage – which took me aback at the time (as I had the reverse). In the Sky television coverage they focused on the punch statistics that showed that Simpson had thrown more punches (909 v 561) and landed more (198 v 173) than Lindsay. However, punch statistics can never be relied on as a rigorous indicator of how a fight has unfolded and in respect to many of the close rounds I awarded to Lindsay it was reflective of the cleaner and heavier punching.

The judges evidently favoured the constant, aggressive pressure of Simpson that was non-stop for all twelve rounds and there can be little argument of a close points win for either fighter. For Lindsay's part, he might rue that he didn't utilise his boxing skills to better effect and throw more higher-quantity combinations to discourage Simpson's onslaught – rather than loading up with single and doubles.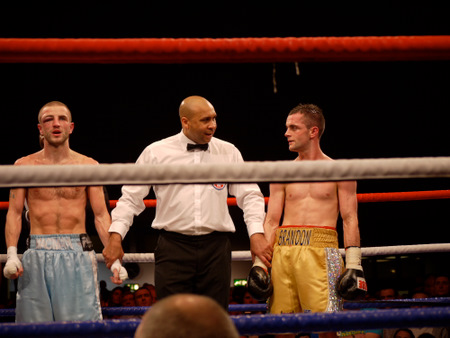 Also, Lindsay's weight was not ideal and he could have came in closer to the 126 Ilb featherweight limit – particularly in light of the nature of opponent that he would face. At the weigh in the day before the fight, Simpson did a preliminary weigh in to double check his weight before both fighters were called to do the official weigh in. Tellingly, Simpson was closer to the 126 Ilb featherweight limit than Lindsay, weighing 125 ¼ Ilbs, half a pound heavier than Lindsay (124 ¾ Ilb). Although a seemingly innocuous detail, at the lighter weights even 1 Ilb can make a difference to a boxers fighting strength and on previous British Featherweight challenges both men have consistently weighed in over the 125 Ilb mark.

Finally, credit must be given to the Simpson camp. Trainer, Billy Nelson ensured that Simpson arrived in fantastic physical condition and his fighter looked as if he could have done another twelve rounds. Nelson, has shown a Midas touch this year by steering Ricky Burns to world title glory and under his tutelage Simpson can go on to the next level. Simpson executed a clever game plan that was based on closing Lindsay down with relentless pressure fighting, with a particular focus on body shots and compact, straight headshots. Lindsay has the attributes to rebuild and work his way back to title contention in 2011.

My Scorecard: 7-5 to Lindsay

Round 1 Lindsay (close)
Round 2 Simpson (close)
Round 3 Lindsay Round (clear)
Round 4 Simpson (clear)
Round 5 Lindsay (clear)
Round 6 Lindsay (close)
Round 7 Simpson (clear)
Round 8 Lindsay (close)
Round 9 Lindsay (close)
Round 10 Simpson (clear)
Round 11 Simpson (close)
Round 12 Lindsay (close)


*Full round up of the under card to follow. Article posted on 17.12.2010
previous article: The B.L. Morgan Boxing Blog: Pascal vs Hopkins - Why you should care. Why you should watch.
next article: Mexico City Guerreros Find Comfort at Home and Gain Back Winning Edge over Miami Gallos