A word on the most important people in boxing – plus round up of the stacked Kings Hall Under card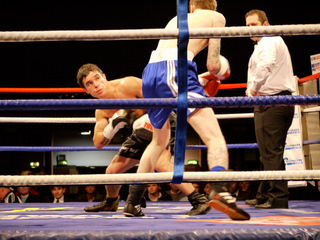 Ringside Report from Kings Hall by Brendan Galbraith – Boxing Monthly recently did an interesting feature on their picks for the most powerful people in British boxing and whilst it was a fairly exhaustive list, all of the choices would be placed behind every registered professional boxer if the question was slightly amended to 'most important people in British boxing'.

However, it is the 'powerful people in boxing' who call the shots and determined that the Martin Lindsay-John Simpson British Title fight had to take place on a Wednesday night. This obviously depleted the potential numbers of fight and casual fans that might have attended the promotion, particularly leading up to the mouth of Christmas. However, Frank Maloney Promotions did well to put on a stacked card of competitive clashes and there was still a respectable turn out of approximately 2000 fight fans.

Prior to the main event of Lindsay-Simpson, the show opened with an intriguing rematch of flyweights Luke Wilton – Uzzy Ahmed.. Ahmed was awarded a close points decision in their first fight that took place two years ago in Dublin. But, Wilton dominated the rematch, knocking down his opponent in the first round with a right hand. Ahmed got up on shaky legs and evaded Wilton's wild lunges to see out the round. In the second Wilton settled down and began to find his range – landed several strong right leads. The third was very open with both men traded headshots and the fourth was probably Ahmed's best round were he cashed in on Wilton's lack of concentration after breaking from a clinch to land a left-right combination. Wilton hurt Ahmed again in the fifth and dominated the final session to take a resounding 59-55 from referee Richie Davies scorecard.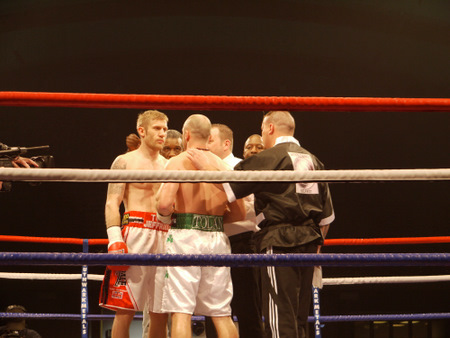 Next up was heavy-handed Belfast fighter Tommy Tolan who was aiming to spring an upset against Olympic medallist Tony Jeffries. This was Jeffries first fight under the tutelage of his new American trainer Tommy Brooks. Referee Howard Foster overseen a scrappy opener with too many clinches and wild swings from both men. At the start of the second the referee warned Tolan for use of the head and for holding on. Soon after there was a coming of heads in another clinch that left Jeffries with a very nasty cut above the left eye. Moments later Jeffries took full advantage of a lapse in concentration of Tolan and stepped in to land a quick three punch combination with the second punch a heavy right hand on Tolan's chin doing the most damage. Tolan fell heavily and at 1.03 seconds of the second round the referee stopped the fight without a count. Thankfully, Tolan recovered well and was given a round of applause from the appreciative Belfast fight crowd.

In a competitive welterweight contest between unbeaten prospects Steven Jevons and Martin Shaw there was controversy surrounding the ending. Shaw made a bright start to the contest and each round was competitive with either man having a case for a share of the rounds. Referee Paul McCullagh awarded a 39-37 verdict in favour of Jevons, with many at ringside seeing the fight as a draw or even a win to Shaw. Shaw's trainer complained bitterly to the referee at the end.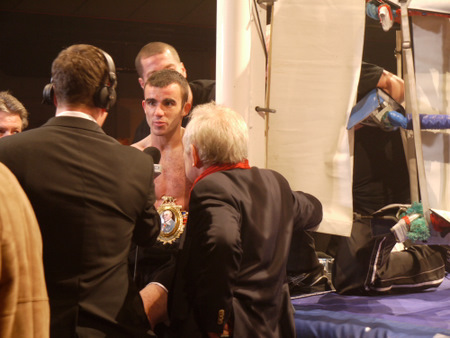 The co-feature British Flyweight contest between Shinny Bayaar and Paul Edwards ended unsatisfactorily due to a head clash to Bayaar that opened up a bad cut to the champion's head. Prior to that the contest had been warming up nicely with both men finding the target. The head clash occurred as Bayaar landed a clean left and stepped inside to throw a right, colliding with Edward's head. After the heavily criticised draw with challenger Ashley Sexton in his last outing, Bayaar's bad run of luck continues as he relinquishes his British Title due to the ridiculous BBBoC rule (that is due to change next month) that prevents the fight being declared a non-contest in such circumstances. Paul Edwards is the new British Flyweight Champion, but surely Bayaar will be given an immediate rematch?

There were five other under card fights that unreasonably had to take place after the main event of Lindsay-Simpson. It obviously would have been preferable if most of the under card fights had taken place prior to the main event and instead of starting at 6.45pm, a start time of 6 pm would have been beneficial to getting more fights on plus a four rounder could have been put on before the first televised bout, but instead the fight crowd had to endure a prolonged lull in the action.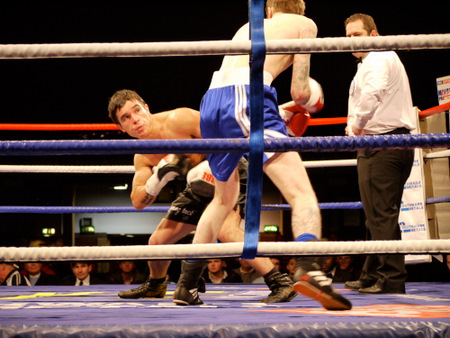 After the main event – the rest of the under card resumed. However, these popular local fighters, who sold several hundred tickets for the show, were not afforded entrance music and there were no ring girls for these fights. Further, as one fighter was making his entrance to the ring I could hear one of the show's floor managers/producers screaming at a colleague to tell the fighter "tell him to hurry up and get a move on into the ring". At the conclusion of the final under card fight between Tony Nellins (Mills) and Jason Carr, MC Gary Logan could not be heard when he was reading out the scores as an impatient, angry little man who was seemingly in charge of the sound system and waiting to oversee the dismantling of the boxing ring etc had already unplugged the sound system. The same grumpy little chap was barking orders to both fighters to get out of the ring as soon as the contest was concluded. A clear case of somebody who is probably deluded enough to think he should be on the list of Boxing Monthly's most power people in British Boxing, but fails to remember that he earns a living due to noble efforts of the real stars of sport – the prize fighters.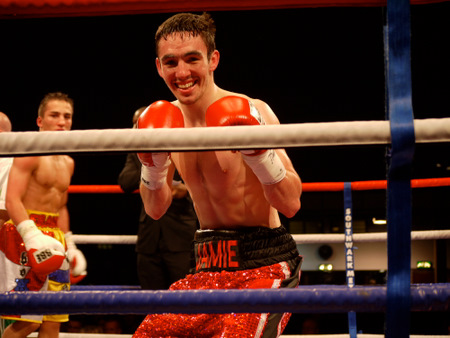 Anyway, back to the fights. Jamie Conlan produced another classy boxing display against Francis Croes. Conlan who is developing a reputation of an effective body puncher stepped inside to frequently land stinging shots downstairs. For the first two rounds, Conlan was so evasive that his opponent was struggling to land a glove on him. In the third round Croes did manage to catch Conlan with a flush right hand but Conlan took it in his stride and finished the round in the dominant fashion in which he had started. However, the referee halted the fight on the advice of the doctor due to an injury to Croes right shoulder. Conlan progresses to 5-0.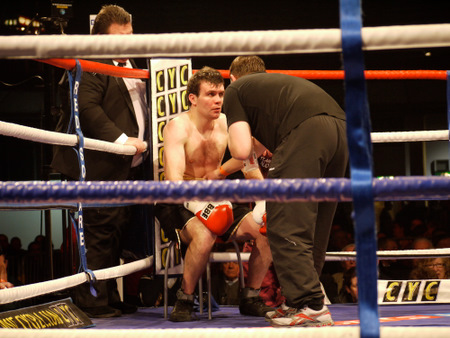 Lurgan's heavy handed Ryan Greene prevailed against a slippery opponent in Simone Lucas. Lucas has been inactive since 2006, but arrived in tip top physical condition and gave Greene plenty to think about early on. However, Greene settled into his boxing as the fight progressed and wobbled his opponent with a beautiful right hand in the third round. Lucas, who has never been stopped, took it well. Greene won the the contest 39-37.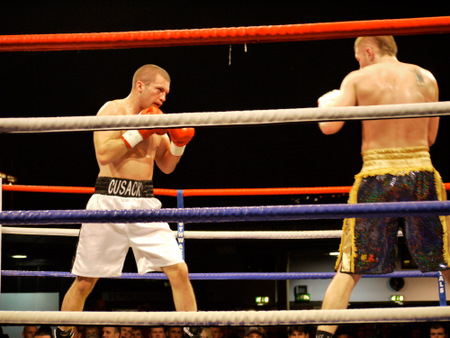 In a lively encounter between Belfast's Mike Harvey and Dan Carr the referee Paul McCullagh awarded Harvey a 39-37 verdict. Brian Cusack overcome a tough challenge of Ianto Jenkins 39-37. Debutant Tony Nellins (Mills) beat Jason Carr in a shut out 40-36. Nellins who likes to come forward in an aggressive manner with constant bobbing and weaving got stronger as the fight progressed and dominated the final two rounds to the delight of his large contingent of fans who had stayed on to support their fighter. Article posted on 17.12.2010
previous article: Amir Khan's Next Fight Will Be In UK In April, Lamont Peterson Frontrunner To Get The Fight