Hopkins/Pascal Final Press Conference Quotes
JEAN PASCAL, WBC, Ring Magazine and IBO Light Heavyweight World Champion - "Bernard Hopkins says that the smartest guy will win. He says he is the intelligent man and I am the idiot. After the fight, everyone will know who the dummy really is.

"This is going to be an early Christmas present for all of Canada, but you are just going to have to pay for the present on pay-per-view..

"When I go to the states, you guys speak in English. There is no translation. Now you are in my country, you are not home. This is my territory, so in this town, we speak French."


BERNARD HOPKINS, Former Two-Division World Champion

"Enjoy the fight."





MARC RAMSAY, Pascal's Trainer

"Be ready to see my athlete. He is ready like a powerful F-1 car.

"When the fight starts, you will see a jalopy on the other side of the ring and my F-1 will run him over."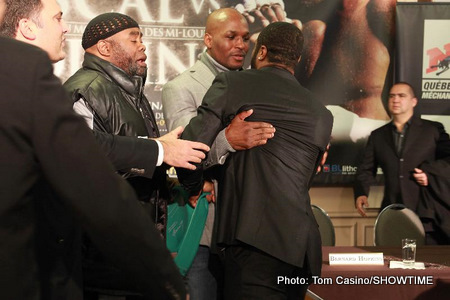 NAAZIM RICHARDSON, Hopkins' Trainer

"We were at home anticipating the weather. It isn't as bad as we thought it was going to be. It is very nice here.

"We look forward to an outstanding show. As we were preparing for Pascal, a lot of people were giving me information about what to expect. I have been watching this man since he was an amateur coming up.

"You can't anticipate a man's ambition. He has great ambition. He is an outstanding athlete.

"As you watch my athlete [Hopkins], please give him his due to respect. Please understand this man's age, what he has accomplished and what he has been able to do for years.

"He is exceptional and I want him to get his just due. Trust me, if he wasn't prepared, I wouldn't be here. The preparation will all come to fruition on Saturday.

"If Pascal dares to be great, he will have a phenomenal outcome in this show."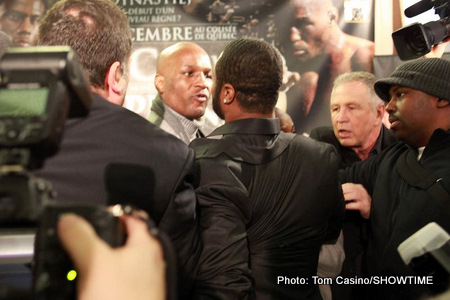 YVON MICHEL, President of Groupe Yvon Michel

"This event will be the most successful boxing event ever in Canada financially speaking.

"Two months ago, Jean Pascal and Bernard Hopkins were like school friends. Now it looks like that's finished. They've had warrior's faces since they walked in here this morning.

"'Dynasty' is the beginning and it's the end. No matter what happens Saturday, this fight will have a colossal impact on the career and the life of these two guys.

"Everything we have done to prepare this event, was in close collaboration with Golden Boy Promotions. We are very proud to work with this organization. We have worked with a lot of promoters in the States, but this one is a first class organization.

"Jean Pascal could have chosen anyone in his division, but he chose the riskiest, the most complicated opponent. Jean is undoubtedly the most talented boxer in his division."


RICHARD SCHAEFER, CEO of Golden Boy Promotions

"Thank you so [to Team Pascal and Groupe Yvon Michel] much for giving us this opportunity. We have worked with many promoters. Usually we do all of the work. Here, Yvon Michel took the lead and put this great big promotion together. Once Bernard wins, we can do the rematch in the United States and then we will show you what we can do.

"We want to thank SHOWTIME because now fight fans in the United States can enjoy this fight for free.

"This is a global event. It is being shown all over the world. We made a deal last week with China. There will be tens of millions of people watching this fight from the beautiful city of Quebec.

"There is some great young talent on this card. Peter Quillin and Daniel Jacobs from New York and Mikael Zewski from Canada are on the card. He is our first Canadian signing. He is a great young fighter with a promising future. Paulie Malignaggi will be on the card as well. Fans should arrive to the Pepsi Coliseum in time to see these great fighters.

"Naazim Richardson has been with Bernard for many years. He is one of the most respected trainers in boxing. He has guided the legendary career of Bernard Hopkins and has helped him make it to this journey to make history again.

"Nobody gave Bernard a chance against Tito Trinidad. Nobody gave Bernard a chance against Oscar de la Hoya. Nobody gave him a chance against Antonio Tarver and nobody gave him a chance against Kelly Pavlik. He proved everyone wrong. He did it again and again and keeps doing it. Here he is, twenty-eight days from his 46th birthday. He is trying to rewrite history yet again.

"He is going to prove everyone wrong. All of you out there, I give you one piece of advice...never bet against this man [Hopkins]."


MAYOR REGIS LABEAUME, Mayor of Quebec City

"Good luck to both guys. I am sure both of you will win. That would be the perfect scenario for me because you would have to come back."


CHRIS DEBLASIO, Senior Director of Sports Communications, SHOWTIME

"On behalf of Ken Hershman, the General Manager and Executive Vice President of SHOWTIME Sports, I would like to thank you all for being here. Pascal vs. Hopkins is our last major boxing event of the year and it concludes an excellent run of world championship boxing on our network. It all culminates on Saturday night in what will be our biggest and best show of the year.

"This was originally slated as a pay-per-view. But SHOWTIME pulled some year-end resources together and worked with Yvon Michel and Richard Schaefer in order to move this telecast directly to our linear channel for the U.S. audience. At SHOWTIME, we strive to televise the most compelling, the most competitive and the most significant matchups in all of boxing directly to our subscribers. And this fight fits perfectly into that programming strategy."

# # #

"Dynasty: Pascal vs. Hopkins" is promoted by Groupe Yvon Michel Inc. and Golden Boy Promotions and presented by the Casino de Montreal, The City of Québec Tourism, Coors Light and Videotron. The 12-round world championship fight will take place December 18 at the Pepsi Coliseum in Québec City, Canada and will be televised live on SHOWTIME in the United States at 10:00 p.m. ET/PT (delayed on West Coast) and distributed live on pay-per-view in Canada on Canal Indigo, Bell TV, Shaw TV and Viewer's Choice in French and English at 7:00 p.m. ET. Doors at the Pepsi Coliseum open at 5:30 p.m. and the first fight begins at approximately 6:00 p.m.

Tickets for Pascal vs. Hopkins, priced starting at C$25 are on sale now at Pepsi Coliseum Box Office, by calling 418-691-7211 or 1-800-900-SHOW or online at www.billetech.com. Also available at Club de Boxe Champion 514-376-0980 and Groupe Yvon Michel Inc. 514-383-0666. Article posted on 15.12.2010
previous article: Solis vs Austin Heats Up
next article: Erik Morales To Face Tricky Francisco Lorenzo Saturday Night, Wants Lightweight Crown In 2011