Solis vs Austin Heats Up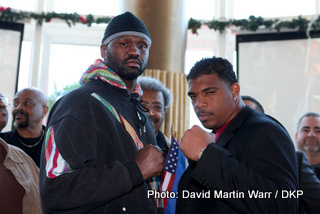 MIAMI—Although there is a serious cold wave hitting Miami right now, the talk at the final press conference today at Emilio and Gloria Estefan's Bongos Cuban Café heated up before Friday's Don King Productions world championship boxing card at AmericanAirlines Arena.

Don King hosted the press conference promoting a WBC heavyweight final elimination bout he is presenting with Arena Sportspromotion between 2004 Olympic gold medalist and now undefeated Odlanier "La Sombra" Solis (16-0, 12 KOs) against WBC No. 1-ranked Ray "The Rainman" Austin (28-4-4, 18 KOs). The winner earns the right to next face WBC heavyweight champion Vitali Klitschko.

As far as Solis goes," Austin said, "I've been hearing he doesn't want to be seen, and that he is planning to get in and get out quickly against me on Friday. That's exactly what I'm planning to do to him. I'm going to get in with him and get him out.."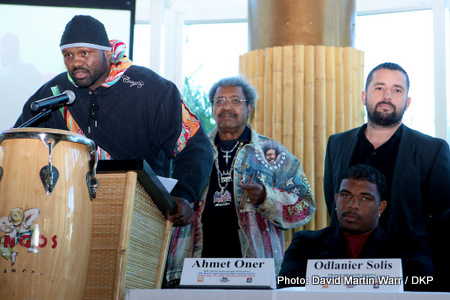 Solis's comments were brief.

"I hope everybody will show up to see what I am going to do to Ray Austin on Friday," Solis said.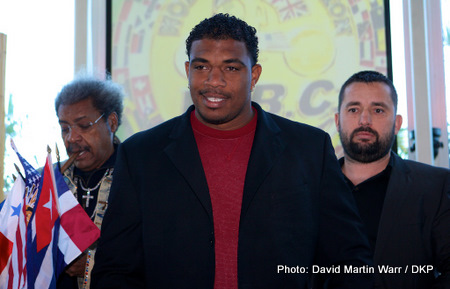 Undefeated IBF light heavyweight champion Tavoris "Thunder" Cloud (21-0, 18 KOs), from Tallahassee, will defend his crown against hard-punching Colombian native Fulgencio Zuniga (24-4-1, 21 KOs).

"I have had to listen to Zuniga and two other people in his camp talking about how they are coming for me," Cloud said. "On Friday night, all three of them can come in the ring and I'll kick all of their asses.

"I'm coming in with the [IBF light heavyweight] strap, and I will be leaving with the strap. Other than that, have a Merry Christmas."

The Colombian challenger Zuniga was not as talkative as his camp members.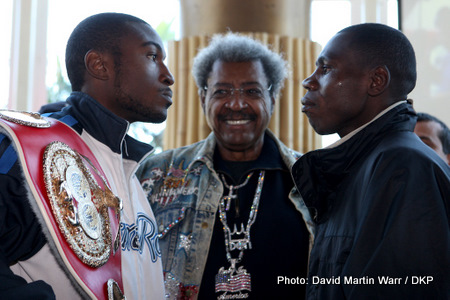 "I would like to thank Don King and Tavoris Cloud for this opportunity," Zuniga said. "I'm coming to fight and to realize my dream of becoming a world champion."

The real fireworks came when former three-time world champion Ricardo "El Matador" Mayorga, from Nicaragua, stepped to the podium to discuss his scheduled 10-round middleweight fight against Michael "Midnight Stalker" Walker (19-5-2, 12 KOs), from Chicago.

"I'm going to knock out Mike Walker in two rounds," Mayorga boasted. "My mother could knock him out in two rounds.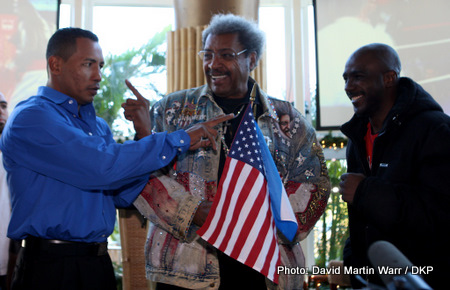 "I can see fear in his eyes. Your face looks like a beautiful Cuban woman, like the hookers down on 8th Street hear in Miami.

"The beat down I'm going to give you will stay with you. You're going to be famous because everybody will know you because I knocked you out. Tell your family to dress in black because I'm going to bury you on Friday. Don King found me a deadbeat."

Walker was not pleased with Mayorga's trash talk.

"I'm gonna whip your ass," Walker said. "We'll see, Ricardo. I'm going to do my talking with my fists."

Mayorga then threw a full bottle of water that whipped by Walker, barely missing him, then shouted at him, "Your momma is going to cry for you on Friday!"

Walker then turned on Mayorga, pointed at him defiantly and said, "I don't like anyone talking about my mama right now. She is sick. I'm going to kick your ass for sure now. I got a Christmas present for Mayorga he ain't never gonna forget."

Mayorga wasn't the only trash talker. There was also spirited comments from heavyweights Mike Marrone (19-1, 14 KOs), from Vero Beach, Fla., and Darrel "King David" Madison (15-1, 4 KOs), from Long Island, N.Y., who will square off in a WBC elimination bout scheduled for 10 rounds.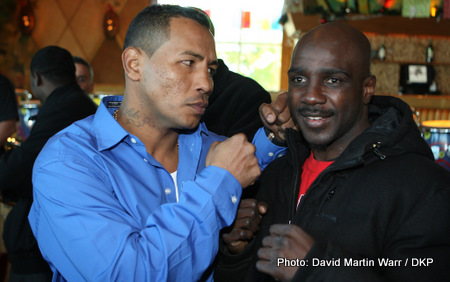 "Marrone said something at an earlier press conference that upset me," Madison said. "He said my nickname would change after this fight from 'King David' to 'Burger King.' Let me tell you Mike Marrone, I've got a Happy Meal on Friday that you're never going to forget."

Marrone had a quick reply for Madison.

"They say to never mix business with pleasure, but it will be my pleasure on Friday to kick Darrel Madison's ass, Marrone said. Article posted on 15.12.2010
previous article: It's Official: Manny Pacquiao Will Fight On May 7th - All We Need Now Is An Opponent!