Krasniqi vs. Banks: Initial press conference in Ludwigsburg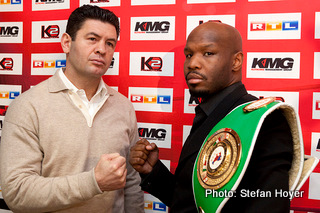 NABF Champion Johnathon Banks and former European Champion Luan Krasniqi participated yesterday in a press conference to announce their upcoming fight on February 26, 2011 at Arena Ludwigsburg (Germany). The winner of this heavyweight matchup will move a step closer of getting a world title opportunity.

Johnathon Banks, 25-1-1 with 17 KOs, is rated #7 in the world by the WBC and #8 by the IBF. Banks won the NABF title in March 2010 with a dramatic 6th round KO of Travis Walker in the ESPRIT Arena in Düsseldorf (GER). This victory was voted KO of the year by the NABF and he has since defended the NABF title twice. Banks has built up a large fan base in Germany as his second home, and is one of the main training partners of IBF, WBO, IBO and the "Ring Magazine" World Heavyweight Champion Wladimir Klitschko.

Banks is promoted by K2 Promotions and has fought a total of ten times on a Klitschko show, seven of these have been in Germany, two in the US and one in Switzerland.. With this fight against Luan Krasniqi, he now is in the main event fight on RTL, the TV partner of the Klitschko brothers. This is a big opportunity for him to break out of the shadow of the Klitschko's and show that he can indeed carry a main event fight against a world class opponent.

Luan Krasniqi has a fight record of 30-4-1 with 14 KOs. He was European Champion in 2002 and 2004 and WBO Intercontinental Champion in 2007. He had an outstanding amateur career and won the Olympic bronze medal in the 1996 games in Atlanta. In 2005, he challenged WBO Champion Lamon Brewster and was leading on all scorecards but lost in round 8 by TKO. Krasniqi is extremely popular in Germany and always draws many fans, both live in the arena and on television.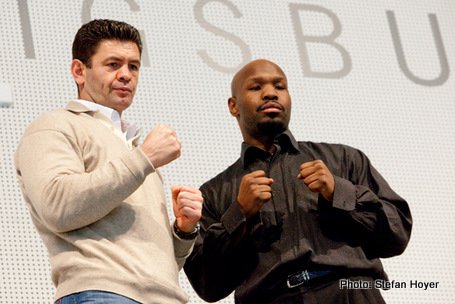 Quotes:

Johnathon Banks

"Krasniqi is definitely the toughest opponent I have fought as a heavyweight. I have a lot of respect for him but will not underestimate him and I will be in good shape to put on a great performance.

"I am the wrong opponent for him to choose as a comeback fight. I am eleven years younger than him and in the prime of my career.

"Germany is like a second home to me. I am always happy to come here and fight.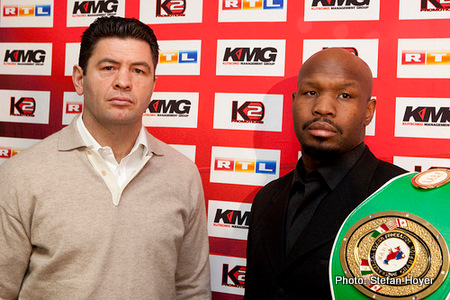 Luan Krasniqi

"I am looking forward to this opportunity to challenge a top rated fighter like Banks because a win will move me closer to a fight with one of the Klitschkos. I know that Banks is very talented and fast but he is not a big puncher and I will be ready for this fight.

"I have never stopped my professional career and was always in training waiting for a fight like this.

"My focus is on Banks now. Nothing else counts.

"I am returning to the ring to get that title shot against Klitschko, not for the glory, attention, money or any other reason. I want to become the second German World Heavyweight Champion after Max Schmeling.

Tom Loeffler, K2 Promotions

"We are excited about this fight and we are looking forward to promoting our first non-Klitschko show with our TV partner RTL. This is an evenly matched fight with Banks being the younger and faster fighter and Krasniqi, the popular and experienced veteran looking for another chance at a world title.

In Germany, the fight will be broadcasted live and exclusively on RTL. Tickets via www.eventim.de and the hotline +49- (0)1805-12 13 14. Prices start at 19 Euro. Article posted on 15.12.2010
previous article: Belfast's Tony Nellins planning to liven up Kings Hall under card on his pro debut