Huck vs Lebedev final press conference quotes
WBO Cruiserweight Champion Marco "Captain" Huck had a special present for his opponent at today´s final press conference in Berlin. The 26-year-old gave mandatory challenger Denis Lebedev a plastic belt. "It´s Christmas time and I don´t want you to leave Berlin empty-handed," Huck said to the stunned Russian. "This belt is for you. The real belt will stay here. You will never get it."

On December 18th, the two hard-hitting cruiserweights will lock horns at Berlin´s Max-Schmeling-Halle. While Huck (30-1, 23 KOs) has already made four successful title defenses, Lebedev rides a perfect record of 21-0 with 16 KOs into the biggest fight of his life. "I am no big talker, I will show my power inside the ring," was all he said on the podium today. His coach Valery Belov added: "We are not scared of anybody or anything and we are prepared for a big challenge on Saturday night."

Hall-of-Fame-Promoter Wilfried Sauerland expects fireworks from both men come Saturday. "We know that Lebedev is a very strong challenger," he said. "But Marco has progressed very well. Normally I get nervous one day before a fight, but I am already nervous now. It will be a great fight and I am sure Marco will leave the ring as the winner.."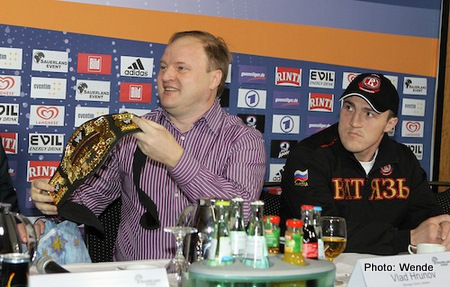 Coach Ulli Wegner is also confident. "After Arthur Abraham´s big loss in Helsinki, Marco needs to win one for the team now," he said. "He has worked well in practice. It was not easy to keep his temper under control but that is fine – if I only had boxers who were easy to guide I would look ten years younger. Marco has worked out very well and if he sticks to the game plan on Saturday night he will win and finish this year in style."

On the undercard, Yoan Pablo Hernandez will face Ali Ismailov in a WBA Cruiserweight Eliminator, while Alexander Povetkin will take on Nicolai Firtha. Kubrat Pulev comes face-to-face with Paolo Vidoz, and Francesco Pianeta takes on Mike Middleton.





Marco Huck interview

WBO Cruiserweight Champion Marco Huck (30-1, 23 KOs) will wrap up his preparation in Kienbaum this weekend and return to Berlin, where he faces mandatory challenger Denis Lebedev (21-0, 16 KOs) at the Max-Schmeling-Halle on December 18th. Boxen.com has caught up with the hard-hitting German ahead of what many believe will be the toughest fight of his career.

Q: Marco Huck, you have already defended your title four times. Will the fight against Lebedev be the toughest one yet?

MH: "You never know. But I have a feeling that this fight will be my toughest test to date. Lebedev is believed to be very strong. He might very well be the best cruiserweight out there after me. Then again, maybe it will be a very easy fight for me. Who knows? It is impossible to tell before a fight. I am highly motivated, so let´s see how it goes."

Q: Your teammate Arthur Abraham lost his last fight. Has that been on your mind?

MH: "Yes, of course. Arthur and I are teammates and training partners. I was very sad to see him lose. But it does not affect my performance in training or inside the ring. I want to make sure that my coach, my manager and everybody at Team Sauerland will have a good Christmas time, and my present will be a victory on December 18th."

Q: Have you trained harder than ever before?

MH: "I have been more concentrated than ever before."

Q: Denis Lebedev said you were nervous. Is he right?

MH: "Yes, he is right. But being nervous is a very good sign. It shows that I take the fight seriously and it makes me cautious."

Q: Mandatory defenses are always special. Lebedev comes off a spectacular win over Alexander Alexeev. What kind of a fight do you expect?

MH: "I think the fans will witness an exciting clash. We have both proven that we are capable of finishing our opponents. It will be an exciting night."

Q: What are Lebedev´s strengths?

MH: "He has a lot of KOs. And he is a good boxer with a good punch."

Q: On top of that, he is a southpaw. Will that be a problem?

MH: "When I started sparring, it took me some time getting used to. But right now I am very well prepared. My last opponent, Matt Godfrey, also used his southpaw stance most of the time. It´s not a problem for me."

Q: How much of a factor will the Berlin fans be?

MH: "They will be very important for me. My home fans always give me a special boost. They give me the extra motivation I need. And I will not disappoint them. December 18th will be a spectacular evening."



Article posted on 15.12.2010
previous article: Jonathan Gonzalez now 11-0, 11 KOs after stopping veteran Gundrick King
next article: Byarm Batters Thorpe; Sigmon Outpunches Kennedy in Baltimore!