Fres Oquendo exudes supreme self-confidence regarding his upcoming fight with Oliver McCall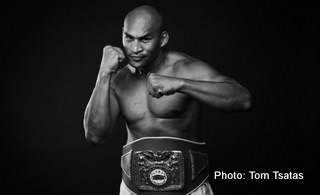 By Pavel Yakovlev - (December 5, 2010) This Tuesday, long-term heavyweight contender Fres Oquendo meets Oliver McCall in a scheduled 12 round bout for the IBF Inter-Continental title. The winner will almost certainly emerge as a top-ten contender in the IBF ratings. Oquendo, 37-years-old, has reportedly looked sharp in training camp, displaying impressive footwork, quick hands, fluid boxing ability, and dexterous combination punching in recent sparring sessions.

Until last spring, Oquendo was world rated by the WBA and IBF, only to fall out of the rankings because of a controversial decision loss to Jean Marc Mormeck in Paris. Most observers believe Oquendo clearly won that fight, only to be robbed by the French judges. A victory over McCall will enable Oquendo to reestablish himself as a top-contender, and potentially set-up a fight with IBF world champion Vladimir Klitschko.

Currently 32-6 (21 KO's), Oquendo is possibly the most underrated heavyweight active today. Many fans tend to forget that four of Oquendo's losses – against Chris Byrd, Evander Holyfield, James Toney, and Mormeck – were dubious decisions that could have (and probably should have) been rendered in his favor..

The likable and jaunty Oquendo recently granted ESB an exclusive interview. Although secretive about the fight tactics he intends to use, Oquendo exuded supreme self-confidence about his upcoming clash with McCall.

ESB: HOW HAS TRAINING CAMP TURNED OUT?

OQUENDO: Awesome camp, awesome preparation.

ESB: WHAT TACTICS DO INTEND TO USE MOST AGAINST MCCALL, ASSUMING YOU ARE WILLING TO REVEAL THIS INFORMATION?

OQUENDO: Whatever it takes to win

ESB: MCCALL HAS REALLY IMPROVED HIS LEFT JAB IN PREPARATION FOR THIS FIGHT. WHAT IMPACT WILL MCCALL'S JAB HAVE ON YOU, IN YOUR OPINION?

OQUENDO: I'm very happy for Oliver and his improvement with his jab at age 45.

ESB: THE CONSENSUS AMONG BOXING PEOPLE IS THAT YOU WILL HAVE TO BOX AND MOVE IN ORDER TO BEAT MCCALL. DO YOU ANTICIPATE REMAINING MOBILE FOR THE ENTIRE FIGHT, OR WILL THERE BE MOMENTS WHEN YOU PLANT YOUR FEET AND TRADE WITH MCCALL?

OQUENDO: I just plan on winning. Anyway. Anyhow.

ESB: WHAT DO YOU THINK ABOUT MCCALL'S PHYSICAL STRENGTH, AND HIS CAPACITY TO MANHANDLE OPPONENTS IN THE CLINCHES, AND TO MAUL THEM DURING INFIGHTING? WHAT IS YOUR GAME PLAN FOR DEALING WITH THIS?

OQUENDO: All I know is I'm coming to win what's mine. He ain't manhandling me.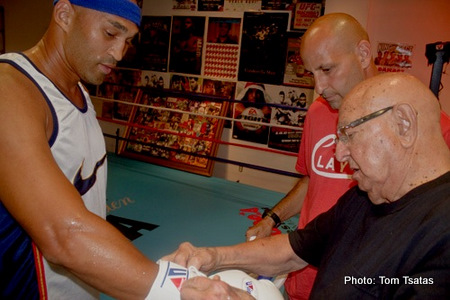 ESB: YOUR MANAGER TOM TSATAS HAS REMARKED THAT YOU WILL NOT ONLY OUTBOX MCALL FROM THE OUTSIDE, BUT THAT YOU WOULD DOMINATE THE INFIGHTING AS WELL. ANY COMMENTS?

OQUENDO: Again, I'm going to do whatever it takes to win. Period.

ESB: MCCALL AND HIS TRAINER HAVE EMPHASIZED THAT THEY WILL CONTROL YOUR MOVEMENT BY USING THE LEFT JAB. WILL MCCALL'S LEFT JAB BE A PROBLEM FOR YOU?

OQUENDO: Nobody controls me except God. He's the only one with whom I worry about having a problem.

ESB: ASSUMING A GUY HAS FAST HANDS – AND YOU DO – HE CAN COUNTER AN OPPONENT'S JAB BY THROWING A RIGHT CROSS OVER THE JAB. DO ANTICIPATE USING THIS COUNTERPUNCH AGAINST MCCALL?

OQUENDO: I anticipate I'm using my mental strength and I will win any way I can.

ESB: DO YOU THINK MCCALL WILL BE THE HARDEST PUNCHER YOU'VE EVER FACED? IF NOT, WHO HAVE YOU FOUGHT THAT HITS HARDER?

OQUENDO: Nope. I believe David Tua hits harder and I whooped him nine rounds and took his best shots and didn't go down. They stopped that fight without an eight count or me hitting the canvas.

ESB: YOU LAST FIGHT WAS IN MAY, AGAINT JEAN MARC MORMECK IN FRANCE. YOU LOST A DECISION THAT MOST FANS AND EXPERTS REGARD AS AN OUTRAGEOUS HOMETOWN DECISION FOR MORMECK. ALL FOUR OFFICIALS FOR THAT FIGHT WERE FRENCH. WHAT DO YOU THINK OF THE INTEGRITY OF FRENCH BOXING OFFICIALS?

OQUENDO: Stinks of corruption. Worse than Germany. Pathetic. Black eye to boxing. Despicable. Viva la crooked France.

ESB: DO YOU ANY FINAL COMMENTS FOR THE FANS?

OQUENDO: I want to thank all the people and fans here on ESB who support me and believe in me. I thank my Puerto Rican fans and New York City, where I will go to Madison Square Garden and win the heavyweight title for you and for America. Shame on the Klitchkos and Haye for fighting bums… chumps not champs. It will change soon though. I thank God for keeping me strong. Also, thanks to my wife, kids, mom, and brother Henry, and to my team and sparring partners. I want to send my condolences to Don King on the loss of his wife, and wish a speedy recovery to my trainer Angelo Dundee. Thank you for keeping my name out here, Pavel and ESB. Come watch me and McCall put on a great show.

VENUE AND TICKET INFORMATION: The Oquendo vs. McCall fight headlines a scheduled nine bout card held on Tuesday, December 7th at the Seminole Hard Rock Hotel and Casino in Hollywood, Florida. The first fight begins at 7pm and doors open at 6:30pm. Tickets sell for $105, $55, and $30, and can be obtained online at Ticketmaster websites or by calling 800-745-3000. Until noon on Tuesday, tickets can also be purchased at the Hard Rock Live Box Office. For more information, call the Hard Rock Live Box Office at 954-797-5531. Note that the Hard Rock Live Box Office does not sell tickets via telephone. Article posted on 06.12.2010
previous article: Khan Says Roach Will Not Retire, Will Continue Working His Corner Even After Pacquiao Calls It Quits