Ward & Bika Showtime Championship Boxing Conference Call Highlights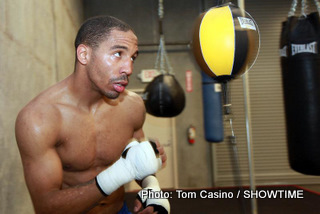 Andre Ward and Sakio Bika participated in a national media conference call on Monday to discuss their upcoming world title fight on Saturday, Nov. 27, LIVE on SHOWTIME® (9 p.m. ET/PT, delayed on the west coast) from Oracle Arena in Oakland, Calif.

Ward (22-0, 13 KOs) will defend his World Boxing Association (WBA) super middleweight championship in front of his hometown fans for a second time against the tough, dangerous Bika (28-4-2, 19 KOs) of Sydney, Australia, via Douala, Cameroon.

The Super Six World Boxing Classic tournament points leader, Ward has already secured his spot in the tournament Semifinals and will face Bika outside the tournament.

Bika will be making his third world title appearance in a world title fight. Two of his most noteworthy victories came when he crushed Peter Manfredo, Jr. (TKO 3) in November 2008 and when he outpointed Sam Soliman across eight rounds in October 2007..

In the first fight of the split-site doubleheader on SHOWTIME, "King" Arthur Abraham will meet Carl "The Cobra" Froch in the final Group Stage 3 bout of tournament for the vacant WBC super middleweight world title. The world title match will be televised on same-day-delay from the Hartwall Areena in Helsinki, Finland.

Here's what the principals had to say on Monday:

ANDRE WARD:
"I'm so excited. It's been a year yesterday (Nov. 21, 2009) since I won my world title and I'm focused and locked in on defending my title. That's all me and my team has ever focused on. Not just becoming a champion but being a defending champion and striving for great challenges like Sakio Bika. I've prepared myself for a fight like this years in advance. I'm prepared for Sakio and I know he's prepared for me. And I know we're going to put on a great show on Saturday."

Does it matter to you that this is not a Super Six fight?

"Absolutely not. At the end of the day my championship belt is still on the line and at the end of the day I've got to show up and get the job done. And I've got a guy on the other side of the ring that's trying to hurt me. For me personally there's no let down. This is as big as it gets. There's really no problem with this not being in the tournament. Everyone understands why it's not in the tournament but this is a fight so as far as myself and my team it's business as usual."

Why aren't you fighting Andre Dirrell on Saturday night?

"I think Andre Dirrell's team has already said why we're not fighting Saturday night. Apparently, Andre's got some neurological issues and I'll leave it at that. I think with the writers and the media it's their job to be able to figure out what's true and not true and I just have to take whatever comes. I take Dirrell at his word and I hope he gets better soon and that we can see him back in the ring.

"When you sign a contract it's a binding agreement and we were legally bound to fight Dirrell in our third fight. Personally, it's not something you want to do; that's a friend of yours, your family knows one another. It's not really an ideal situation. But at the end of the day I've been fighting for a long time and I was prepared to do what I agreed to do. I think some of the fans blew things out of proportion. A lot of people weren't talking and there really wasn't much to say and it would have probably just made things worse.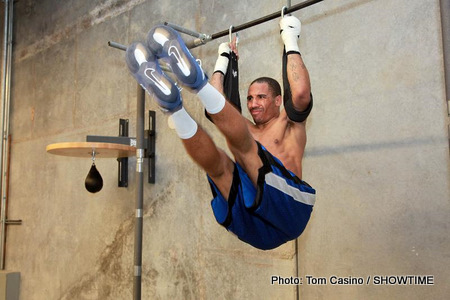 "I think it's unfortunate people think Dirrell and I were trying to take the fight off the table and that we were working together. That's personally not who I am. I was always going to do what I had to do.

"I'm just as hungry as any opponent I'm fighting. I'm just as desperate as any opponent I'm fighting. I take this game very, very seriously. Having a championship and defending it means the world to me. I'm sure Sakio thinks this is a huge opportunity for him but this is a huge opportunity for Andre Ward as well.

"Becoming a great finisher like Sugar Ray Leonard is something we're definitely working on and it's something that's going to keep showing up as we keep moving up and improving.

"I don't really have any outside distractions. I keep a low profile and I don't need an entourage. The guys that are around me are either family or they have a job to do. So I keep a tight circle. I really don't have a lot of people pulling on me. I just think people over the years know where I stand and we just kind of set the tone from there. At this stage in my career I just don't really have a lot do deal with in terms of outside distractions.

"At this point, Carl Froch and Arthur Abraham and Lucian Bute are non-factors. It's all about Sakio Bika right now. I'll take a line from Vince Lombardi: Success demands singleness of purpose. I'm locked in on Sakio Bika and Saturday night."

SAKIO BIKA:
"This is a very big opportunity for me. I just want to take care of my business and make a big upset even though I'm not in the tournament. I was very disappointed at the start that they didn't include me in this tournament. I am very happy for Andre Ward for giving me this opportunity.

"I think I'm one of the best fighters in the world at 168 pounds. Since 2006 I've challenged everyone but no one wants to fight me. I challenged Mikkel Kessler and I've challenged others. I was disappointed I wasn't selected at the start but I'm just very happy for this opportunity to get a chance to win this fight on the 27th.

"I just have to show the world that I'm the best fighter. I will show Andre Ward that. I have this great opportunity. I just have to try and do my best.

"I know Andre has a very good style. He moves a lot and will be very tough. On the 27th everyone will see what I will bring to beat Andre Ward. I don't need to say too much about his style. It will be an exciting fight on the 27th.

"Every time I go in there I'm trying to win the fight. I'm prepared to go the whole 12 rounds. If I could knock him out I'd be so happy. I'm looking forward to showing Andre Ward my power.

"I'm prepared for Andre Ward on the inside and the outside. We can handle him from the inside and the outside. We are prepared for whatever game plan Andre has for us."

Do you think Andre Ward might be underestimating you as a fighter?

"No. Andre Ward is a professional fighter and this is a business. He was preparing for Andre Dirrell and now he has prepared to fight me."

DAN GOOSSEN, Goossen Tutor Promotions:
"None of this could have been possible without SHOWTIME and Ken Hershman's fortitude to keep everything moving in this Super Six Tournament which I believe the best is yet to come. This Saturday we're going to have Froch and Abraham opening up this telecast and then to wind up the main bout with Andre Ward against Sakio Bika. I'm looking forward to Saturday night and seeing Andre Ward continue his path to becoming one of the best fighters pound for pound in the world today."

DAVID ITSKOWITCH, COO of Golden Boy Promotions:
"I know they call Glen Johnson the 'Road Warrior' but that would also be apt for Sakio. When you look at his record he's really fought the best of the best in their backyard. ... Going into someone's backyard and taking them on is nothing new for him. It's not something that fazes him at all. We expect him to come out with a victory this weekend. He's an offensive machine who keeps coming and coming and coming. I think his style and Ward's style are going to mesh for just a really great fight." Article posted on 23.11.2010
previous article: One Writer's Nov. 2010 Pound For Pound Ratings