Sergio Martinez May Well Have KO Of The Year And Fighter Of The Year Awards All Sewn Up - We Still Await Fight Of The Year, And We May Get It This Saturday!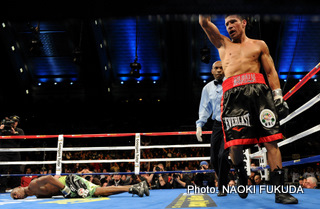 By James Slater - When it comes to picking up the award for both 2010's KO of the year and the year's best overall fighter of the past twelve months, Argentine world middleweight king Sergio Martinez will be right at the front of the queue. Due to his great wins over Kelly Pavlik and Paul Williams, Martinez will have an excellent chance of being looked at as The F O T Y, and his stunning KO of Williams from last night may not be bettered in the remaining weeks of 2010.

However, we still have no clear frontrunner for this year's Fight of The Year. This may well change this coming Saturday - in either Las Vegas or in Helsinki, Finland.

As fans know, Mexican great Juan Manuel Marquez will defend his world lightweight title against tough and aggressive Australian Michael Katsidis in Vegas, and that same day in Helsinki, Carl Froch and Arthur Abraham will collide in the latest stage of the "Super Six" tournament, in a fight that will decide the vacant WBC 168-pound crown..

Both fights are fully expected to be great action fights with a ton of skill and passion thrown in, and as a result, the best fight of the year may be just days away. Sure, we've had some excellent fights thus far in 2010 - Froch-Mikkel Kessler, Ricky Burns-Roman Martinez and Juan Manuel Lopez-Rafael Marquez to name just three - but as good as these fights and others were, were they the best of the best? Maybe at the moment, in terms of this year, but not for much longer if the Marquez-Katsidis and Froch-Abraham bouts catch fire the way many good judges feel they will.

The lightweight clash cannot fail to be a super quality affair with loads of blood and guts on display also. Marquez is the finer boxer, but his years might, just might, be catching up with him, and if they are this may level the playing field. For Katsidis, though no brainless slugger, is not in the Mexican's class in terms of boxing skill. Matched together now, though, with Marquez coming to the end of a long (and largely brilliant) career, the fight might just be one that could go either way.

Look for Katsidis to pick up some facial injuries and he once again pours his heart and soul into a fight, and look also for Marquez to reach deep into his remaining fighting talent, pulling out a close, extremely hard fought points win. Marquez may also shed some blood in this one, but "Dinamita" will edge "The Great" in a great fight.

That same day, we may be treated to an even better scrap, this one held in Europe. For a long time, since before it was postponed due to injury on the part of "The Cobra," fans have been salivating over Froch Vs. Abraham. Sure to be a punishing battle for both warriors, the real winners will be the paying fans. Can Froch's chin hold up to "King" Arthur's punching power, power that seems to get no less effective in the late rounds of a fight, at a time when fatigue has set in for the other guy? Can Abraham afford to adopt his usual slow-starting tactics against the bigger, possibly stronger Froch?

The answers unfolding to these two questions alone will ensure fans get their money's worth. And whether the "Super Six" war turns out to be a distance fight (Froch has reportedly been working on the boxing side of his game, with more attention dedicated towards defence - "The best chin is one that doesn't get hit," Froch said) or a brutal KO one way or the other, the 168-pound clash promises to be memorable.

Better than anything we have seen so far this year? Better even than the lightweight epic we are sure to witness later that same day?

Fans and experts are confident that one way or another, we will see 2010's F O T Y this coming Saturday night!

As for a prediction on the Abraham-Froch encounter; I go for Froch to win an extremely close, perhaps even controversial, points victory.


Article posted on 21.11.2010
previous article: How Will The Fans React If Pac-Man Fights Mosley Next, Avoids Sergio Martinez?