How Will The Fans React If Pac-Man Fights Mosley Next, Avoids Sergio Martinez?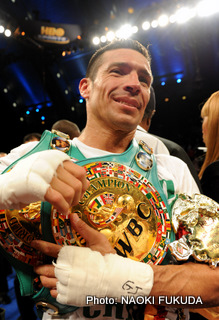 By James Slater - It's amazing how boxing can have one "man of the moment" for a short time and then, with a stunning win, another fighter comes along and becomes the man in the spotlight; the fighter attracting the most attention and creating the most buzz.

Last weekend, Manny Pacquiao was The Man, receiving a ton of well earned praise from the fans and the experts after his brutalisation of the much bigger Antonio Margarito. But now, due to his stunning 2nd-round KO of Paul Williams in their eagerly awaited return fight, Sergio Martinez is the fighter on the lips of all fight fans. And talk now is of who the Argentine world middleweight king will face in the ring next.

Due to how Pac-Man is the pound-for-pound king, talk turned almost instantly yesterday towards the possibility of a Martinez-Pacquiao fight. But, the word going around the internet is that Bob Arum, Manny's promoter, has in line either "Sugar" Shane Mosley or Andre Berto as Pac-Man's next opponent - if the "dream fight" between Pacquiao and Floyd Mayweather cannot be made, that is (and, let's face it, fans everywhere are sick of holding their breath for that one!)

So, the question is, how will the fans react - casual fans, hardcore Pac-Man fans and hardcore Martinez fans - if Pacquiao does fight the 39-year-old Mosley next, and doesn't agree to get it on with the warrior from Argentina? When you're as great as Pacquiao is, and when experts the world over start saying you are one of the finest fighters in the whole history of the sport (as some experts wrote shortly after Pac-Man's win over "Tony," a win that saw Manny win a "world" title at 154-pounds), the demand that you face the best each and every time is incredibly strong..

So, even though Pac-Man has very little to prove, some fans will no doubt moan and groan if the Filipino superstar opts to face a faded Mosley next, and not Martinez. It may seem unfair, but boxing fans can be a tough crowd at times, and some will say that if Pac-Man is so great, he will agree to fight Martinez in 2011.

From what we can gather right now, though, it looks like Pac-Man WILL fight Mosley next (some reports suggest that fight is close to 90-percent done) - will the beloved southpaw face some serious backlash if this is the case?

Arum, of course, did say that Manny will not face any significantly bigger guys in the future, due to how men like Margarito are just too strong and as such can hit and hurt Pacquiao, even if they cannot beat him. It will be strictly welterweights from here on in for Pac-Man, Arum declared. Fair enough; Manny like any other fighter, has the right to pick on guys his own size - but Mosley? Will this fight even be competitive? If we do see the two fight, and if the result is the somewhat easy and destructive Pac-Man win people think it will be (remember, Alex Ariza, Pac-Man's conditioning coach, said Manny would probably not even train for the fight if he faced Mosley!), the criticism - of both Pacquiao and of Arum - will be substantial.

If Pacquiao opts to stay at welterweight, he must as least fight the best available 147-pounders out there (a Pac-Man-Andre Berto clash would, I suspect, go down far better with the fans that a Pac-Man-Molsey match-up). Okay, we all know Manny wants to fight Mayweather, and it's not his fault he cannot get that fight made. But if he does fight Mosley next, when there is a huge and greatness-defining fight with Martinez out there for him instead (at 154, or maybe Martinez would, like so many other Pacquiao opponents, agree to fight at a catch-weight), Pacquiao had better brace himself for some tough criticism.


Article posted on 21.11.2010
previous article: Sergio Martinez Scores KO Of Year With Stunning Win Over Paul Williams; What Now For Both Men?
next article: Sergio Martinez May Well Have KO Of The Year And Fighter Of The Year Awards All Sewn Up - We Still Await Fight Of The Year, And We May Get It This Saturday!