Khabib Allakhverdiev: A Dagestani Boxer Who Inspires Comparisons To Roberto Duran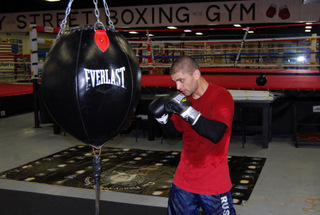 by Pavel Yakovlev - (November 16, 2010) In the past decade, the countries of the former Soviet Union have flooded boxing with dominant fighters in almost every weight division. Russian light-welterweight Khabib Allakhverdiev may soon join this group of elite boxers. Currently 13-0 (six KO's), Allakhverdiev recently won the WBC Asian Boxing Council 140 lbs belt and is now poised to penetrate the upper echelons of the light-welterweight division. The 27-year-old Allakhverdiev, who is managed by Yuri Fedorov and coached by eminent trainer John David Jackson, may in fact fight for a world championship within the next year.

Born and raised in Dagestan, a mountainous region in the Caucasus, Allakhverdiev is native to the city of Derbent. Like other republics in the Caucasus, Dagestan is renown for producing outstanding boxers, wrestlers, martial artists, and free-style fighters. Allakhverdiev took up boxing at the age of 11 due to the influence of his older brother Shafadin, who was already a distinguished amateur at the time. In later years, both brothers won national championships and perennially ranked among Russia's best amateurs..

AMATEUR AND PROFESSIONAL ACCOMPLISHMENTS

Allakhverdiev's amateur accomplishments are impressive. By his own estimate, Allakhverdiev fought approximately 200 bouts, winning nearly 180 times. Noteworthy is that many of his fights were against highly seasoned foreign boxers. "I had about 100 international bouts, and I dominated all of them except one opponent. But I beat him in the rematch," explains Allakhverdiev.

At the age of 17, Allakhverdiev distinguished himself as a promising up-and-coming fighter by winning a bronze medal at the 2000 World Junior Championships. That same year, he won a bronze medal at the Russian Junior National Championships. In 2004, Allakhverdiev won the Russian National Championship, and took bronze medals in the same tournament in 2005 and 2006. In tournaments where Allakhverdiev was eliminated in the semi-finals, he lost only to the eventual gold medallist.

The Dagestani fighter's greatest accomplishment occurred in 2005, when he won a bronze medal at the World Amateur Boxing Championships in Mianyang, China. Allakhverdiev's only loss was a hard-fought decision against Cuban Yordenis Ugas, who subsequently won the gold medal. Allakhverdiev feels that he could have beaten Ugas if not for conditioning problems. "I had difficult bouts and after each fight my energy was depleted due to the fact that I was not trained properly for this world tournament," he explains.

In 2007, Allakhverdiev made his professional debut, stopping Miguel Ortiz in one round. The bout took place in Madison Square Garden, on the undercard of an event headed by fellow Dagestani Sultan Ibragimov. Allakhverdiev has since fought regularly in the United States and Russia. Earlier this year, he scored his most important career victory by outpointing Karen Tevosyan over 12 rounds in Moscow. The victory earned Allakhverdiev the WBC Asian Council light welterweight title. More important, perhaps, is that this bout showcased Allakhverdiev's tenacity, stamina, and capacity to fight back under heavy pressure. Tevosyan, a rugged and aggressive Armenian fighter, pressed Allakhverdiev relentlessly throughout the match. But Allakhverdiev never wilted, and doggedly outboxed and outslugged his opponent over the distance.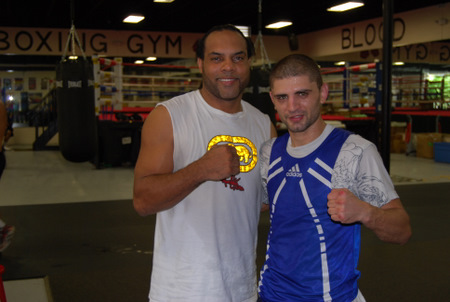 BOXING STYLE, TRAINING, AND FUTURE PLANS

A southpaw, Allakhverdiev is a stand-up boxer/puncher with a hard right jab, fast feet, and superb combination punching ability. Constantly shifting forward and backward in order to maintain optimal punching range against his opponents, Allakhverdiev is a skilled counterpuncher. He never misses an opportunity to hit the body, and his finishing ability – known in the trade as "killer instinct" – is impressive. Standing 5'8", the Dagestani has good height and reach for a light-welterweight.

Although Allakhverdiev lives in Russia, he travels regularly to South Florida to train under John David Jackson. A former world champion himself, Jackson has high praise for Allakhverdiev. "Khabib is a very special talent," explains Jackson. "His tenacity, bodywork, and viciousness remind me very much of Roberto Duran. Khabib is very hungry. He's about a year away from top-five or top-ten status and fighting for a world title."

Allakhverdiev himself has high praise for his Jackson's coaching. Concerning his transition from the amateur to professional ranks, Allakhverdiev explains, "My style has stayed the same but I have learned a lot from my coach John David Jackson. I learned a lot from the American style of boxing, and think that professional boxing and training in the United States is the best in the world."

As a the holder of the WBC Asian Boxing Council belt, Allakhverdiev is certain to emerge in the WBC's top-15 ratings very soon. It is likely that Allakhverdiev will acquire additional regional title belts that put him in the top-15 ratings of the other sanctioning organizations as well. Manager Yuri Fedorov is explicit about his plans for Allakhverdiev, stating "Khabib is ready to take a championship fight next year." Needless to say, the boxing world will be watching Allakhverdiev's progress closely. Article posted on 17.11.2010
previous article: Margarito surgery successful
next article: Klitschko vs Chisora: Chisora spitting venom at Astaire