Andre Ward Press Conference Quotes and Photos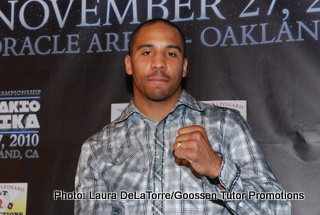 Area press on today to discuss defending his World Boxing Association (WBA) super middleweight championship a second time against tough world contender Sakio "The Scorpion" Bika (28-4-2, 19 KOs) of Sydney, Australia, via Douala, Cameroon, on Saturday, Nov. 27, live on SHOWTIME.

"Mentally, I was preparing to fight Andre Dirrell," said Ward who also met with his fans, mingling and signing autographs from Ricky's Sports Theatre and Grill. "It was never our intention to not partake in the fight with Dirrell. But when it came down to the training we didn't have to make a lot of adjustments because we hadn't begun camp yet."

With a berth in the semifinals of the SHOWTIME Super Six World Boxing Classic already secured, Ward will return home to the Oracle Arena in Oakland where he has fought and won three of his last four fights..

The World Championship night of boxing will begin at 4 p.m. featuring undefeated Jr. middleweight and 2008 US Olympian Javier Molina (4-0, 4 KOs), Sacramento's undefeated lightweight Stan Martyniouk (10-0, 1KO), Houston's power-punching Cornelius White (15-0, 14 KOs), plus four other bouts with the main event featuring Oakland's finest starting at approximately 7 p.m.

Tickets are priced at $150, $75 and $35 are on sale now at the Oracle Box Office or visit www.coliseum.com or www.ticketmaster.com.

Goossen Tutor Promotions and TNT Boxing are promoting this night of World Championship boxing, with the championship bout in association with Golden Boy Promotions, the promoter for Bika.

Here's what Ward and his promoter Dan Goossen had to say on Tuesday.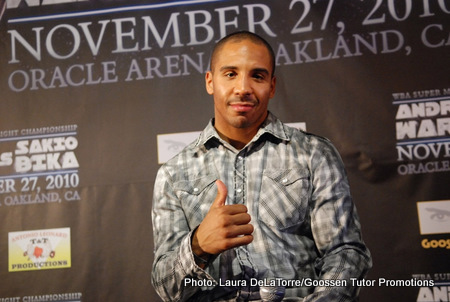 ANDRE WARD:

"There have been many twists and turns but we are still here and ready for our next opponent.

"We have a good plan we started out on the tournament and we plan to see it through."

On whether Ward gets frustrated with the delays in the SSWBC Tournament:

"I sometimes get a little impatient because I want it to move forward. It gets frustrating but SHOWTIME and Goossen Tutor Promotions keep working to continue with the tournament and I have to recognize and applause their perseverance."

His plan against Bika:

"I am going to do what I do except a little bit better. Sakio has never been stopped. It would be great to get a stoppage in this fight.

"Bika will come full steam ahead with wild punches. I am going to continue to do what I do and that is a little bit of everything. Just like when I fought (Allan) Green. We had a plan to fight on the inside but it ended up being a closed combat and I had to adjust. With Bika, depending on what he does I'll know how to adjust and what I need to do.

"I'm not going to call him (Bika) a dirty fighter but he tends to get frustrated and react. I know to expect that."

On whether or not Ward believes Bika to be the same fighter as when he fought Lucian Bute:

"Sakio Bika is the same fighter as when he fought Lucian Bute. His fighting style has awarded him a lot of merit and respect for his grittiness."

Where Andre Ward believes himself to be as a fighter at 26 years of age:

"I have a lot of work to do. I've always been in the mind set of striving for more. I can fight a good fight and then get a call from Virgil (Hunter) telling me that I did good but I can do more. It's good that there is always room to do more -- it's good because it keeps me striving. The best is yet to come."

DAN GOOSSEN:

"It's all about what Ward does. He puts in the work and is one of the hardest working fighters that I've had and I've had some hard working fighters!"

"Andre Ward is a unique person. I believe he is going to make classy fashionable." Article posted on 10.11.2010
previous article: Choi right on song for Prizefighter!