Lopez-Marquez & Green-Johnson Final Weights and Photos From Las Vegas, Doubleheader TOMORROW on SHOWTIME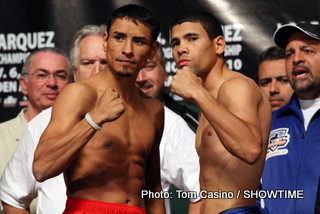 Puerto Rican superstar and WBO featherweight world champ Juan Manuel Lopez (29-0, 26 KOs) and Mexican legend and future Hall of Famer and Rafael Marquez (39-5, 35 KOs) both weighed in at 125 ½ pounds during Friday's weigh in at MGM Grand Hotel & Casino in Las Vegas.

The undefeated Lopez will look for a career-defining win over the never-say-die Marquez in Saturday's SHOWTIME® Championship Boxing main event, LIVE at 10 p.m. ET/PT (delayed on the west coast) from the MGM Grand Garden Arena

Marquez became a legend with his four-fight series with Israel Vazquez on SHOWTIME. Now, the popular brawler will try to earn a world title in his third division in what has been called a rebirth of the spirited Puerto Rican vs. Mexican rivalry that spans generations.

World-ranked contender Allan Green (29-2, 20 KOs) tipped the scaled at 168 pounds and veteran contender and former world champ Glen Johnson (50-14-2, 34 KOs) measured 167 pounds..




In Saturday's co-feature, Green and Johnson will face off in a must-win Super Six World Boxing Classic bout. The winner of the 12-rounder will earn a spot in the tournament Semi-Finals.

Johnson, who has appeared in seven world title fights and defeated some of the best prizefighters of this era, will have to beat the younger Green, a close friend and former training partner, if he wants to advance to the tournament Semi-Finals and reestablish himself as one of the world's elite prizefighters.

FINAL WEIGHTS:

Juan Manuel Lopez – 125 ½ pounds

Rafael Marquez - 125 pounds ½ pounds

***Judges: Raul Caiz, Sr., Duane Ford and Dave Moretti; Referee: Tony Weeks

Allan Green – 168 pounds

Glen Johnson – 167 pounds

***Judges: Jerry Roth, Dick Houck and Burt Clements; Referee: Robert Byrd


Lopez vs. Marquez, Green vs. Johnson Final Press Conference Quotes From Las Vegas

LAS VEGAS (Nov. 4, 2010) – SHOWTIME Sports® will kick off a tremendous run of world championship boxing to close out 2010 this Saturday with two can't miss fights, LIVE at 10 p.m. ET/PT (delayed on the west coast) from the MGM Grand Garden Arena in Las Vegas.

In the SHOWTIME Championship Boxing main event, Puerto Rican superstar and WBO featherweight world champ Juan Manuel Lopez and Mexican legend and future Hall of Famer Rafael Marquez will meet in what has been called a rebirth of the spirited Puerto Rican vs. Mexican rivalry that spans generations.

In the co-feature, world-ranked contender Allan Green will face veteran contender and former world champ Glen Johnson in a must-win Super Six World Boxing Classic bout. The winner of the 12-rounder will earn a spot in the tournament Semi-Finals.

The fighters participated in a final press conference just two days before the important bouts and were joined by promoters Bob Arum and Gary Shaw, and their trainers and managers.

What the participants had to say on Thursday:

CHRIS DeBLASIO, On behalf of SHOWTIME Sports General Manger Ken Hershman

"Allan Green vs. Glen Johnson is a terrific, cross-roads matchup in its own right. Add on the layer of intrigue of the Super Six World Boxing Classic and it makes this fight even more dramatic. Juan Manuel Lopez vs. Rafael Marquez could end up being a Fight of the Year candidate. We all know what these two great fighters bring into the ring every time out.

"These fights fit perfectly into Ken Hershman's programming strategy of televising the most competitive and compelling fights in boxing, directly to our subscribers."

JUAN MANUEL LOPEZ:

"I want to thank Bob Arum, SHOWTIME and MGM Grand and obviously God for giving me this great opportunity. It is truly a dream that is coming true. For all of us it is just a dream to have this opportunity. We are going to take full advantage of it.

"I know that I read that the team of Rafael Marquez said that I have no chin. But the one that is undefeated is me. I know he has won a few fights by knock out, but on Saturday night you'll see who really can take a punch and who can't. And one time Gary Shaw told me if you're so good how come you don't fight Rafael Marquez. I'm so good I'm going to beat Rafael Marquez on Saturday."

BOB ARUM (Lopez Promoter)

"You'll see Saturday night that Juan Manuel Lopez rises to the occasion as he fights one of the greatest. Juan Manuel Lopez has his work cut out for him, but as his promoter since his first professional fight we are confident he will shine through and come out on top Saturday night."

ORLANDO PINERO (Lopez Manager)

"We are really thankful for this opportunity. What you are going to see Saturday is a dream come true. When Juan Manuel won his first title he told the world at the post conference that he wanted to fight the best in the world and the first two names he mentioned that night were Rafael Marquez and Israel Vazquez. This Saturday up in the ring is Rafael Marquez and he is expecting a great war. You are going to see a great war between Puerto Rico and Mexico."

RAFAEL MARQUEZ:

"I want to thanks everyone, Gary Shaw, SHOWTIME and Top Rank. I am a man of few words. I know it will be a spectacular fight and I will win this fight for me and for Mexico. I had a tremendous training camp. I am in terrific shape and I will take this title.

"You will see on Saturday night the hard work that I put in. I will show that I can beat anyone at any point in their career. Experience and talent will beat youth on Saturday night. I will answer any questions on Saturday night. Did I bring my power with me? I think I have. Hard work and preparation will beat youth anytime.

"I was probably the smallest of all the great Mexican fighters. It has never been a detriment to my career or to my morale. The Vazquez series raised my visibility and I'm grateful for that.

"I have a lot of respect for Juanma's talents. I believe he is a top-10 pound-for-pound fighter. I don't think the fight will go the distance and I know Juanma won't be the winner."

GARY SHAW (Marquez Promoter)

"On the right in Juanma who is younger and maybe quicker then my fighter (Marquez), but in my fighter you have age and experience. My late father told me there is no replacement for age and experience.
"Juanma is going to find himself in the deepest fight he has ever fought. I don't think the fight goes 12 rounds. I've seen Marquez in the biggest wars of his career. I've seen him go down and every time he got up he was tougher and stronger then before he went down.

"In some respects I wish I didn't have a fighter in the fight so I can buy a seat and really enjoy the fight. It's going to be a tremendous fight. I have history with Bob Arum. We did Corrales-Castillo together and here we are going to do another fight this Saturday night. The real winner here is the fans."

ALLAN GREEN:

"It is an honor and a pleasure to be here. I want to thanks Ken Hershman for keeping the Super Six in tact."

"I feel good. I feel great. I'm ready to fight. Glen Johnson is a very good friend of mine and always has been. I learned a lot from him in my early career but as he said, come Saturday night we'll come to do business. Let the best man win. I'll do the rest of my talking Saturday night."

ANTHONY WILSON (Green Trainer)

"Glen Johnson is a true legend. Normally I talk a lot of shit but I can't say anything bad about Glen Johnson. He is a friend of ours inside and outside the ring. His trainer said it wouldn't go the distance and maybe it won't. Allan Green has had a long training camp and he has nothing to prove to himself, just to his fans."

GLEN JOHNSON:

"First I want to thank SHOWTIME for even considering me when they were looking for a replacement. Thanks very much. I feel appreciated for all the years I put in boxing. To be a part of such a prestigious event -- I feel grateful just to be apart of it.

"I thought making the weight would be more difficult then it was. I was at weight two weeks ago so that was surprising for me.

"I just want to say, Allan green is a friend of mine. It is not somebody that I'm looking forward to fight just because of our relationship, but this is business and I'm sure he will feel the same way. We're just going to go out there and do our job and our relationship will remain the same afterwards."

ORLANDO CUELLAR (Johnson Trainer)

"I'll give you some insight. You guys know Glen Johnson and you know what he brings. You know how he fights. You know everything there is to know. There are no secrets. He is a straight up, in your face, smash mouth, hard fighter. That is what you are going to see Saturday when he faces the very talented Allan Green. This is business. After the fight we'll buy him a beer.

"Glen had a great training camp. He did over 120 rounds of sparing. He brought his weight down to what he hasn't been in 10 years. I know a lot of people were concerned if he could make (1)68, much less be effective at (1)68. I guess you all get to find out Saturday, but if it is any indication what he has done at the gym I think he is faster, lighter on his feet. I think we discovered that maybe he should have been at this weight a few fights back.

"We're not going to let anyone down. This fight will not go the distance. Glen is going to show something special, something fast, something furious at 168 pounds this Saturday."

HENRY FOSTER (Johnson Manager)

"There is no animosity between camps but come Saturday night we are going to go out there and do our job." Article posted on 06.11.2010
previous article: Judah vs Matthysse Weigh-In Results