Spina Defeats Echols in Third Round! – Photo Gallery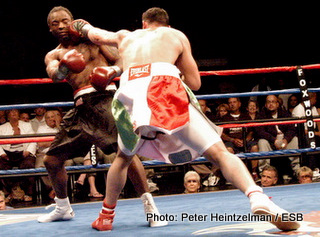 By Trish Kilcullen and Peter Heintzelman - Photos by Peter Heintzelman: Professional boxing returned to the legendary Fox Theatre, at Foxwoods Casino
Resort this past Saturday, headlining Joey "KO Kid" Spina against late-named
opponent, Antwun "Kid Dynamite" Echols.

Classic Entertainment & Sports president, Jimmy Burchfield, pulled a rabbit out of his hat, to preserve the boxing card, captioned "Last Man Standing." The card was originally to be headlined by Spina and Ray "Sucra" Oliveira, but Oliveira, after a five year layoff, did not clear the Commission's medical exams, for reasons left to patient-physician privilege. New England boxing fans were intrigued to see the resurrection of Oliveira, and his boxer/puncher style against Spina's come-at you knock out artistry, but it was not to be..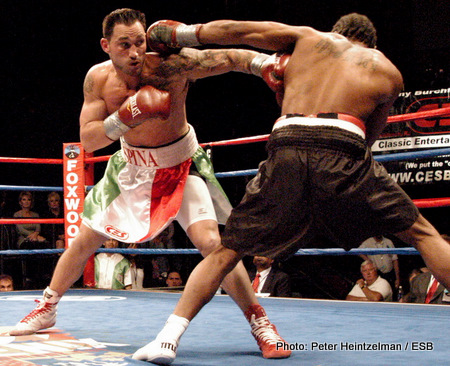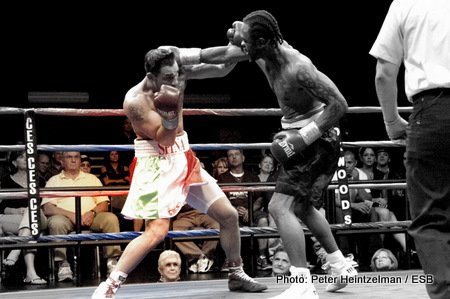 Burchfield, along with matchmaker, Teddy Panagiotis, were able to lock in Echols, with just hours to go, to the main event. Apparently, when the contract was signed, another promoter, Bobby Hitz, revealed that he had Echols under contract for a fight on one of his cards, but proclaimed that he took no offense that CES has signed on the dotted line with Echols, "as Jimmy is a dear friend of mine, and I'm sure he was unaware" that Echols was double-dating.

Like we said, nothing is easy in boxing.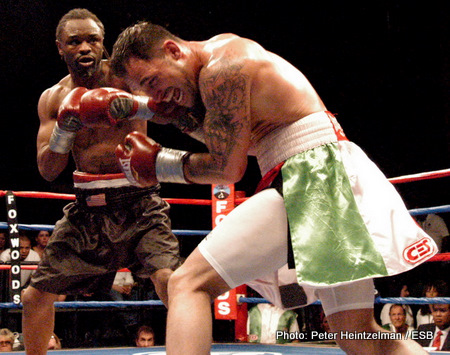 The Fox Theatre, in Mashantucket, Connecticut, at Friday's presser and weigh , was still sporting a marquee announcing Oliveira against Spina, but before the doors opened Saturday night, Echols name had been posted.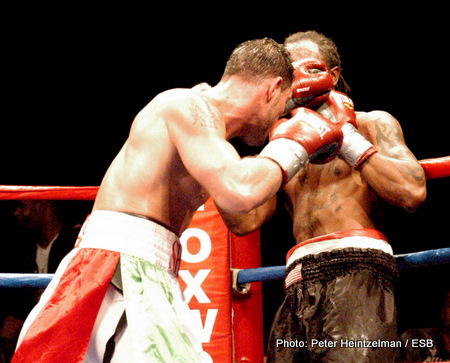 A resilient boxing fandom showed up at the Foxwoods Theatre, which was not sold out, but enough of a crowd to make the Mashantucket tribe happy to have hosted the event. As a group, the "Last Man Standing" card presented a fantastic
evening of well-matched and exciting bouts from start to finish. Goes to prove the adage, you just don't know who is goingto show up to fight on a given fight night, and Burchfield's fighters, and their opponents, each and every one
of them, came to fight. The crowd got their bang for their buck for sure.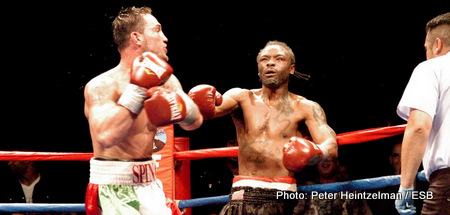 The main event, scheduled for ten rounds at super middleweight, lasted only a brief three, as Spina made short order of his late opponent, despite the visitor's early challenge, catching Spina with a number of unexpected punches. Some had said, prior to fight night, that Echols was spent - having lost six out of his last seven bouts.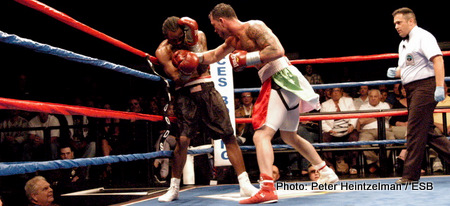 The first two rounds between the main eventers were competitive, as Echols looked like the contender he had been during his lengthy career, having fought against a number of name contenders.

Spina and Echols traded a flurry of punches during the three stanzas.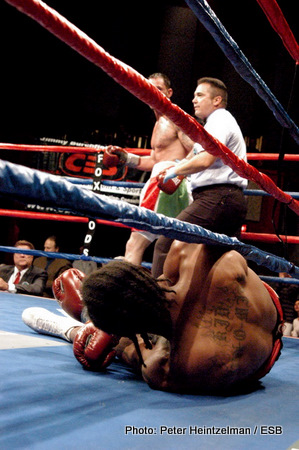 Johnny Callas refereed the event, and called a foul against the heavy pitcher, Spina, when Spina continued to throw punches after the second bell rang, one punch of which landed Echols on the canvas. After the fight, Spina defended his late blow to press row, claiming he thought his knock down punch was landed prior to the bell.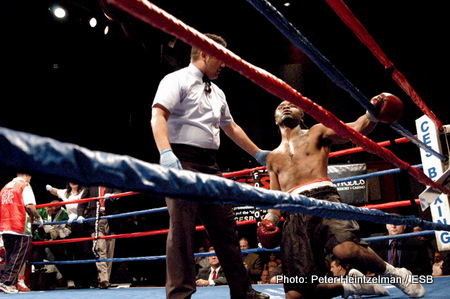 Nonetheless, after Echols was given time to recover by the ref , the action resumed, and Spina continued to show why he is a super middleweight contender, until the ref called an end to the action in the third round at 49 seconds, as Echols appeared defenseless to Spina's onslaught.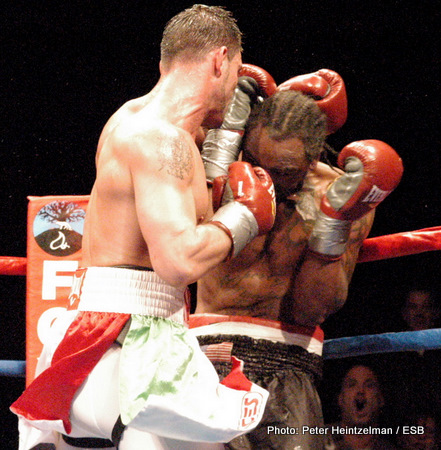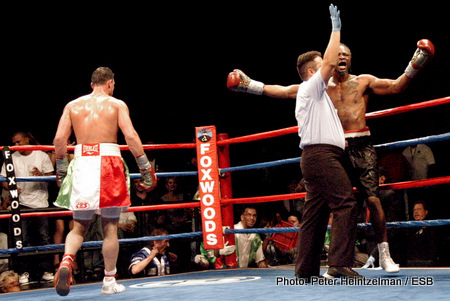 With the win, 33 year old Joey "KO Kid" Spina notched his 18th professional knock out, and his 26 professional win against only one loss (to Peter Manfredo, Jr) , and two draws. This win should put Spina back in contention for a big pay day.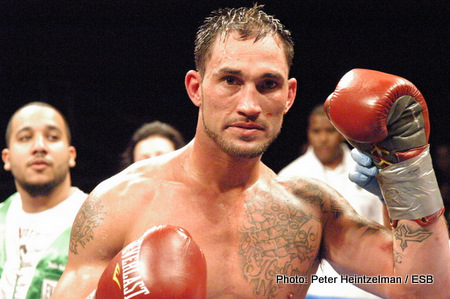 Echols' returns to Davenport, Iowa with a record of 32-15-4, 28 KO's , and should not be surprised to get a call from someone's legal counsel.

Article posted on 03.10.2010
previous article: Stephen Foster Junior Halts Leva Kirakosyan In 3rd-Round, Wins European Super-Featherweight Crown
next article: Monte Barrett And David Tua "Agree" To Rematch, The Return Match To Take Place In New Zealand