McCloskey – Morrison Under card Round-up: Cuban Alexei Acosta produces a flawless masterclass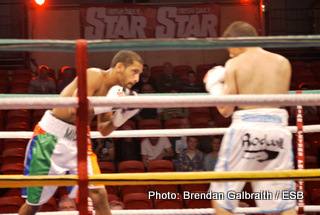 By Brendan Galbraith - Exciting Irish-based Cuban Super Bantamweight Alexei Acosta (12-0) was easily the star performer on the under card stopping Cristian Faccio (20-5) in the fourth round of a scheduled eight rounder. Faccio brought pedigree to the ring, he took Bernard Dunne seven rounds before the Dubliner stopped him and lost a World Title challenge against Japan's Hozumi Hasegawa. However, from the first bell, Acosta dealt with Faccio with such ease that he made the Uruguayan look like a stuttering novice.

Acosta seems to be boxing with increased maturity. A brief comparison can be drawn with his performance against Sean Hughes (TKO win in R2) in November 2009. Against Hughes, Acosta showcased his raw potential, blistering hand speed, wide array of shots and angles, but he was wasteful and perhaps over enthusiastic with his aggression. Acosta threw wild flurries at Hughes and many of these punches were blocked up by an arm or on the glove. He also, briefly, allowed Hughes to push him onto the back foot were he shipped a few shots..

However, against Faccio last night Acosta was very efficient with his choice of shots. There were no wild flurries, but well drilled combinations that were frequent, varied and accurate. Perhaps Acosta's best asset is his hand speed and he was able to slip and counter effortlessly. Acosta dominated throughout by mixing his shots to bamboozle Foccio. Lead rights to the body, one-twos to the body and head, followed up with what looks like his trademark combination of a diagonal left uppercut and diagonal right hook. The downward right hook looks like a bit of a slap, but on closer inspection (and Acosta threw many of these combinations) Acosta swings his body weight to give him the extra leverage to sit on his right diagonal hook and land it heavily on his opponent.

In the fourth round, referee David Irvine, stopped the contest, mainly due to a prolonged accumulation of accurate head shots rather than one concussive exchange. Still, the stoppage appeared slightly premature and the Acosta seemed to shrug his shoulders, evidently he was enjoying himself and wanted to finish the job off more decisively. However, Foccio barely laid a glove on Acosta while it lasted and the Cuban was progressively beating up the rated Uruguayan the longer it continued.

Acosta advances to a perfect record of 13 wins (all inside the distance) and on this evidence he looks ready to be stepped up another level for his next fight. Acosta seems to have all of the tools to warrant a world title shot in the future. He is also a very entertaining boxer and it is only a matter of time before he features on a main support bout on a Brian Peters Promotion.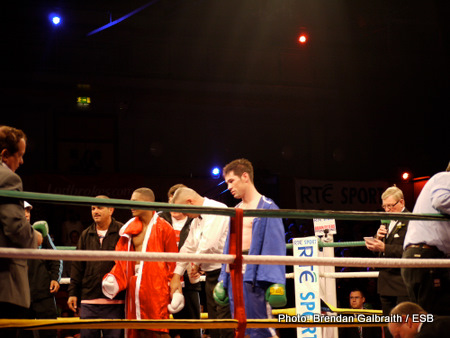 Andy Murray (21-0) faced Johnny Nolasco (22-3-4) in a ten-rounder that was the main support bout. Referee Emile Tiedt scored it an emphatic 100-91 points win for the Cavan stylist. The first round was very untidy with too many clinches. This turned out to be a regular pattern for the full ten rounds of this dull affair. Murray was keen to showcase his boxing skills, and on occasions he was able to get some rhythm to his work but too often he allowed Nolasco to tie him up and crowd his work. Murray was good value for his wide points win but he worryingly soaked up too many overhand rights that triggered a bloody nose in the mid rounds. Murray might have improved with a stoppage if he had doubled up with his effective body shots, as Nolasco grimaced each time Murray landed a clean shot downstairs. Murray chalks up another win and moves to 22-0.

Well supported Brendan Fitzpatrick (1-0) secured a clear 59-55 points win over Bulgarian Zahari Mutafchiev (2-3). Fitzpatrick began at an industrious pace, pushing back Mutafchiev who was forced to soak up accurate leads to the head and body. In the second, the body shots seemed to be breaking down Mutafchiev, who started to use spoiling tactics by spitting his gum shield out to gain respite. However, the tell tale signs of the severity of the body shots were clear, as the Bulgarian gulped for air during the managed breaks. Fitzpatrick continued to pick his shots accurately and in the fourth he rocked Mutafchiev with a meaty left hand above the jaw line. Shortly afterwards, Mutafchiev dropped his gumshield and this time referee Emile Tiedt warned the Bulgarian. In the final sessions, Mutafchiev went into his shell and and was content to see out the six rounds. Overall a good performance by Fitzpatrick, who is an efficient operator and thinks about his shots and, also appears to have some power in both hands.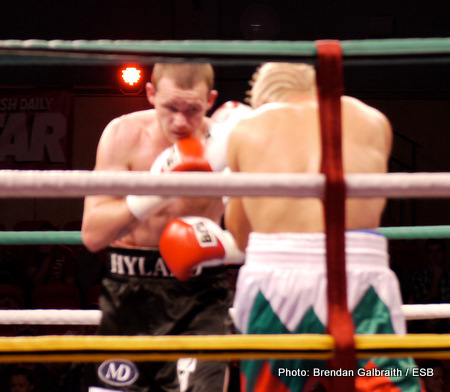 Patrick Hyland (19-0) faced Bulgarian journeyman Yordan Vasilev (7-16-3) in a six rounder. Hyland started at a brisk pace and was particularly effective downstairs. After a couple of rounds the Bulgarian covered up and went into survival model, limiting his work to fleeting pot shots. Hyland ran out a very comfortable winner 59-54.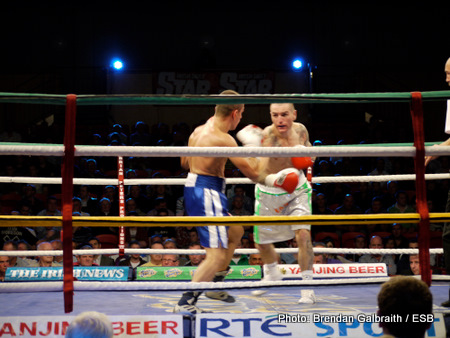 Well supported Finbarr Eadie (2-0) dominated Wladimir Borov (18-62-1) to secure a 40-36 points win. Eadie started off working behind a tight jab and landed impressive one-two head combinations. Eadie, looks like a well schooled boxer and he varied his raids to good effect, landing hurtful body combinations and introducing a sweet three punch combination of double jab and hook.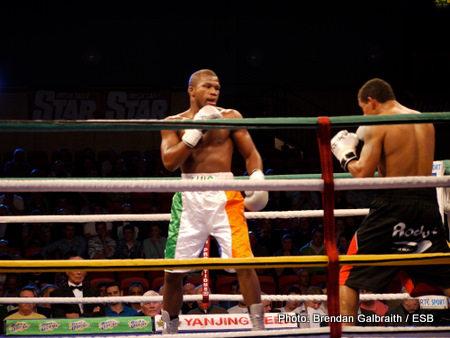 Hyped Cuban prospect Luis Garcia (9-0) faced Uruguayan Jorge Rodriguez Olivera (19-1) in a scheduled eight rounder. Garcia introduced himself to Olivera in the first round courtesy of a right hook to the head, followed by a left hand that landed to the back of the head, flooring the Uruguayan. However, referee Emile Tiedt, did not give a count. Olivera was visibly shaken by Garcia's firepower and ultimately discouraged, going into survival mode from the first round. With his chin tucked down behind a high guard Olivera threw fewer punches as the fight progressed. Garcia decided to mix body attacks before loading up with his right hand. However, Olivera (another example of a fighter with a padded record) continued to spoil the fight and frustrate Garcia by tying up and holding on at every opportunity.

In the fourth, Olivera twice spat out his gum shield, on the second occasion his corner man even offered his fighter water to the dismay of the referee. Olivera then fell to his knees as Garcia came forward for another assault, but instead of giving the Uruguayan the count that he deserved, he was propped up by the referee and told to continue. Olivera repeated this 'manoeuvre' in the sixth and was eventually stopped by the referee when he went down once more, this time a sickening right hook to the liver. Overall Garcia showed he has the raw talent and is brimming with firepower, but seems to be lacking that finesse to cultivate the openings to land his money punches, plus his work rate tends to dip in between rounds.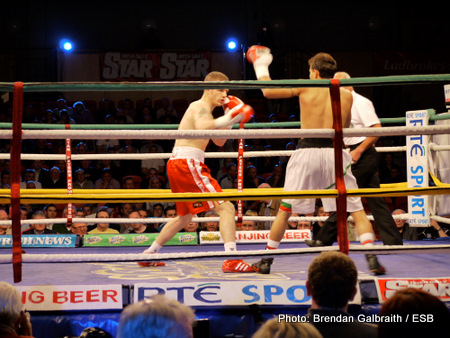 Michael McLaughlin made his debut in front of a large home support against Bulgarian Valentin Stoychev (0-1). McLaughlin, keen to impress his vocal supporters pushed Stoychev back onto the ropes from the first bell and dropped the Bulgarian with a right hand at the end of the round. Stoychev, was a one-dimensional fighter and threw a series of primitive, wild right handed swings, but McLaughlin outworked him to take the second. In the third, McLaughlin, who looks like he has a lot of work to do on his defensive game, walked straight into a telegraphed right hook and hit the canvas. He got up and was again caught, this time with a hurtful left to the head. McLaughlin engaged in a brawl and in the end was fortunate to secure a 38-38 draw on referee Mickey Vann's scorecard.

In the show opener Irish Champion and Prizefighter finalist Coleman Barrett (13-1) laboured to a decisive points win in a 6 rounder with Hungarian journeyman Norbert Sallai (10-15). Referee, Mickey Vann scored it 60-55 to the Galway man. Perhaps an Irish title clash with Martin 'Iron Man' Rogan is next?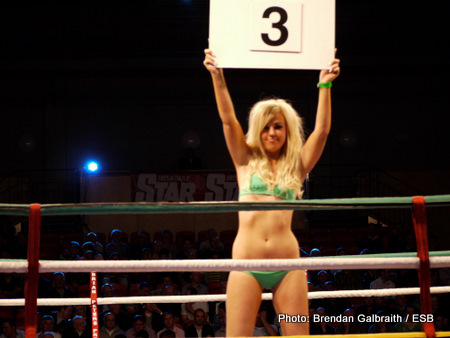 Ringside Observations

MC Mike Goodhall dropped a clanger when he introduced Finbarr Eadie as Donegal man Michael McLaughlin. Woodhall immediately addressed the mishap and in fairness to the MC, the original running order had Michael McLaughlin's fight taking place at that time.

Bernard Dunne in the commentary box prior to the main event of McCloskey-Morrison enjoying the warm up music and bopping his head and shoulders, seemingly almost busting a move.

Also enjoying the warm up music were the travelling support from Scotland who sang and danced as though they were in a discothèque, with The Proclaimers track 'I'm gonna be 500 miles' a particular favourite.

Interested observers ringside included Martin Lindsay, Martin Rogan and Deputy First Minister, Martin McGuinness.

Article posted on 03.10.2010
previous article: Spina stops Echols in 3rd
next article: Carl Froch Vows To Put Arthur Abraham On The Canvas In Helsinki