Spina – Echols Weigh In at Foxwoods Photo Gallery!
By Peter Heintzelman, Photos by Peter Heintzelman - Weights Recorded by: Trish Kilcullen - Foxwoods Resort Casino, in Mashantucket, CT had a marathon of a weigh in for the Last Man Standing fight card scheduled for Saturday night. A marathon it was, as the start time was 4pm, yet the weigh in did not begin until over an hour later when some, but not all, of the fighters were ready to weigh in, dry, thirsty, hungry they were. Even the marquis outside the theatre, still reported Ray Oliveira as the main event competition for Joey Spina; how things change in short time, even in professional boxing..

The first confused hours were spent filling our registrations and verifying IDs, and the commission heard complaints from fighters, particularly from Massachusetts, who were having difficulty getting a call back from the Bay State's boxing commission concerning renewals of licenses that had expired. And finally, the weigh in began, albeit without the presence of the belated substitute for Ray Oliviera, namely Antwun "Kid Dynamite" Echols.

Nothing is easy in boxing.

Finally, the scales came out, and the weigh in was recorded as follows:
MAIN EVENT: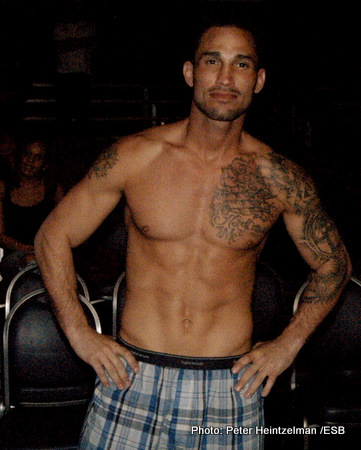 10 Rounds at Super Middleweight Joey "KO Kid" Spina 25-1-2, 17 KO's Providence, Rhode IslandWeight: 172 lbs
Vs. Antwun " Kid Dynamite" Echols, 32-14-4, 28 KO's of Davenport, Iowa

Didn't bother to show up at weigh in, at least not before two hours before weigh in was scheduled Weight: ??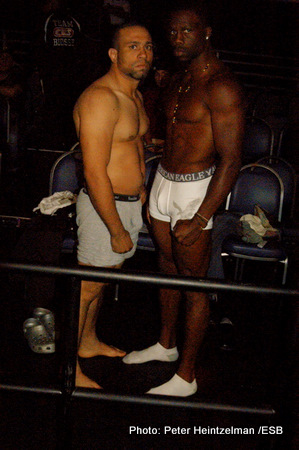 6 Round Co-Feature at Super MiddleweightVladine "Mr. Providence" Biosse, 8-0 4 KO's of Providence, Rhode Island Weight: 171 lbs v. Ariel "Iron" Espinal, 8-15-3, 4 KO's Brooklyn, NY Weight: 172 lbs

4 Rounds at Middleweight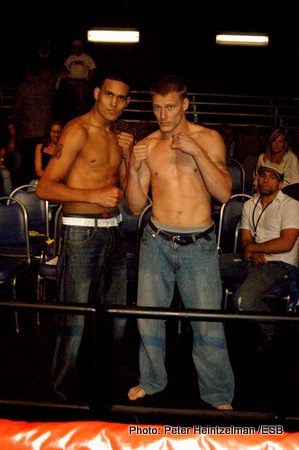 David Bauza, 5-0, 3 KO's of New Haven, CTWeight: 164 lbs two pounds overweight v.Jonathan Senquiz, 1-2, of Cleveland, OH Weight: 161 lbs

4 Rounds at Super Lightweights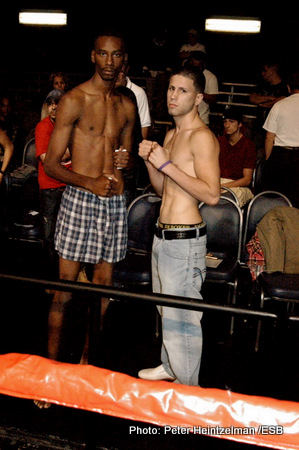 Edwin Soto, 4-0-1, 2 KO's Hartford, CTWeight: 141 lbs v. Trenton Titsworth, 3-9-1, 2 KO's Omaha, NE143 lbs

4 Rounds Female Super Bantamweights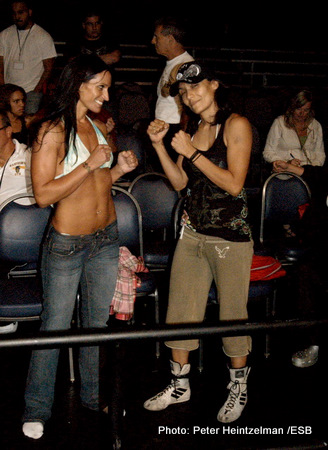 Karen Dulin, 1-6, 1 KO Mystic, CT123 lbs v. Katrina "Kat" De La Cruz, 0-4-1 Los Angeles, CA110 lbs


4 Rounds Super Middleweights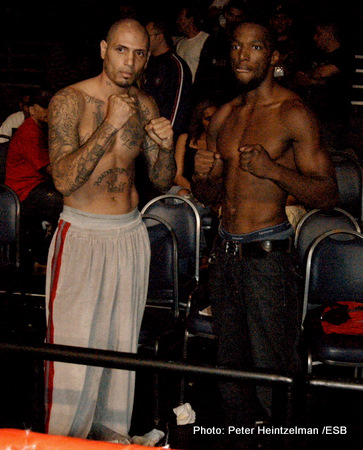 Greg McCoy, 1-1-1, 0 KO's New Haven, CT162 lbs v. Reynaldo Rodriguez, 5-1, 2 KO's Woonsocket, RI5-1, 2 KO's

4 Rounds at Super middleweight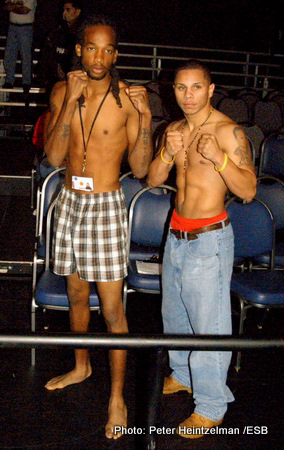 Joseph "Chipper" Perez, 4-0, 1 KO's Of Hartford, CT135 lbs v. Ernest Butts III, 0-1, of Atlanta, GA 135 lbs

4 Rounds at Featherweight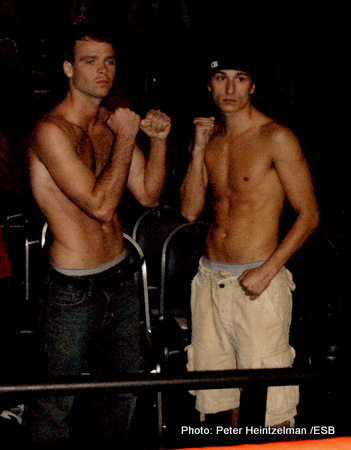 Derek Silveira, 4-0, 1 KO's Byfield, MA 149 lbs v. Phillip Bernette, 0-1 Myrtle Beach, SC 154 lbs, two pounds overweight

4 Rounds at Featherweight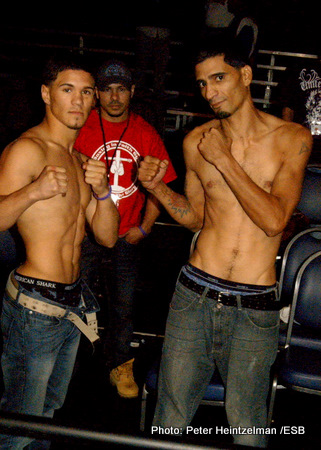 Luis Rosa, 3-0, 2 KO's New Haven, CT127 lbs v. Joseph Velazaquez, 1-6, 1 KO's Of Worcester, MA 124 lbs

Matchmaker: Ted Panagiotis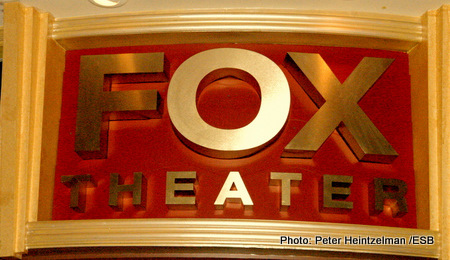 Tickets, priced at $40.00, $60.00 and $100.00, are available to purchase by calling CES (401.724.2253/2254) or Foxwoods (800-200-2882), going online at www.cesboxing.comor www.foxwoods.com, or in person at Foxwood's box office.

For more information contact CES (401.724.2253/2254/www.cesboxing.com) or Foxwoods Resort Casino (www.foxwoods.com). Doors open at 6:00 PM/ET, and the first bell rings at 7:00 PM/ET. Article posted on 02.10.2010
previous article: DiBella Inks Ryan "The Polish Prince" Kielczewski
next article: Coleman, Marquez Score Third Round KOs Friday On ShoBox on SHOWTIME